Best Free H.264 Encoder to Create H.264 from Full HD Videos
Why we prefer H.264/x264 encoding?
H.264[1]/MPEG-4 Part 10 or AVC (Advanced Video Coding) is a standard for video compression. The intent of the H.264/AVC project was to create a standard capable of providing good video quality at substantially lower bit rates than previous standards (e.g. half or less the bit rate of MPEG-2, H.263, or MPEG-4 Part 2), without increasing the complexity of design so much that it would be impractical or excessively expensive to implement.
An additional goal was to provide enough flexibility to allow the standard to be applied to a wide variety of applications on a wide variety of networks and systems, including low and high bit rates, low and high resolution video, broadcast, DVD storage.
It is true we should have a H.264/x264 encoder!
H.264 encoder is free software library and app for encoding video streams into the H.264/MPEG-4 AVC compression format, and is released under the terms of the GNU GPL. It can decompress your source video and compress it to H.264. Through this transcoding process, you can create an H.264 movie by yourself. It is one good utility for answer the question "How to create an H.264 video". The incredible quality and efficiency of H.264 really brings video to life on internet or mobile phones. H.264/AVC can encode video with approximately 3 times fewer bits than comparable MPEG-2 encoders. What Are the Standards of Best H.264 Encoder?
1. The best H.264 encoder should accept all video sources you have, for instance:
Regular Video: AVI, MPEG, WMV, MP4, FLV, DivX, Xvid, MOV, RM, RMVB, VOB, 3GP, 3G2, Google TV, WebM, VPX 8.
Website Video: Youtube, HD Youtube, Dailymotion, Yahoo! Video, Metacafe, Myspace, etc.
HD-Camcorder Video: JVC HD camcorder Video, Sony HD camcorder Video, Panasonic & Canon HD camcorder Video.
High Definition Video: AVCHD Video, Blu-ray Video, HDTV Video, Matroska Video.
The only one H.264 encoder that can support them all is WinX HD Video Converter Deluxe.
2. Best H.264 encoder should be fast: Because H.264 encoding and decoding requires significant computing power, software implementations that run on a general-purpose CPU are typically slow, especially when dealing with HD video content. With the H.264 converter, which is engineered with Hardware Accelerator, Hyper Threading Technology and fully compatible with Multi-core CPU, employs time-saving single-pass encoding for creating draft encodes. So that there is no more waiting for creating HD H.264 videos.
3. Scalable from 3G to 4K and Beyond: H.264 achieves the best-ever compression efficiency for a broad range of applications, such as broadcast, DVD, video conferencing, video-on-demand. And true to its advanced design, H.264 delivers excellent quality across a wide operating range, from 3G mobile to 2160p 4K UHD and everything in between.
WinX HD Video Converter Deluxe is an all-in-one H.264/MPEG-4 AVC decoder, encoder, and converter. With over 320 built-in video Codecs and 50 audio Codecs, not only can it allow people to decode and convert H.264 to AVI, WMV, MOV, FLV or the like common video files, but also convert SD/HD/4K videos (AVCHD, M2TS, MTS, MKV, H.264, MP4, AVI, TS, MOD, TOD, WMV, MOV, MPEG, etc.) to H.264 /MP4 with several mouse clicks. Please see the following picture that takes converting HD MKV to MP4 video with H.264 as video codec (and AAC as audio codec) as an example, and vice versa.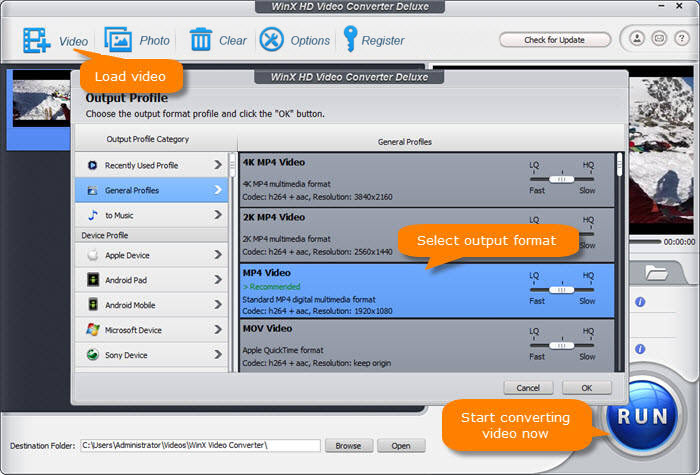 Still have question on how to deal with your H.264 video? Please feel free to Mail Us >>