How to Free Get Songs/Music from iTunes 12 with Ease
Apple on July 21 unveiled a preview of iTunes 12, along with the fourth beta release of OS X Yosemite. The new version of iTunes is given "elegant new design" which echoes the flatter, more translucent cues of Mac OS X Yosemite. Only developers running a preview build of OS X Yosemite can get iTunes 12 beta downloaded in the Mac App Store. And iTunes 12.8 is the latest version designed to have users to access Apple's new servece - Apple Music. Before you're available to update to iTunes 12(.8), let's see what's new in iTunes 12 and how to get songs from iTunes 12 for free.
Note: Apple has ended free iTunes 'Single of the Week' Promotion. Thus, you cannot free get songs from iTunes 12 now. If you want to free get songs, you'd better rely on the most trusted method - free download songs from YouTube. Free downloading songs from YouTube is very easy.
What's New in iTunes 12?
Functions of the new iTunes remain the same as previous editions, including managing media content management, creating playlists, syncing media content with iOS devices, stream internet radio and buy music, films, TV shows, books, apps in the iTunes Store. Surprisingly, iTunes 12 comes out with brand-new design. The new look of iTunes matches that of iOS 7 and iOS 8 much more closely. Read on to see what iTunes 12 looks like.
1. A new look. All of the controls are kept in the same position. But the design is much flatter with a few shades of gray instead of gradients and textures. In addition, the old legacy iTunes UI is entirely removed from this edition which may bring some inconvenience to long-time iTunes users temporarily.
2. A new and quick way to access to your content. Unlike iTunes 11, different categories represented by icons are lined up in a row in iTunes 12. It is much more convenient by just hitting the correct icon, rather than opening the drop down menu first.
Except for the above mentioned changes, iTunes 12 also comes with a new "Get Info" screen and rearranged list of iTunes-connected devices. Overall, iTunes 12 really looks elegant. As the beta progresses, changes maybe go on. But anyway, there are ways to get songs from iTunes 12 for free.
How to Free Get Songs/Music from iTunes?
iTunes is a good place to get music, movies, TV shows, books, apps and more. Most of them are paid stuff, but various freebies are also available in iTunes Store, such as free songs.
Guide to get songs for free in iTunes 12
Step 1. Create an iTunes account to use iTunes Store freely.
Step 2. Find out the "Free on iTunes" option, access it.
In iTunes 11, people can get "Free on iTunes" at the bottom of "Quick Links" after accessing to iTunes Store homepage. But this option may have moved to other place in iTunes 12.
Step 3. Browse the stuff under the category of "Free on iTunes" and select the songs you want to free get from iTunes 12 to begin downloading.
Besides, there are other available ways to get free music on iTunes, such as:
1. Free songs can be downloaded from promotional offers in iTunes, such as U2's Songs of Innocence.
2. If you have a gift card as a gift, you can redeem it and upload the information to earn store credit for your gift. And then you can use it to purchase songs from iTunes.
3. Make use of Starbucks Pick Of The Week. Every customer is given an opportunity to get a free app or a piece of digital content from iTunes, via Starbucks iOS app and in-store Wi-Fi.
However, above methods used to free get songs from iTunes 12 seem to be imperfect and occasional. Free songs on "Free on iTunes" are limited and maybe outdated; promotional offer is not easy to come by and may be not to your taste; credit redeemed from gift card is also limited; and people aren't likely to go to Starbucks only for the Starbucks Pick Of The Week. Nevertheless, things are not as bad as you think. There's another way capable of free downloading iTunes songs from YouTube.
Alternative Option to Free Get Songs from iTunes 12 – Free Download Songs from YouTube
As is known to all, YouTube is a popular video-sharing center covering a wide range of videos, including music videos, funny animal videos, cartoon videos/movies, superhero movies and so on. Songs in iTunes can be found here as well. To download songs from YouTube, all you need is a YouTube downloader. Here, you're suggested to try WinX YouTube Downloader, which is totally free, clean yet powerful. It is able to free download any YouTube videos, music videos in any video resolution to FLV, MP4 or WebM format. Just download and install it to see how it works. For Mac users, WinX HD Video Converter for Mac is recommended to free download iTunes songs on Mac OS X Leopard to macOS Mojave.
Step 1. Click the chain-like button to add the URL of the target song in YouTube.
Step 2. Paste and analyze URL, choose output plan for your song, and click OK to move on.
Tips: To download tons of songs at once, please repeat step 1 and step 2 to add other songs for downloading.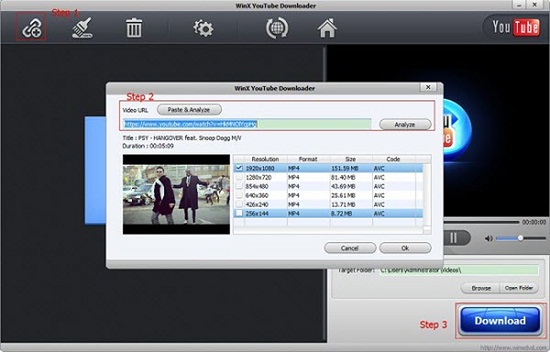 Step 3. Hit Download button to begin free downloading songs from YouTube instead of free getting songs from iTunes 12.
It only requires several mouse clicks to download songs for zero cost. Using this method, you can download any popular or classic songs without any limitation, such as Shakira hit songs, graduation songs, gay songs, etc. Certainly, you can also convert YouTube music videos to MP3 audio files. And then transfer it to iTunes 12 and sync with your iPhone, iPad and iPod. As you can see, it is much easier than getting songs from iTunes 12 for free.
Still have some trouble about free downloading songs from YouTube? Please feel free to Email Us >>