Free Stream YouTube Videos to TV via Chromecast, Android Device, PSP and Converter Software
How to Free Stream YouTube Videos to TV via Chromecast, Android, PSP?
Google YouTube itself has "YouTube Live Streaming" feature which enables a user with reputed YouTube channel to create "Live Events" from the "Account Features" page. There is also a video demo shows you how to achieve it step by step: create a to-be-live event, choose ingestion settings, preview and start the event. Once these have been done, user can see a "Live Events" option in the Video Manager.
Watching YouTube videos on big-screen TV is most needed for free streaming YouTube to TV. Many users are still in search of a free way to stream YouTube videos to TV/Apple TV. This article gathers up various channels of streaming YouTube to TV through, such as, Chromecast, game consoles (PS3, PSP, Xbox, Wii), Android devices, software programs and so on through the help of WinX HD Video Converter Deluxe.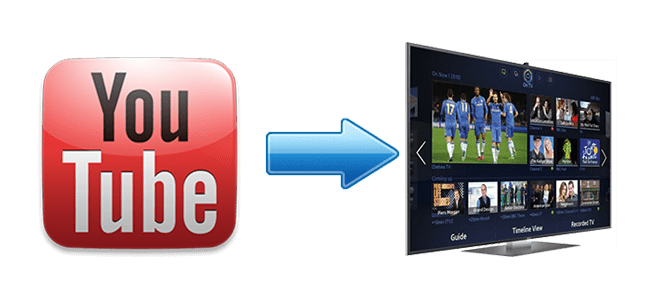 How to Free Stream YouTube Videos to TV?
WinX HD Video Converter Deluxe:


Download videos from YouTube, convert any YouTube videos to TV, Apple TV, iPhone, iPad, Android, etc.


WinX HD Video Converter Deluxe is the right application to transform High Definition videos into a wide range of formats on Windows.
- Boogerman (Miracletutorials Editor)
Stream YouTube Videos to TV via Chromecast
Google's HDMI Dongle with no surprise supports streaming digital media files to HDTV. Besides streaming DVD movies to Chromecast, we can also stream videos from YouTube to TV via Chromecast in the following steps:
Step 1. Buy a Chromecast.
Step 2. Enable HDMI-CEC functionality on your TV, and connect the device's micro-USB port to an external power supply or a USB port.
Step 3. Flexibly enough, you can stream YouTube videos to Chromecast through Chromecast Tab casting, Videostream Chromecast Browser extension, desktop sharing, free web app (Plex media server) or Android apps from PC or Android devices.
Step 4. Default full screen mode from PC or Mac.
Step 5. Stream YouTube videos and watching them on TV.
Please note that the streaming quality in both Desktop Sharing and Tab Casting is limited to 720p with high bitrate, no 1080p supported.
Stream YouTube Videos to TV via Software
Converting and transferring YouTube videos to TV is the most stable, reliable and easy to use way for playing any YouTube videos on TV anytime without the need of network connection, although not live YouTube streaming. All you need is the right soft gear.
WinX HD Video Converter Deluxe allows you to free download any online videos from YouTube and convert them to your television compatible videos.
Step 1. Download and install this YouTube to TV converter (latest version is recommended) on PC or Mac.
Step 2. Click"YouTube URL" button to download any YouTube videos. It allows you to free download streaming YouTube videos.
Step 3. Paste the URL to be address bar, click "Analyze" and choose an output format according to your need on the output quality and file size.
Step 4. Kick "Auto Convert" if you need to convert the downloaded YouTube video. (If not, just uncheck it and go on downloading.)
Step 5. Choose an output profile. Among the totally 380+ built-in profile in this YouTube video downloader/converter, you can choose the most suitable one, for example, converting YouTube video to Apple TV, Chromecast, PSP, PS3, PS4, Xbox, Android (Google New Nexus 7, HTC One M8, Samsung Tab S, Note 3, Galaxy S5, Amazon Kindle Fire HD, etc).
You can also convert YouTube videos to MP4 or other common video formats accepted by your TV, and copy them to your USB, HDD, micro-SD card and so on such that you can plug in your HDMI of TV for direct playing.
Step 6. Click RUN button and begin converting YouTube to TV friendly videos.
Hot Searches: YouTube Downloader, YouTube converter, YouTube to MP4, DVD to Android, Free Get YouTube Video
Free Stream YouTube Videos to iPhone iPad Android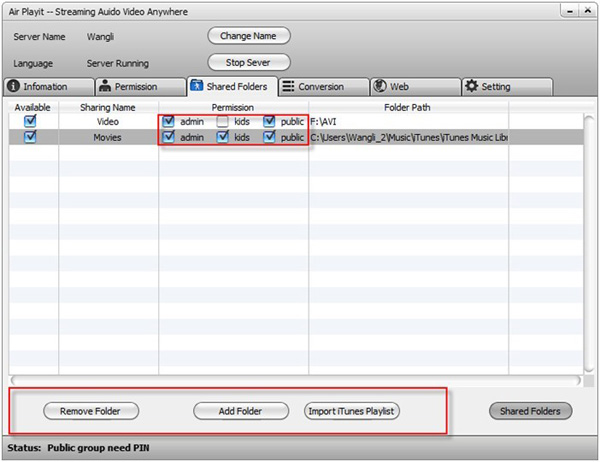 There are also many other way of free streaming YouTube video to TV. We can also realize free streaming YouTube videos to iPad, iPhone or Android mobiles and tablets.
Step 1. Download the Server part of Air Playit, a 100% free video audio streaming app on PC and download the Client App part on your device.
Step 2. Open the program on your computer, add the existing YouTube videos files from your PC/Mac to the "Shared Folder"/"Sharing Folder" of Air Playit. The client can automatically discover the local network by Bonjour Server.
Step 3. Run app client on iPhone, iPad or Android, and add the Local/Remote Server.
Step 4. Find the YouTube video under your server, and click "Play".
WinX HD Video Converter Deluxe helps you free download any YouTube videos, convert SD/HD/4K videos to AVI, MP4/H264, WMV, MOV, iPhone, iPad, iPod Touch, Samsung Galaxy S5, Note 3, WP8, Surface Pro, Apple TV, Kindle Fire, HTC One, Google Nexus 7/10, etc. You are enabled to merge server videos, add external subtitles, and trim videos before streaming YouTube videos to TV. It also comes with a Mac edition.