iPhone Free Movie Apps Websites for Online Movie Watching
iPhone Free Movie Apps Websites for Online Movie Watching
"Where can I watch free movies online on iPhone or the sounds-great iPhone (I'm planning to get one)? I have tried a few different websites, but none of them work (or they don't have the movie I'm looking for). So what is a good free movie website/app that I can use on my iPhone where I can just watch it online?"
There are plenty of website lists for free movie online watching on PC/Mac. However, when it comes to free movie websites or apps for iPhone, such as new iPhone, there are very few of them. Most sites use flash which iOS doesn't support. You can rent or purchase movies for online watching on iTunes, which, however, is apparently not in line with your original intention to watch movies on iPhone for free. So we do the search and sort out top 5 good free movie apps for iPhone 12/11/Pro/Max/8/7 in the following list. Hope you will be delighted with this fascinating free movie sources.
Top 5 Free Movie Apps for iPhone 12/11/Pro/Max/8/7
1. Crackle: Movies & TV
Crackle is a totally free app (free to download and free to play) for full-length movie and TV shows online watching on your bigger screen iPhone 11/Pro/Max (6.1 in and 6.5 in), iPod and iPad, which has more than 25 million users, competitive with Popcorn Time. New films and TV series are added monthly. But there are video ads inside, which may cause extra fees when watching movies online. So viewing over Wi-Fi is recommended.
For: No signup, no fees, just hit movies and TV episodes.
Tips: To use this free movie app for iPhone, you must be in one of those countries, US, Canada, Australia, Brazil or Latin America.
* Popcorn Time for Android | Popcorn Time iOS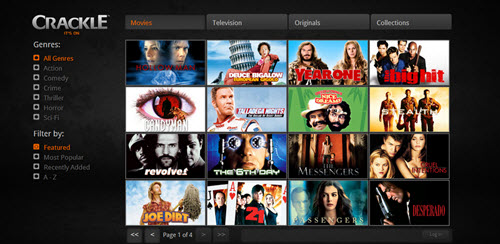 Netflix
Netflix probably is the most popular subscription service for watching thousands of movies and TV shows online, which providing free movie app for both iPhone 11/Pro/Max and Android devices, only if you've already subscribed to Netflix. I guess we should count in this free movie streaming app for your movie online watching on new iPhone 11/Pro/Max, iPhone 8/7/6. There is a one-month free trial and you can try it out for yourself.
For: Great video quality with a relatively easy to buffer stream.
Tips: If your Netflix app is working, don't update. Because according to users' feedback, update most often leads to crashing.
Download 4k movies or Netflix mastered in 4k movies
Movies by Flixster
Movies by Flixster, developed by Flixster with Rotten Tomatoes, is a popular free iPhone movie app, which is favored by users for its ease of use and up to date information of all films. It gives you free access to movie online watching on iPhone 11/Pro/Max and enables you to have all movies and trailers right at your fingertips.
For: Featured in the App Store Essentials Hall of Fame by Apple.
Note: Because there are way too many ads, it would be annoying to use. And this free movie app for iPhone 11/Pro/Max crashes most of the time when play any Ultraviolet content.
IMBD Movies & TV
IMBD Movies & TV, a free movie app working on iPhone 8/7/6S and the latest iPhone 11/Pro/Max, iPod Touch and iPad, is well-known for its largest data base of movie, TV and celebrity info (over 2 million movie and TV series/shows). Besides, you can look up upcoming movie showtime at theaters, latest DVD release date, popular movies, etc.
For: What a fantastic reference tool for everything movies and more.
Note: Constantly crashes after iOS update.
Hulu Plus
The Hulu Plus movie app, like Netflix but has better interface than Netflix, just allows Hulu subscribers to free watch movies online on larger iPhone 8/7/6S, new iPhone 11/Pro/Max or iPad at no extra charge. Movies could be stream to iPhone 11/Pro/Max for online watching over WiFi, 3G and 4G.
For: Works great on iPhone 11/Pro/Max and the video is smooth even on 3G.
But: $10 a month seems a bit steep for most people.
Instead of watching movies online on iPhone, iPad via mobile apps, you can directly go to some free movie websites for iPhone 11/Pro/Max. Make sure there is no virus first. While free movie websites for iPhone 11/Pro/Max are a boon for almost all Apple iOS users, it is also bringing concerns. Generally, the movie quality is horrible. For those who want to enjoy HD movies online on iPhone 11/Pro/Max, free movie websites are no good options. And if a lot of people are trying to stream the same film, the movie loading process would be stuck or stop each minute to load more.
Free Download Movies from YouTube to iPhone
When you try to use free movie app or websites for watching free movies online on iPhone, you will find out that some of them will need membership, while the others only have limited old films. In this case, maybe free downloading movies for watching offline on iPhone, iPad, iPod would be a better solution. No waiting for buffering and no need of net connection. And you will be able to free watch movies on iPhone 7 and iPhone 6S anywhere anytime. Amazing, right? All you need is a free movie downloader, such as free WinX YouTube Downloader. .