Home > Resource > Free Download YouTube Karaoke Songs
How to Free Download YouTube Karaoke Songs to Hard Drive and Mobiles
How to Download YouTube Karaoke Songs for Free to Hard Drive or Mobiles
Karaoke, a form of interactive entertainment, is extraordinarily popular all around the world. Amateur singers can sing with the prerecorded backing track in a karaoke bar, restaurant, club or lounge where karaoke equipment is provided. But if you want to throw a karaoke party at home instead of karaoke box, karaoke songs library is necessary. How to rich your karaoke songs collection? Thousands of free karaoke songs are shared in YouTube. Almost all songs have karaoke versions in YouTube. Here in this article, a guide to free download YouTube karaoke songs videos by using a free YouTube downloader or a free YouTube to karaoke converter will be presented for all music lovers.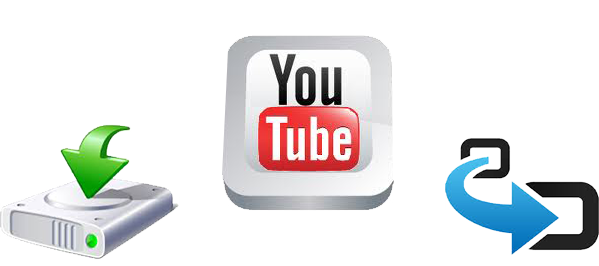 How to Free Download YouTube Karaoke Songs?
Your premier choice - WinX Free YouTube Downloader

Free download Karaoke video songs from YouTube.

Your all-in-one choice - WinX HD Video Converter Deluxe
Download and convert any Karaoke videos from/for YouTube.

WinX HD Video Converter can save (and convert, natch) videos from the likes of YouTube, and output presets for every portable device from Android to Windows Phone.
- Rick (CNET Editor)
Top 10 Popular Karaoke Songs in 2014 & 2015
Sometimes, we may come to a deadlock that we want to show our voice but have no idea about which song to sing. Then, the most popular karaoke songs list is helpful. So, what are the most popular karaoke songs in 2014 & 2015? A list of the top 10 popular karaoke songs has been compiled here.

So, how to get these crowd-pleasing karaoke songs? We have no choice but to pay for them? Actually not. All you need is a YouTube video downloader to download karaoke songs to hard drive. Some downloader tools are paid, while others are free yet powerful to download YouTube karaoke song with lyrics, such as WinX YouTube Downloader.
WinX YouTube Downloader is expert in free downloading any karaoke video from YouTube, whether it is a standard definition video or HD videos. And better still, it is capable of downloading karaoke songs in MP4 video format which is the most common format fully compatible with Windows, Mac OS X and other popular devices iPhone, Samsung Galaxy, Google Nexus, etc. Now, let's check how to download karaoke songs from YouTube to start a spontaneous sing off.
Guide to Free Download YouTube Karaoke Songs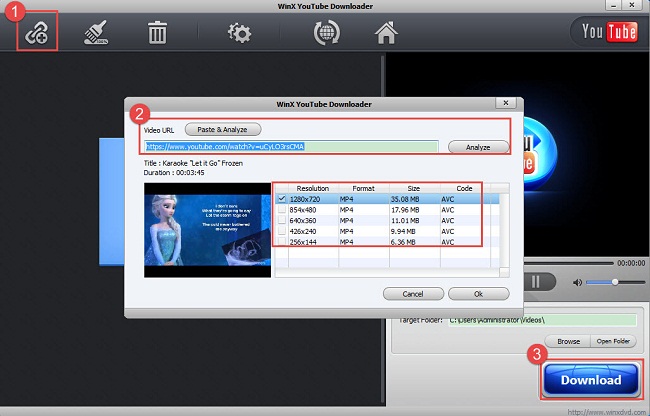 Before moving to karaoke songs download tutorial, three things are required to get ready:
* Get your computer connect to the internet.
* Hit "Free Download" and install YouTube downloader for karaoke songs.
* Find YouTube karaoke song URL. (To find your target karaoke music quickly, you can type the song, artist, and "karaoke" or "lyrics" in the built – in search bar at the top of YouTube website page, for instance "Let It Go Idina Mendzel karaoke".)
WinX YouTube Downloader ★★★★★ Rating: 5Type: Free
* Download Karaoke songs from YouTube & support 300+ video sites
* Download 1080p/8K/4K UHD video, 3D video & standard video in FLV, MP4, WebM, 3GP

Step 1. Click chain-like button after launching this free YouTube downloader for karaoke video.
Step 2. Paste the karaoke song video URL in the entry field and click "Analyze". Moments later, it will show you detailed video information, including title, duration, resolution, format, etc. To reach perfect audio-visual effect, high resolution is recommended to download.
Step 3. Navigate to "Download" button to process YouTube karaoke song download.
If you want to download more than one karaoke songs, please repeat step 1 and step 2 before clicking "download". This software supports for batch video downloading. Moreover, you can download karaoke songs from other video sites like vimeo, Metacafe, etc.
Optimal Alternative for WinX YouTube Downloader
WinX YouTube downloader is free yet useful to download karaoke songs from YouTube. However, the advanced version of WinX YouTube Downloader isn't limited to free download YouTube karaoke music. Advanced edition – WinX HD Video Converter Deluxe supports to download and even convert karaoke video songs. If you want to sing with the karaoke music on portable devices, this all-in-one YouTube to Karaoke converter and downloader is the way to go. It enables you to directly convert karaoke songs to iPhone 5S, iPad mini, Apple TV, Xbox, or other Android smartphones or tablets.
Additionally, WinX YouTube Downloader is a windows-based program. That is to say, it is definitely unsuitable for Mac users. To download YouTube karaoke songs free on Mac, you're suggested to rely on the Mac version of WinX HD Video Converter Deluxe.