How to Free Download Wrecking Ball Music Video by Miley Cyrus Online from Internet
How to Free Download Miley Cyrus Wrecking Ball Song Video from YouTube?
"I think Wrecking Ball MV is a successful transition for Miley Cyrus from an innocent girl to a sexy and flamboyant trend."
"It makes me gross, especially her white and dirty tongue."
"I don't think this style suits her well. Better to be who herself really is."
When talking about the performance of famous American singer Miley Cyrus in the MV Wrecking Ball, many people have controversial opinions. Nevertheless, the official Wrecking Ball song video released by MileyCyrusVEVO totals 667,075,119 views on YouTube till the middle of June, 2014. And this video is among the top 10 YouTube videos until 2014. This song is also her first No.1 hit on the U.S. Billboard Hot 100 in 2014 Billboard Music Award. (Miley Cyrus has won 9 nominations on it). Although the Wrecking Ball song video has been placed on YouTube for 9 months, the number of imitators is still increasing, including some antics such as the wacky and weird Chatroulette Version.
There are many ways to watch wrecking ball music video, such as purchasing from iTunes, buying music CD, or downloading it on the website. We focus on the latter one, namely, how to free download Wrecking Ball MV from YouTube.
Hot Searches: YouTube Converter, YouTube Downloader, YouTube, Free YouTube Download, Most Controversial Singers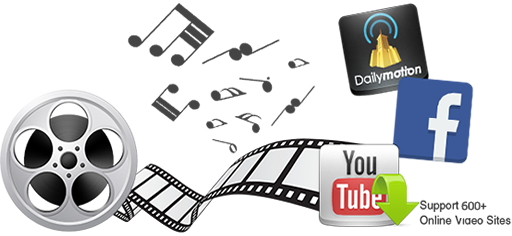 How to Watch Wrecking Ball Music Video Better?
WinX YouTube Downloader


Free download Wrecking Ball song videos from YouTube.

WinX HD Video Converter Deluxe


Download and convert any videos from/for YouTube at will.

WinX HD Video Converter Deluxe is the right application to transform High Definition videos into a wide range of formats on Windows.

- Boogerman (Miracletutorials Editor)
How to Download Wrecking Ball Cyrus Song Video from YouTube?
The best free tool to download Miley Cyrus songs from YouTube is WinX YouTube Downloader. It supports all kinds of Miley Cyrus MVs (HD included), Wrecking Ball spoof videos and even 4K ultra HD videos and 3D videos from YouTube. The output is exactly the same as the original ones, with the file extensions of MP4, WebM, FLV and 3GP.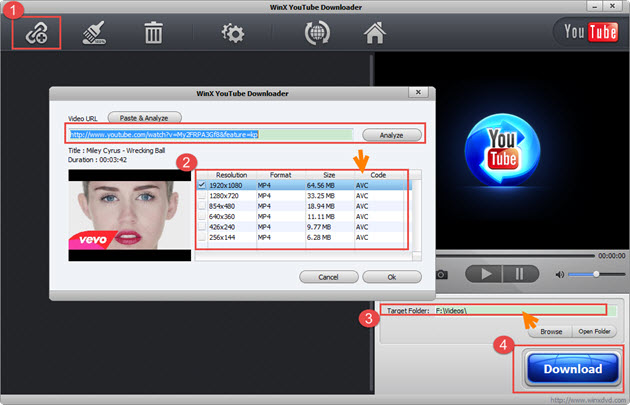 To begin with, you are better to download WinX YouTube Downloader from the official site or from CNET for safety. Then install it as the way for other programs on PC.
Step 1. Input the source music file of Wrecking Ball.
Open the software either before or after you find the Wrecking Ball video you decide to download from youtube.com. Then click + button and paste the URL to load the video in.
Step 2. Choose an output format.
Click "Analyze" button and wait WinX YouTube Downloader to analyze the source video for you in few seconds. After a while, it will display several output options on the lower part, probably differing in resolutions, file formats, sizes and codes. You can choose one according to your needs. Generally, the larger the resolution is, the bigger the output file will be and the longer the downloading time will take.
Step 3. Set the output folder.
To make it easier for you to find the downloaded Wrecking Ball music file on your hard drive, you can set the output folder and disk.
Step 4. Start free downloading Miley Cyrus wrecking ball video.
Hit the Download button on the bottom of WinX YouTube Downloader to execute your order. In the twinkling of an eye, you can get Wrecking Ball MV file on your computer and make good use of it. The video is supposedly built in with lyrics. But if not, please take the following text for reference:
Download and Convert Miley Cyrus Videos to Music
Cyrus has always demonstrated a desire to experiment with her music. You can use the free YouTube video downloading function of WinX HD Video Converter Deluxe as the alternative to download other Miley Cyrus song videos, such as We Can't Stop, The Climb, Party in the U.S.A. and Adore You to MP3, AC3, AAC, WAV, WMA, DTS, etc. It also helps convert those songs from videos to MP3/AC3 music file, and convert music videos for playing on iPhone 5S/5C/4S, iPad Air, iPad Mini, Samsung Galaxy S5, Note 3, Surface Pro 3, Kindle Fire HD, Google Nexus 7/8, HTC New One, PSP and so on. With this HD video downloader/converter, you can merge multiple videos and edit it by cropping, trimming, etc. It is really an all-in-one video tool.