Free Download We Are One (Ole Ola) Official 2014 World Cup Song from YouTube
Free Download We Are One (Ole Ola) Official 2014 World Cup Song from YouTube
"This song, We Are One, not represent Brazil! I hated this music..."
"It's okay. It's not the best song but okay"
"COOL! Brazil! I like this song. I don't know why people are trying to put it done..."
Free download We Are One (Ole Ola)
You might not be a football fan, but there is little chance that you could stay aloof from the World Cup fever, especially when everyone around you talking about World Cup theme song and stuff like that. We Are One (Ole Ola), 2014 FIFA World Cup official song, made its debut on YouTube last month. Till now, it has reached 15,124,878 views. Along with its release, hot topics like We Are One vs. Waka Waka reign over social media. With such high hits, it is still a moot point that whether We Are One is the best choice for Brazil's World Cup song or not. People seem to fall largely into three camps as opinions suggested at the very beginning. So which one do you prefer?
Download We Are One – Free or Charged
Here is the thing: You can either choose to buy We Are One (Ole Ola) CD or pay to download this official 2014 World Cup theme song on Google Play and iTunes, as it turns out something like "insufficient credit" may happen to you. Then things get messy. So here we just intend to inform you a totally free way to realize the We Are One downloading on YouTube easily and safely, with a professional yet free World Cup song downloader - WinX YouTube Downloader.
This YouTube Downloader for World Cup songs is 100% free of charge to download any video available on YouTube, such as We Are One (Ole Ola), Waka Waka and Wavin' Flag for 2010 World Cup in South Africa, La Copa de la Vida etc. Low occupied bandwidth, 5-8X real-time downloading speed, and, of course, it goes without saying the output video audio will be exactly as good as the original one. If you feel like downloading We Are One (Ole Ola) right now, follow up this guidance.
How to Free Download We Are One (Ole Ola)
First you need to download and install the free World Cup song downloader, which will be completed with couples of seconds. Next is our simple three-step We Are One free downloading process on YouTube.
Step 1: Click to launch WinX YouTube Downloader on your PC, open the YouTube webpage of We Are One (Ole Ola), and then copy paste the URL. The best part is that it can automatically detect your World Cup song YouTube URL for saving you the trouble.
Step 2: Select your desired output video format and resolution. Easily download We Are One (Ole Ola) to FLV, MP4, WebM formats.
Step 3: Press the button "Download" and all things have been done.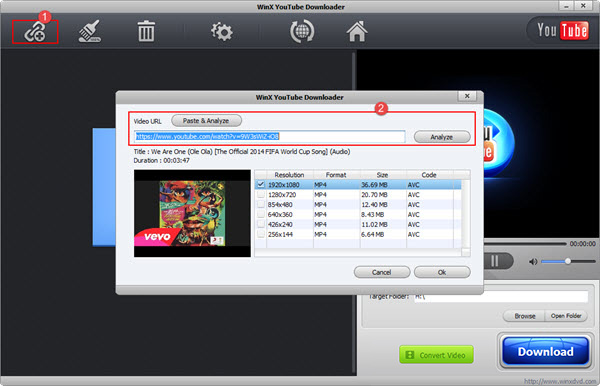 We Are One (Ole Ola) – Official 2014 World Cup Song
Before all that, take a cursory look at this most-talked-about World Cup music for Brazil 2014. We Are One, written by Pitbull, while teamed up with Jennifer Lopez and Brazil's pop star Claudia Leitte, is planned to be a song bringing sports, music and the whole world together, as you can see from the words. It will be performed at the World Cup opener in Sao Paulo. People who love it say it can ignite the excitement with its whistles backdrops and passionate rap. Here is a part of the We Are One lyrics. As to the rhythm, you can follow our We Are One free downloading steps below and check it out for yourself.
"Put your flags up in the sky (put them in the sky)
And wave them side to side (side to side)
Show the world where you're from (show them where you're from)
Show the world we are one (one love, life)"