Free Download Ylvis The Fox What Does the Fox Say MV from YouTube
The new and hot music video song The Fox (What Does the Fox Say), similar to Korean PSY Gangnam Style, is an electronic dance song and viral video by Ylvis, a comedy duo from Bergen, Norway consisting of brothers Vegard and Bård Ylvisåker.
WinX YouTube Downloader will help you free download The Fox Ylvis MV from YouTube to MP4, FLV, WebM.
Part 1: How Famous is The Fox?
The Fox went viral once it was posted on YouTube on September 3, 2013, which refreshed the new YouTube record, say, over 4.1 million hits within three days and over 1,000,000,000 (one billion) clicks for 30 days, ahead of Gangnam Style last year, 52 days. This article will introduce how to download Ylvis The Fox MV from YouTube.
Part 2: Why is Ylvis The Fox So Famous?
THE FOX (What Does the Fox Say) becomes famous out of nowhere and mostly by accident. It is attracting more and more people probably because:
The Fox is full of childishness and playfulness, but not vulgar;
It is an English animal sounds song suitable for both English learner and little kids;
It is very catchy to emulate and recompose;
Many people watch The Fox video out of curiosity, mischief or fun.
Part 3: Download The Funny Video The Fox with Free YouTube Downloader
WinX YouTube Downloader is totally a free The Fox YouTube video downloader with top-of-the-line technology. It is one of the top 3 best free YouTube downloaders extremely easy to use such that almost everyone can handle it well on PC. If you want to download the YouTube video The Fox, please download the free YouTube video downloader first.
Step 1. Launch the software - WinX YouTube Downloader.
Step 2. Open YouTube, find the extract video of THE FOX (What Does the Fox Say) and enter it.
Step 3. Click the chain-like button on the software UI to add the YouTube URL. WinX YouTube Downloader will auto recognize online video.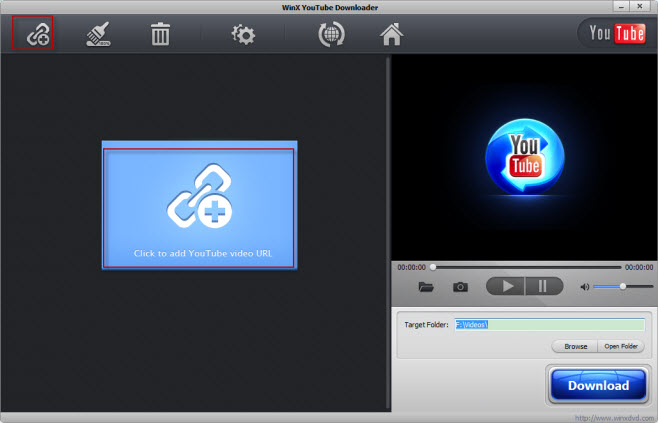 Step 4. Click "Analyze" button to check the resolutions, video formats, file sizes and codes of the video.
Step 5. Hit the "Download" button and start free downloading The Fox from YouTube. After seconds, you will get the output music video file on your computer.
Part 4: Convert The Fox Ylvis MV
If you need to convert the electronic dance song The Fox to MOV, MP4, H.264, WMV, MPEG, 3GP, etc., you may try WinX HD Video Converter Deluxe. With it, you can both download YouTube video The Fox, and convert The Fox MV to different formats at one go. It even allows you to Edit/Trim/Merge the video, and add your own subtitle to it. Feel free download and try the Windows or Mac edition.
Part 5: Ylvis The Fox Lyrics
Dog goes woof, cat goes meow.
Bird goes tweet, and mouse goes squeak.
Cow goes moo. Frog goes croak, and the elephant goes toot.
Ducks say quack and fish go blub, and the seal goes OW OW OW.
But there's one sound that no one knows...
WHAT DOES THE FOX SAY?

Ring-ding-ding-ding-dingeringeding!
Gering-ding-ding-ding-dingeringeding!
Gering-ding-ding-ding-dingeringeding!
WHAT THE FOX SAY?
Wa-pa-pa-pa-pa-pa-pow!
Wa-pa-pa-pa-pa-pa-pow!
Wa-pa-pa-pa-pa-pa-pow!
WHAT THE FOX SAY?
Hatee-hatee-hatee-ho!
Hatee-hatee-hatee-ho!
Hatee-hatee-hatee-ho!
WHAT THE FOX SAY?
Joff-tchoff-tchoff-tchoffo-tchoffo-tchoff!
Joff-tchoff-tchoff-tchoffo-tchoffo-tchoff!
Joff-tchoff-tchoff-tchoffo-tchoffo-tchoff!
WHAT THE FOX SAY?

Big blue eyes, pointy nose, chasing mice, and digging holes.
Tiny paws, up the hill, suddenly you're standing still.
Your fur is red, so beautiful, like an angel in disguise.
But if you meet a friendly horse, will you communicate by mo-o-o-o-orse, mo-o-o-o-orse, mo-o-o-o-orse?
How will you speak to that h-o-o-orse, h-o-o-orse, h-o-o-orse?
WHAT DOES THE FOX SAY?!

Jacha-chacha-chacha-chow!
Jacha-chacha-chacha-chow!
Jacha-chacha-chacha-chow!
WHAT THE FOX SAY?
Fraka-kaka-kaka-kaka-kow!
Fraka-kaka-kaka-kaka-kow!
Fraka-kaka-kaka-kaka-kow!
WHAT THE FOX SAY?
A-hee-ahee ha-hee!
A-hee-ahee ha-hee!
A-hee-ahee ha-hee!
WHAT THE FOX SAY?
A-oo-oo-oo-ooo!
Woo-oo-oo-ooo!
WHAT DOES THE FOX SAY?!

The secret of the fox, ancient mystery.
Somewhere deep in the woods, I know you're hiding.
What is your sound? Will we ever know?
Will always be a mystery what do you say?

You're my guardian angel hiding in the woods.
What is your sound? (A-bubu-duh-bubu-dwee-dum a-bubu-duh-bubu-dwee-dum)
Will we ever know? (A-bubu-duh-bubu-dwee-dum)
I want to, I want to, I want to know! (A-bubu-duh-bubu-dwee-dum)
(Bay-buh-day bum-bum bay-dum)
Still have question on downloading The Fox online video from YouTube? Please feel free to Mail Us >>