2021 Top 40 Thanksgiving Songs Lists and Free Download Solution
Download the best Thanksgiving songs and play them while eating roast turkey, mashed potatoes, pumpkin pie, and other Thanksgiving dishes.
Playing some thankful songs can better set the right mood for Thanksgiving when we are enjoying Thanksgiving dinner or party with our families and friends. Listen to Thanksgiving music, see how those artists express their appreciation to their lovers, friends and others they care about, and then learn from them and give our thanks for what we have and what we love. If you haven't created a playlist of best Thanksgiving Day songs for playback on 2020 Turkey Day, you can refer to our lists at the bottom of this article. If you want to download favorite Thanksgiving songs for free to your local hard drive or portable devices for offline playback or editing, simply download the tool below.
Part 1: Get a Program to Free Download Thanksgiving Songs
WinX HD Video Converter Deluxe- It is good at downloading music and videos (including best Thanksgiving songs for children/preschoolers, Thanksgiving songs to god, Thanksgiving hymns and movies) from YouTube, Vevo, Vimeo, SoundCloud, and other 1000+ sites. It features intuitive interface making it easy for both noobs and tech-savvy users, and cutting-edge techs (Hyper-threading and High Quality Engine) to ensure fast download speed and high-quality results. Different than some freeware coming with unfriendly stuff such as malware and virus, this free downloader is completely safe to download, install and use.
For Windows and Mac only. If you are a mobile user, please click here.
Part 2: How to Free Download Thanksgiving Songs from YouTube and Other Sites?
Since WinX HD Video Converter is a desktop-based program, we should download and install it on PC and Mac before any further. It is lightweight and clean, so feel free to do it. Once done, follow the instruction to download Thanksgiving songs for free as below.
Step 1. Input the URL of desired Thanksgiving music.
Go to any supported site such as YouTube, search for wanted Thanksgiving song, open it and copy its URL. Next, open the downloader, and then click the YouTube URL button at the top left corner. Then, you should see the URL has been presented at the text field. If not, copy and paste it manually.
Step 2. Select output quality and format of Thanksgiving song.
By clicking Analyze button, this downloader will immediately analyze the URL and displays related information like title, duration, and output options soon. Choose one desired result and hit Ok to exit this panel.
Tips: To download a couple of Thanksgiving songs in batch, you can repeat step 1 and step 2 before jumping to next step.
Step 3. Start downloading Thanksgiving music.
When preparation work is completed, simply click RUN button and let this software do the rest. You can also use it to free download Thanksgiving movies, holiday-themed videos, and more.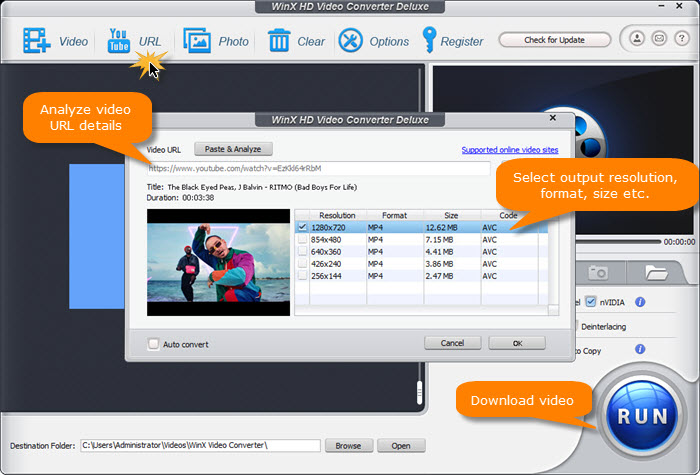 If you want to transfer your Thanksgiving songs MP3/MP4 from PC to iPhone iPad, just give WinX MediaTrans a try.
Part 3: [Updated] Top 40 Thanksgiving Songs to Free Download
The following part shows a general list of the classic Thanksgiving songs to enjoy while at dinner with your family and kids. We will keep updating the list for better entertainment.
Best 10 Thanksgiving Songs

Best 10 Thanksgiving Songs for Kids

Thanksgiving Worship Songs

Give Thanks And Praises - Bob Marley
Dinner - Blood Orange
Keep the Family Close - Drake
Thinkin Bout You - Frank Ocean
Macy's Day Parade - Green Day
Cooking Up Something Good - Marc DeMarco
I Want To Thank You - Otis Redding
Thanksgiving Day - Ray Davies
Dear Mama - 2Pac
A Charlie Brown Thanksgiving - Vince Guaraldi Trio
Home —Phillip Phillips
Turkey Chase —Bob Dylan
Thankful - Kelly Clarkson
Whatcha Say

Over the River and Through the Wood - Dog On Fleas
Thanksgiving Theme - Vince Guaraldi Trio
Thanksgiving Song - The Uncle Brothers
Thinkin Bout You - Frank Ocean
Happy Thanksgiving - Debbie Friedman
My Mom's Thanksgiving Dinner - Children from New York P.S. 24
Thanksgiving Day - John McCutcheon
Thanksgiving with Aunt Pearl - Erin Lee and Marci
Thanksgiving - Si Kahn
Over the River and Through the Woods - Quincy Choral Society
Five Fat Turkeys
The Turkey Hop, Turkey Dance Freeze
If You're Thankful and You Know It

My Tribue - Andrae Crouch
Give Thanks - Henry Smith
Forever - Chris Tomlin
Here I Am to Worship - Tim Hughes
Blessed Be Your Name - Beth Redman, Matt Redman
10,000 Reasons - Jonas Myrin, Matt Redman
Glory to God Forever - Steve Fee, Vicky Beeching
Your Grace is Enough - Matt Maher
Thank You God For Saving Me - Martin Smith
For All You've Done (I Worship You) - Vertical Church Band
Once Again, O Worship the King