Free Download Mutant Giant Spider Dog Video Clip from YouTube for Fun
Tutorial on How to Free Download Mutant Giant Spider Dog Video or Other Dog Spider Costume Videos
You are strolling through the dim underground tunnel or just dumping the trash at night, when suddenly a "giant spider" is crawling to you with its furry legs, which is actually a pet dog with a tarantula costume...
Yes, it's the YouTube No.1 top trending video "Mutant Giant Spider Dog", a prank video by a polish YouTuber - SA Wardega. Based on total views, shares, comments, likes, parodies, remixes and responses to identify, YouTube officially announced 2014 top 10 trending videos in early December. Among those creative YouTube videos, prank video "Mutant Giant Spider Dog" takes the leads, with more than 120 million views as of 23 December, 2014. Although some take the mutant dog as terrifying, most of the viewers still look forward to the second part of this video.
If you want to free download Mutant Giant Spider Dog video or similar videos online for playback on other devices or just sharing to others, this guide will give you the how-to steps with WinX Free YouTube Downloader.
Top Trending Videos List of 2014 with [Creators]
How to Free Download Mutant Giant Spider Dog Video Clip online?
What all you need is just a free YouTube video downloader like WinX YouTube Downloader, which is 100% clean and secure program with no malware, spyware, virusor or adware and support free downloading any spider dog videos on YouTube.
Free download WinX YouTube Downloader and install it on your PC in advance, launch it when you need to free download the dog dreessed as spider video:
Step 1: Click "URL" icon to enter into the pop-up YouTube video uploading window;
Step 2: Search and copy the link of spider dog video you want to download on youtube.com, click "Paste & Analyze" to have the video be analyzed. After the information, including resolution, format, size, code, being succesfully analyzed, check one video according to your needs and click OK;
Step 3: Hit "Download" button to free download spider dog video within a few minutes.
More about WinX YouTube Downloader
* Define the Target Folder to by clicking Browse before step 3
* Multi-thread Technology maximizes the downloading speed to 5-8X real-time faster
* High Quality Engine insures the downloaded spider dog video with original quality
* Compatible with any Windows OS - Windows XP, Vista, Windows 7/8, Windows 10
* Upgrade directly to full-featured WinX YouTube Downloader and Converter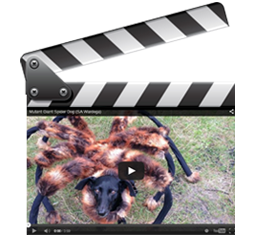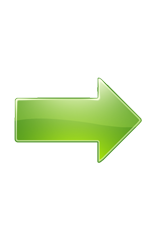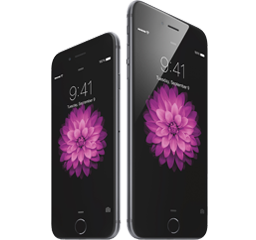 Free Download Mutant Giant Spider Dog Tool
WinX HD Video Converter Deluxe


Free Download and Convert any dog spider costume videos on YouTube for playback on iPhone, iPad, Android...


It can save (and convert, natch) videos from the likes of YouTube, and output presets for every portable device from Android to Windows Phone.
- Rick (CNET Editor)
How to Convert Downloaded FLV, Webm etc. YouTube Videos to iPhone, iPad, Android?
The official Mutant Giant Spider Dog is MP4 format, playable on iPhone, iPad, and Android. What if you download FLV, Webm or some HD formats spider dog videos from YouTube, unplayable on iPhone, iPad, Android? Luckily, WinX YouTube Converter fits the bill. It features downloading and converting YouTube video to various video formats and mobile devices including the latest iPhone 6/6 Plus and Samsung Galaxy Note 4/Edge. |> See its full specifications: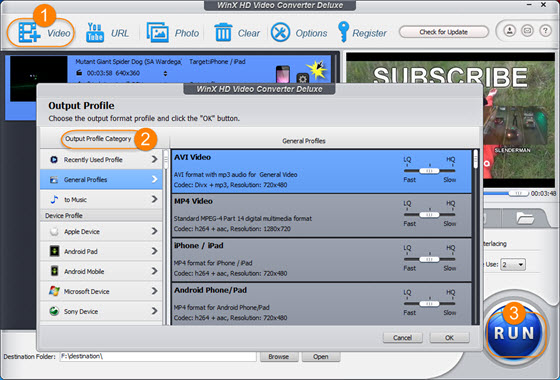 Step 1 - Download, install and launch this software. Import downloaded video into it by clicking "+ Video" icon;
Step 2 - Choose a certain output video format or portable device as you like;
Step 3 - RUN YouTube video converting.
[Advanced Setting Tips If Necessary]
* Click "Setting" button to reset some default video audio parameters
* Check "Use High Quality Engine" to get improved video image quality
* Check "Deinterlacing" to make your existing video clip a much more clear look
* Check "Safe Mode" to make the conversion more stable, not leaving off suddenly
Still have trouble about how to free download Mutant Giant Spider Dog or other dog spider costume videos from YouTube? Please feel free to Email Us >>