Free Download Happy Mother's Day Songs to Show Your Love as A Son/Daughter
Guide on How to Free Download the 2021 Best Happy Mother's Day Songs to The Most Important and Special Person - Mom
Summary: If it's hard for you to say "I Love You" directly to your dear mother, why not free download Mother's Day songs to show your deep love for her?
Q: Help! I Need to download some songs for Mother's Day, but I don't want to search on the Internet. Both old and modern songs are OK. It's better to give me free (downloading) resource. Thank you all!!!
Mother's Day arrives on Sunday, May 9th. On the special day, every mom who gave you the birth years ago deserves a day of comfort and relaxation, and it's quite necessary (for kids) to do something meaningful to warm your mom's heart. You can buy her a stylish gift, cook her a fancy dinner, watch a sweet movie with her either in cinema or at home... What better way to enchant your mom with the festive atmosphere is to download & play happy Mother's Day songs/music around from the moment she wakes up. Here we are with a collection of classic and hot new Mother's Day songs for your reference, also including some religious mother's day songs for Christians/church.
How to Free Download Happy Mother's Day Songs?
To free download Mother's Day songs, you are supposed to get a free downloader tool like WinX YouTube Downloader, which is guaranteed 100% free, clean and secure, containing no adware, spyware, malware or virus at all. The preparatory work you need to do is to download and install it on your computer, and then find the source Mother's Day songs/music Videos on popular video sharing websites, copy/Ctrl + C its URL, and at last run WinX YouTube Downloader to do as follows:
Step 1: Open Mother's Day Song Information Analyzing Window of WinX Downloader
Click "+ URL/Link" icon to turn to a smaller downloader interface.
Step 2: Paste, Analyze and Choose the Searched Mother's Day Songs
Since you have copied the URL of Mother's Day song just now, here right click Paste & Analyze. Until the song information is analyzed and buffered successfully within seconds, check a proper one and click "OK".
WinX YouTube Downloader supports downloading multiple videos at a time.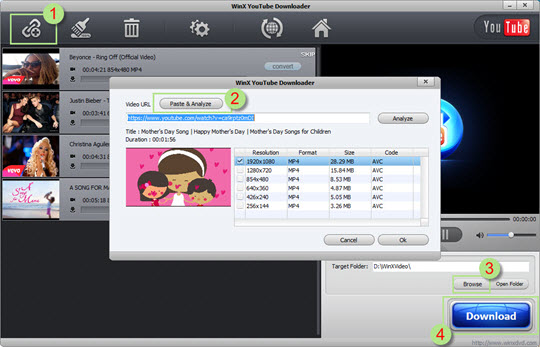 Step 3: Specify the Target Folder to Save Mother's Day Songs
Click "Browse" button to choose the path you want to put your Mother's Day songs in. Since WinX YouTube Downloader supports expendable USB storage, you can connect iPhone/iPad/Android etc. to PC via cable for directly download Mother's Day music to devices.
Step 4: Start Downloading Mother's Day Songs
Press Download icon under the preview window to begin downloading Mother's Day music.
Lists of Top Mothers' Day Songs of All Time
List of Other Popular Ringtones for 2020 Christmas

Mother's Little Helper, The Rolling Stones(1966)
Mama Said Knock You Out, LL Cool J (1990)
A Song for Mama, Boyz II Men (1997)
Mama Liked the Roses, Elvis Presley (1957)
Treat Your Mother Right (1984)
Little Green (1971)
Let It Be (1970)

A Mother's Love (album), Adeaze (2018)
Mama, Jonas Blue feat. William Singe (2017)
Look What You've Done, Mom, Meghan Trainor (2016)
Drake (2011)
Only One, Kanye West ft Paul McCartney (2015)
Hey Mama, Kanye West (2014)
Turn to You, Justin Bieber (2012)

Little Green, Joni Mitchell (1971)
Let It Be, The Beatles (1970)
Coat of Many Colours, Dolly Parton (1971)
Laurie Anderson (1981)
Shirley Collins (1959)
Mama I'm Coming Home, Ozzy Osbourne(1991)
Dear Mama, Tupac (1995)

Motherlover, Lonely Island (2011)
I'll Be There, Mac Miller (2011)
Not That Far Away, Jennette McCurdy (2011)
The Best Day, Taylor Swift (2008)
Baby Mama, Fantasia (2008)
Oh Mother, Christina Aguilera(2006)
The Perfect Fan, Backstreet Boys(1999)
I Love My Momma, Snoop Dogg (1999)
A Little More Time on You, 'N Sync (1997)

Everyday is like Mothers Day
Mama's Kitchen
A Message to the Mothers
Sadie
Mama knew love
One Heartbeat at a Time
Everything to Me
Midnight Oil

A Mother's Love
Mother's Day Song
Call Her Blessed
This Amazing Love
Don't Forget to Remember Me
Find Your Wings
When You Come Home
Indescribable Mom
Mother's Day Songs by Celine Dion: A Mother's Prayer, Goodbye's The Saddest World, Because You Loved Me, Mama
Top R&B/Hip-Hop Mother's Day Songs: Dear Mama (2Pac), Hey Mama (Kanye West), Momma Loves Me/December 4th (Jay-Z), I Love My Momma (Snoop Dogg), Look What You've Done (Drake) etc.
New 2021 Mother's Day Movie: The Story of Mother's Dayon May 09.