Home > Resource > Free Download Film Soundtracks from YouTube
2 Ways to Download and Extract Film Soundtracks: from YouTube or Album Disc
How to free download (original) film soundtracks from YouTube or extract mp3 acc wma music audios from movie
Q: There are many soundtracks I want, but I can't find them anywhere, especially the Frozen songs. Where can I download movie soundtracks?
A: Soundtrack is one of the fastest growing genres. Originally, it referred to the movie background music (score) recorded to films in optical manner using Sound-on-Film technology, (abbreviated SOF), different from Sound-on-Disc technology that is to record the sound onto CDs. Gradually, SOF has become the standard format in movie industry, the term "Sound" track now has evolved into music that is used in a movie or TV show, or a commercial soundtrack album containing the audio, and also the score, music composed for dramatic effect as the movie's plot occurs.
The soundtrack of the film Snow White and the Seven Dwarfs (released by Walt Disney in 1937) was the first commercially issued film soundtrack. After the success of releasing Original Sound Track OST, other film producer companies followed suit. Then OST appears as an independent music form. As time goes on, there is a boatload of soundtracks downloadable on iTunes, steam, etc. The following text will focus on how to download soundtracks from your favorite movies, such as The Hunger Games: Mockingjay, Part 1, Frozen, Guardians of the Galaxy, Despicable Me 2 and The Lego Movie in two different ways:
Free Download Film Soundtracks from YouTube
Extract Original Sound Tracks from Movie DVDs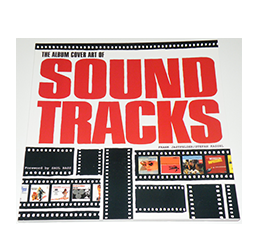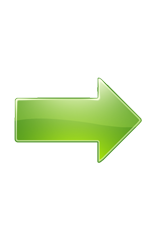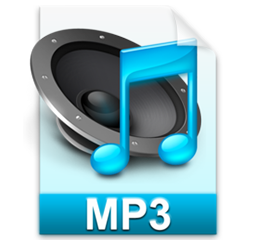 How to Get Original HD Film Soundtracks?
Download any movie soundtracks OST full albums from YouTube

, and also convert to MP3, AC3, WMA, iPhone ringtone.

Extract the original audio from a DVD and save as MP3 music file

, and also rip DVD to iPhone iPad Android MP4 AVI, WMV, etc.

WinX HD Video Converter Deluxe can save (and convert, natch) videos from YouTube, and output presets for every portable device from Android to Windows Phone.
- Rick (CNET Editor)
Method 1: Free Download Film Soundtracks from YouTube
90% of the internet is too lazy to provide the tracklist, but we can always find the desired movie soundtracks from YouTube. In order to play them through different devices and in different manners (such as offline), downloading the best film songs and scores is in great request.
WinX YouTube Soundtrack Downloader is the best free movie soundtrack downloading software for Windows (PC) users. It is designed to download any music videos, movie audio tracks, and soundtrack music from a range of genres, such as rock, electronic, and classical. To see how it works, you need to first download it to your PC. Don't worry! It is 100% free from adware, spyware, malware, virus or any other plug-in.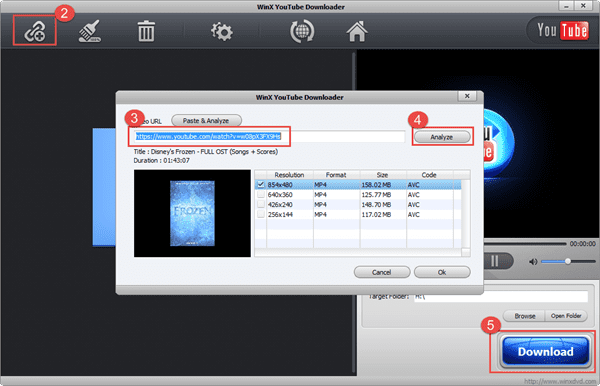 Step 1. Search for a video on YouTube that can be an OST, a music video or a lyrics Only video. The software supports both full URLs and shortened ones. If your YouTube cannot play videos, has no sound, downloading the videos to have a try. If you have problem downloading the YouTube soundtracks, feel free to Email us and let us know.
Free Download The Hobbit 3: The Battle of the Five Armies Movie / Soundtracks
Free Download Disney 'Into the Woods' Musical Movie / Soundtracks
Free Download Disney Frozen (Full) HD Movie & Soundtrack from YouTube
Free Download Alvin and the Chipmunks: The Road Chip
Free Download The Hunger Games 3: Mockingjay Part 1 Movie & Soundtrack
Step 2. Click "+" button and copy the video's URL.
Step 3. Paste the copied URL or type it directly in the address column. Indeed, the intelligent downloader can input it for you automatically once you Ctrl+C the URL.
Step 4. Tap "Analyze" and wait a second for the result, then choose an output format and click OK. If no format is favored by you, for example, you only need MP3 music file, you can upgrade to the Deluxe version to also convert the YouTube video to audio (MP3, AAC, AC3, WMA, AIFF, CAF, DTS, OGG, AU, RA, WAV, FLAC, ALAC), or play it on iPhone 6, iPad, Samsung Galaxy S5, Google Nexus 6 and so on.
WinX HD Video Converter Deluxe - Download and Convert Soundtracks Videos!
* Free Download SD, HD, UHD YTB SoundTracks Videos
* High Video Quality &Fast Download Convert Speed
* Convert Soundtracks to music MP3/ACC/WMA, etc
* Buit-in Player for Film Soundtracks Video Preview

Step 5. Hit "Download" button to start free downloading the movie soundtracks videos.
Method 2: Extract Original Sound Tracks from Movie DVDs
Rather than downloading MP3 soundtrack audio or MP4 movie video, there is another way to get the original audio track – converting a movie DVD to MP3 music file with the help of WinX DVD Ripper.
Step 1. Download the DVD ripper, and install it. In the meantime, make sure that you have a movie DVD, either purchased or borrowed/rent by you.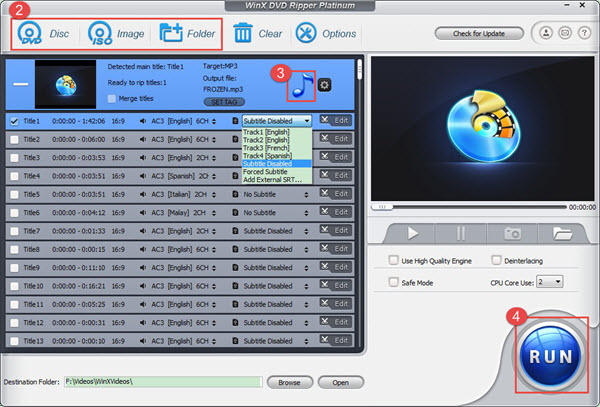 Step 2. Insert the disc into your computer DVD-ROM and add the movie through "DVD Disc" button. It is also doable if you have an ISO image or a DVD folder.
Since Frozen: Original Motion Picture Soundtrack is the Album of the Year, here we take converting Frozen movie, as an example, such kind of Disney movie will always have 99 titles in DVD which will scramble the order when ripping the DVD by some regular DVD ripping program in the market. But WinX DVD Ripper Platinum will auto check the main movie title. And you can also tick the correct title by yourself.
Step 3. After loading the movie, the DVD ripper will show a smaller window for choosing the output profile. Scroll down to the lowest part and click "to Music", and choose among MP3, AAC and AC3 format according to your need before you tap "OK".
Step 4. It enables you to make some other individual settings as per the personal need. For instance, you can select subtitle track, disable subtitle, choose forced subtitle (which means only display subtitles when foreign language appears), and even add SRT external subtitle files downloaded online. After that, simply hit RUN button.
Not Only Extracting Original Audio Track from DVD:
WinX DVD Ripper Platinum is DVD ripper software capable of ripping homemade DVDs, commercial DVDs and latest copy-protected movie discs, DVD ISO image files and VIDEO_TS folders to any popular audio or video format. It can shrink and compress a DVD to a great extent without noticeable quality loss, and the ripped video or music file can be played on any kinds of playing media, including iPhone 6, iPad Air 2, Samsung Note 4, Samsung Galaxy S5, Google Nexus 6, Moto G, PS4, Apple TV, Kindle Fire and so on.