Free Download Eurovision 2021 Songs to MP4/MP3 Format
Because of the coronavirus pandemic, the Eurovision Song Contest 2020 was cancelled. This year it is back. We can watch Eurovision 2021 grand-final online on Saturday, May 22, through Peacock (US), BBC/BBC iPlayer (UK), OMNI Television (Canada), SBS (Australia), etc. But besides online streaming, some may also want to download Eurovision songs for offline playback in an infinite loop. So, in this article we'll focus on how to download Eurovision 2021 songs for free.
Table of Contents
Above All, You Need a Downloader
You can listen to the Eurovision audios, watch official music videos and performances online. So only if you have a videodownloader, you can download Eurovision songs. And WinX HD Video Converter Deluxe is exactly the perfect tool.
WinX HD Video Converter Deluxe comes with a built-in free video downloader. It can free download audios and videos, and anything you can find on YouTube. So it won't be a problem to free download Eurovision 2021 videos from Eurovision Song Contest channel.
How to Free Download Eurovision Songs and Music Videos
Step 1. Download and install WinX HD Video Converter Deluxe on your computer.
Step 2. Open this tool and click "YouTube URL" button.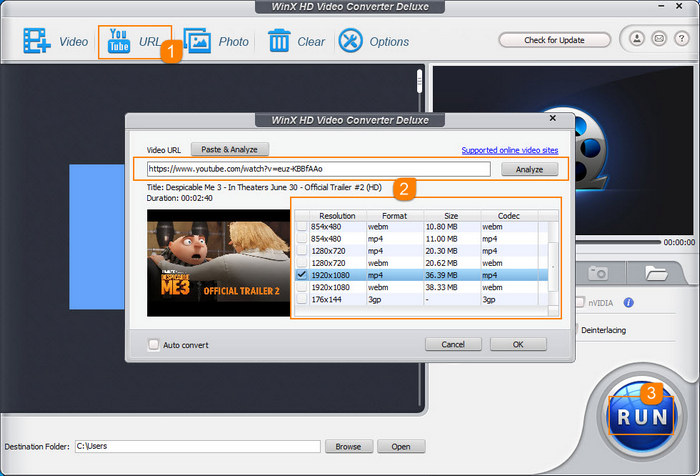 Step 3. Find and open the music video you want to download, and then copy the URL. Y Next, go back to WinX HD Video Converter Deluxe and hit "Paste & Analyze".
Step 4. When it finishes analyzing, it will give you all available output options. You can check the resolution, format, size, and codec, and then choose one based on your own needs. In our example, we choose to download Eurovision music video to an MP4 file.
Tips: If you want to download Eurovision 2021 songs as MP3, check "Auto convert". On the Output Profile panel, scroll down to "to Music", choose "MP3", and hit "OK".
Step 5. Hit the "RUN" button and then it will start download and convert the Eurovision songs to the specified format.
Disclaimer: Digiarty does not advocate downloading copyrighted content from YouTube for unfair and commercial use. Please refer to "Is it legal to download youtube videos" before doing so.
FAQs
When will Eurovision 2021 happen?
Semi-Final 1: Tuesday, May 18
Semi-Final 2: Thursday, May 20
Grand-Final: Saturday, May 22
How can I watch Eurovision 2021 online?
American fans can watch Eurovision 2021 on Peacock.
Brits can watch Eurovision 2021 on BBC and BBC iPlayer.
Australia people can watch it on SBS.
Besides, there is a Eurovision Song Contest app for iOS and Android users. You can watch live streams in the app and do more things.
What countries, singers and songs are in Eurovision 2021?
U.K.: James Newman, "Embers"
Spain: Blas Cantó, "Voy a quedarme"
France: Barbara Pravi, "Voilà"
Germany: Jendrik, "I Don't Feel Hate"
Italy: Måneskin, "Zitti e buoni"
Netherlands: Jeangu Macrooy "Birth of a New Age"
Malta: Destiny, "Je me casse"
Cyprus: Elena Tsagrinou, "El diablo"
Lithuania: The Roop, "Discoteque"
Ukraine: Go_A, "Shum" (Шум)
Russia: Manizha, "Russian Woman"
Sweden: Tusse, "Voices"
Azerbaijan: Efendi, "Mata Hari"
Israel: Eden Alene, "Set Me Free"
Belgium: Hooverphonic, "The Wrong Place"
Norway: Tix, "Fallen Angel"
Romania: Roxen, "Amnesia"
Ireland: Lesley Roy, "Maps"
Croatia: Albina, "Tick-Tock"
Australia: Montaigne, "Technicolour"
Slovenia: Ana Soklič, "Amen"
North Macedonia: Vasil, "Here I Stand"
San Marino: Senhit, "Adrenalina"
Estonia: Uku Suviste, "The Lucky One"
Czech Republic: Benny Cristo, "Omaga"
Greece: Stefania, "Last Dance"
Austria: Vincent Bueno, "Amen"
Poland: Rafał, "The Ride"
Moldova: Natalia Gordienko, "Sugar"
Iceland: Daði og Gagnamagnið, "10 Years"
Serbia: Hurricane, "Loco Loco"
Georgia: Tornike Kipiani, "You"
Albania: Anxhela Peristeri, "Karma"
Portugal: The Black Mamba, "Love Is on My Side"
Bulgaria: Victoria, "Growing Up Is Getting Old"
Finland: Blind Channel, "Dark Side"
Latvia: Samanta Tīna, "The Moon Is Rising"
Switzerland: Gjon's Tears, "Tout l'Univers"
Denmark: Fyr og Flamme, "Øve os på hinanden"