How-to Guide on Bad Blood Download Free from YouTube/Vevo/MTV etc.
WinX YouTube Dwonloader is a totally free and clean tool, with no adware/spyware/malware/virus at all, to free download online videos from YouTube, as well as Vevo, MTV, Vimeo, Pandora, Google Plus, Break, Facebook, Dailymotion, Yahoo etc. hundreds of mainstream video sites on the web. >> Check all supported video sites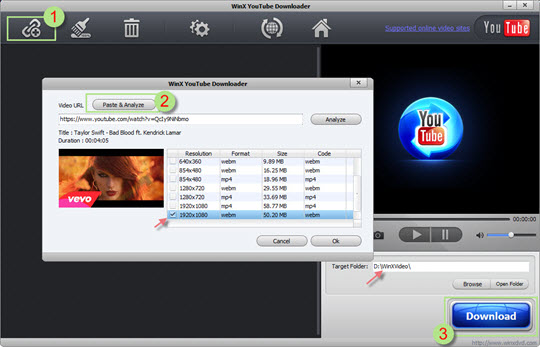 Step 1. Go to Window to Load Bad Blood MV Information
FREE download, install and launch WinX YouTube Downloader, click "+ LINK" icon on the left top to open up the MV link analyzing window.
Step 2. Paste and Analyze Bad Blood MV Link
Go to YouTube for example, search the target video of Bad Blood, copy the URL you'd like to free download. Then go back to the downloader window, click "Paste & Analyze". After a few seconds analysis, a video list will appear with different resolutions, formats, sizes and codes. Check the one that suits you most and click "OK".
Bad Blood YouTube Link [official]: https://www.youtube.com/watch?v=QcIy9NiNbmo
Step 3. MV of Bad Blood Taylor Swift Free Download
Tap blue "Download" button to start the Bad Blood download progress.
Download Hot Songs of Taylor Swift: Wildest Dreams | Blank Space | Shake It Off