Best Free 8K Video Downloader to Download 8K 60FPS Videos Easily
Learn how to download 4k/8k videos and movies from a wide range of online sites with a 100% rree 8K video downloader.
It's quite challenging to play 8K-resolution videos as problems such as stuttering, and even exploding, crashing or shuttering occur often. It is difficult to play the 8K UHD video partly because the CPUs are too slow to handle 8K video which can be handled by only high end Desktop processors. It also has higher requirements to bandwidth and computer configuration. But by downloading the 8K videos, you can play them smoother offline.
Obviously, 8K video requires extremely high for decoding. That is to say, not all video downloaders can decode and process the quad UHD video successfully. But there is a chance you can get an easy-to-use, free and professional 8K UHD video downloader developed by the trustworthy big company. You can easily download 8K YouTube videos fast without quality loss via a free 8K video downloader and play them on 4K/8K UHD TVs without stuttering.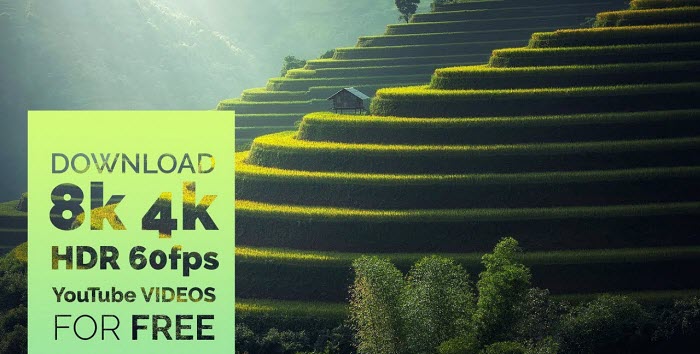 Best Free Tool to Download the YouTube 8K 60FPS Videos
WinX YouTube Downloader [100% Safe and Clean!] - easily download 4K, 5K, and 8K 7680x4320 mp4 video from YouTube, Facebook, Yahoo, Dailymotion, and 300+ other sites. With cutting-edge technologies, it delivers 5-8x real-time download speed while maximally keeping the original video quality.
For Windows only. If you are a mobile user, please click here.
How to Free Download 8K Videos on Windows (10)
If you want to see difference between 4K and 8K UHD videos (4K vs 8K), download the videos to have a test. The following tutorial will show you how to use the best 8K video downloader for Windows (10 included) to download the 4320p videos fast in a few clicks only.
Step 1. Get the 8K video downloader and video source ready.
Download the latest version of 18.3mb sized WinX YouTube Downloader for free and install it on your computer. Launch it when you need to download and test the 8K video. Find the 8K video on YouTube, and click the Add Video button on the UI.
Step 2. Copy and paste the video URL.
Copy and paste the 8K video URL to the address column that will be shown once you have tapped the "+" button, before you hit "Analyze" button.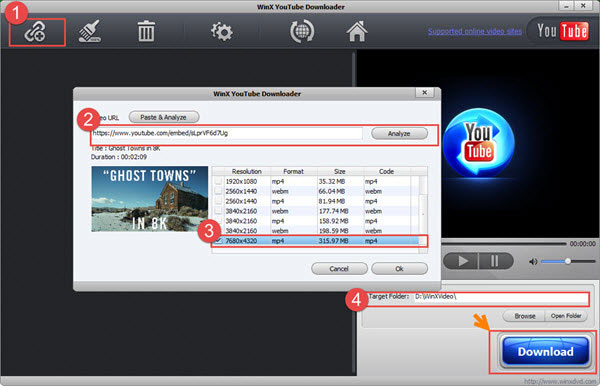 Step 3. Select the output.
After a short analysis, the free 8K/4K video downloader will show a small screen of output results. If you need to test the quality of 8K UHD video, please select "7680x4320 mp4". Since 8K UHD is 16 times of the common 1080p (1920×1080) HD video, it is very large in size. The 2 min 8K video sample will take up 315.97 MB of the space of your hard drive. You can also choose other output that is smaller in size. After it is done, click OK.
Step 4. Start downloading the YouTube 8K video.
WinX YouTube Downloader allows you to save the 8K video anywhere of your hard drive for convenient management, and Disk C is not a better idea for fast processing of your computer. Just Browse to choose the Target Folder and then click the big Download button on the bottom.
The free 8K UHD video downloader for Windows 10/8.1/7/XP also enables you to make some advanced settings by clicking the wheel-shaped button (the fourth one on the top). On it, you can default the output video format, resolution, video path and picture path. You can use a Proxy Server, and limit the download speed, for example, 50 kb/s as the max speed, but it is not suggested to be applied to downloading 8K movies/videos.