[Updated] How to Solve 'YouTube Videos Won't Play/Load' Errors
Q: YouTube MP4 video won't play on my Chrome, Firefox, IE or any browser on my computer! It stays blank. This issue has been driving me nuts - I've deinstalled/reinstalled Flash Player, Shockwave, and Java.
At times we are doomed with YouTube video not playing troubles. Here are a few typical YouTube outage cases. The videos fail to initiate playback and encounter a spinning wheel. YouTube videos won't load or doesn't start on Safari, Chrome, or mobile device. Sporadically, YouTube displays error messages, such as "An error occurred, please try again later", "Error 503 Internal Server on YouTube", "YouTube loads but video doesn't play", or "video player is blank with no video". The outages also happen on YouTube TV and YouTube music service as well.
Table of Contents
Potential Reasons Why YouTube Videos Won't Play/Load/Start?
Why won't YouTube video play or start on mobile (iPhone, Android), Mac or Windows PC? The reasons are varied: , the problem of the source video. It may also vary from videos themselves to hardware configurations or settings. "When videos blur, buffer, or won't play altogether, YouTube is now pinning the blame on your internet service provider (ISP).", but it might really be the reason. For instance, CenturyLink may be one factor to consider if you fail to play many YouTube videos because it experiences high bandwidth traffic during certain times.
Video source.
Computer problem.
Internet connection.
Browser.
YouTube mobile app.
Additionally, YouTube might experience technical glitches. There are many other unpredictable & complicated causes for YouTube errors here.
Hot search: YouTube Shorts not showing up fixes
Effective Solutions to Fix YouTube Video Won't Load on Windows/macOS/Mobile Issue
How to fix the problem when YouTube doesn't load/play videos on Chromecast, Firefox, Internet Explorer, etc on Windows 7/8.1/10, macOS? What to do if you have problems watching youtube video on iPhone Android? Please read the following online videos won't load on youtube troubleshooting:
Solution 1: Check Video Source
Sometimes, it's the YouTube video source to blame rather than other factors. How to check if video source is working? Read below:
Check the YouTube video property, private or public. If it's set as private video, forget it and try another one.
Check if the YouTube video can be played back on other devices or platform. If not, the video might be problematic.
Solution 2: Fix Computer Problem
Restart your computer. Sometimes, you're required to update your computer simultaneously.
Log in your PC/Mac with a Guest Account, and try Safe Mode for YouTube;
Solution 3: Troubleshoot Internet Connection Issue
Use a stable network connection. If the network is unsatisfactory, unplug your modem and router from power for roughly 10 seconds. Afterwards, plug them back in and check YouTube again.
Upgrade your network bandwidth service if you wanna stream and play YouTube video at 4K Ultra HD resolution. Generally, you're advised to make sure internet speed at least 20Mbps for 4K streaming. If not, "YouTube 4K video won't play" occurs as usual.
For most cases, the problem that YouTube won't play/load videos is caused by CenturyLink or other ISP. A possibly feasible solution is to use VPN. Basically you will succeed since it redirects your traffic through other means.
Solution 4: Solve Browser Issue
Upgrade your browser, or fresh YouTube page by pressing F5 or Refresh icon, and then try enabling JavaScript.
Disable unnecessary extensions on your Chrome browser. Mostly, some extensions would cause conflict with YouTube video playback. Then turn on Javascript for Chrome browser.
If you've got the Firefox add-on "Adblock Plus", which is also wreaking havoc with YouTube, try disabling and uninstalling adblock;
Remove the cookies of your computer to "free up" the space. Take Mozilla Firefox as an example: Tools -> Options -> Clear Your Recent History (all) and Remove Individual Cookies;
Change web browser to Safari. According to official YouTube help text, playback in HD is unavailable for streaming on a web browser, except for Safari for HD streaming only. So resort to Safari for HD video streaming or rent/buy HD/UHD version of a video on browser that doesn't support HD video streaming.
Update your Flash Player to the nearest version;
Solution 5: Do Something on YouTube Mobile App
Majority of factors that prevent YouTube videos from playing back on mobile iPhone Android can be resolved by closing and re-starting YouTube mobile application. Sometimes, further steps are also needed, including clear caches, exit apps running on background, uninstall and reinstall YouTube app.
Feel troublesome about these solutions? Don't be. You still have a free alternative method to totally avoid YouTube playing/starting problems – free download YouTube videos, using online video downloader, such as ClipConverter, or free YouTube downloader software, which is much safer and more stable than the former.
A Free and Once-and-for-all Solution to Avoid 'YouTube Video Not Playing'
Downloading online Videos from YouTube is a once-and-for-all solution to fix YouTube videos won't start/play problems. More often than not, it takes hours for a YouTuber googling and searching for a feasible answer after reading and analyzing scores of help forums & discussion threads repeatedly. Most of such issues are the results of Network, browser or flash player, so we can avoid all of these possibilities totally by downloading and playing YouTube videos offline. It is also a good way to save money since no paid upgrade of, say, your browser or VPN is necessary.
You can free watch your YouTube videos in the following ways:
Step 1. Download videos from YouTube:
Though YouTube downloaders like JDownloader, realdownloader failed to save YouTube videos offline, WinX HD Video Converter Deluxe comes an only solution to download YouTube videos (up to 1000+ video sites supported).
Download the YouTube video downloader on your PC, regardless of the version of Operating System, install and launch the 100% clean and free software without worries, click + button to add the URL of any YouTube video -> let the video be analyzed -> choose an output format (usually MP4) in your desired resolution, quality or file size -> click Download Selected Videos -> define the Output Folder -> hit Download now button.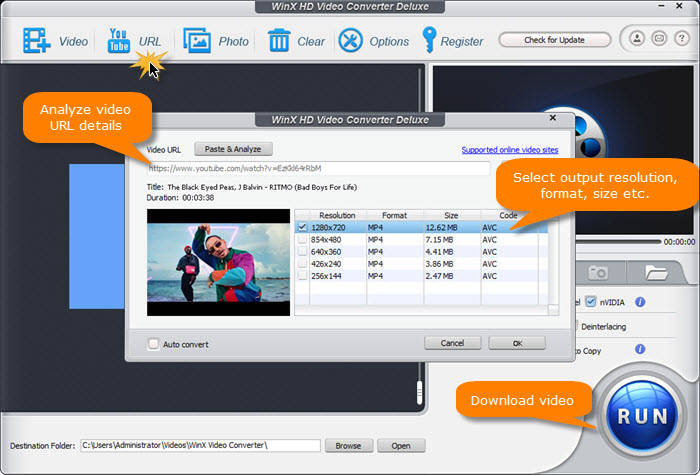 Also read: 3 Ways to Free Download Videos from YouTube
After this, you can play YouTube videos on all popular players, such as 5KPlayer, VLC and KMPlayer, smoothly on your computer.
Step 2. Stream HD or 4K Ultra HD YouTube videos to iPad iPhone:
Download Air Playit (First download Windows or Mac edition of serve part on your PC or Mac, then download Client App from App Store on your iPhone or iPad. Both are completely free. Air Playit can convert 320 different audio video on the fly and stream the YouTube music/video to iPhone, iPad Mini/Air, and Android with Wi-Fi, 3G and 4G network.
In such way can you download and watch 1080p or 4K YouTube videos on the move as flawlessly and flexibly as you can! If you still have some trouble about YouTube Videos not loading/playing on PC/Mac, please feel free to Mail Us >>