How to Fix YouTube Not Responding Error
Part 1: How to Fix YouTube Not Responding Error
Yes, you may attempt to get a YouTube not responding solution by searching on Google. But if you have no idea of how to grab the best from a diverse of answers, the list below summarizing the most useful tips of how to fix YouTube not responding error will give you a hand.
1. Delete browser cookies and history.
For IE and Firefox, open tools menu - Options – Delete history, clear recent history or remove individual cookies.
For Google Chrome, click Customize and control meun - History - Clear browsing data.
2. Update Adobe Flash Player or switch a browser.
Please make sure that Adobe Flash Player, a plug-in for video playing on browsers, is fully compatible with your browser. If not, update Flash Player to latest version or switch a browser to play.
3. Uninstall third-party add-ons.
If you have installed any Adblocking software or conflicting players on your PC/Mac or smartphone/tablet, disable/uninstall it and then restart YouTube.
4. Use a different network.
If you are troubled with YouTube not responding error on smartphone or tablet, please try to use a different network. If YouTube is still not working, reboot your devices or update to latest system.
YouTube Errors: YouTube/YouTube App Not Working, YouTube Not Working on Win 10, YouTube Won't Load/Play, YouTube Fullscreen Not Working, YouTube Error Help Tips
Part 2: Best Way to Erase YouTube Not Responding Problem
As is known, factors of YouTube not responding are uncertain, which means that maybe all above solutions cannot perfectly fix the error. Instead of playing video online, why not free download YouTube video to avoid YouTube not responding problem and play videos on PC/Mac/mobiles without any interruptions?
WinX YouTube Downloader is a powerful free program available to free download any YouTube videos, movies, music videos, game guide videos etc, varying from resolutions 360p SD, 720p/1080p HD, 4K/8K UHD and formats MP4, WebM, FLV, 3GP in a flash. In addition, it is completely clean and verified with adware/spyware/virus free.
Part 3: How to Free Download Videos when YouTube Is Not Responding
Open WinX YouTube Downloader and click the first + link-shaped button on navigation bar.
Copy and paste URL of the YouTube video which is not responding during playing to address bar in the pop-up window. Then, click Analyze button.
A couple of seconds letter, video title, duration and full versions of this video in different resolutions, formats, sizes, codec will be presented. Select the version you prefer, for example 1920x1080 MP4 and click OK.
Click Browse button to set target folder for saving video and hit Download button to start YouTube video free download.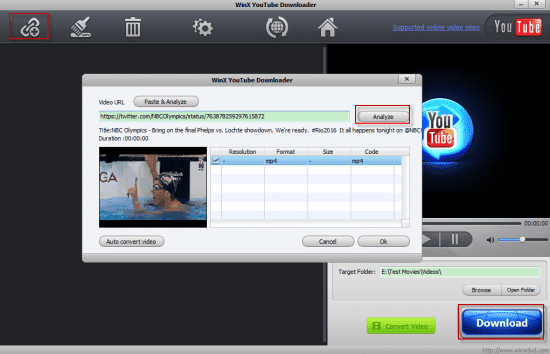 After download is finished, you can directly play YouTube videos on PC/Mac without worries of YouTube not responding or any other errors. If you download a MP4 video, you can transfer it to iPhone/iPad/Android and Windows devices with iTunes syncing or USB cable for enjoying favorite videos on the road.