[Solved] How to Fix macOS Sierra Crashing Issue When Upgrading/After Installation
[Solved] macOS Sierra Crashes? How to Fix?
macOS Sierra (10.12) firstly launched to end users with available free upgrade from OS X 10.7.5 in this September and brings significant changes and new features on Siri, iCloud Drive, Messages, Apple Pay and more. Some users cannot wait experiencing this new Mac OS but unfortunately encounter macOS Sierra crashing problems (for example kernel panic screen) during upgrading, after installation or even waking up from sleep mode. Why does macOS Sierra crash? How to make macOS Sierra work again? Read on to explore answers.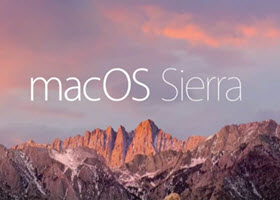 Must-have DVD Software for macOS Sierra
WinX DVD Ripper for Mac - helps every DVD collector convert any general and copy-protected DVD (movie) discs to digital files in various formats (MP4, MOV, MKV, AVI, WMV, FLV, 3GP etc.) for better backup, smooth playback on iPhone, iPad, Android, Windows devices, or uploading to YouTube, Facebook, Instagram etc.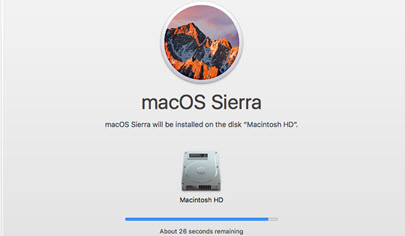 Case 1. macOS Sierra Crashes when upgrading/installing
It is a common problem that macOS Sierra goes to no responding or freezing situation during upgrading or installing. It may be caused by antivirus software or unstable network.
Fix: Start up your Mac in Safe Mode. Uninstall/disable any antivirus software and switch Wi-Fi to a reliable wired collection before upgrading or installing.
How to boot Mac into Safe Mode? Press power button on your Mac and hold the Shift Key once you hear the startup tone. After the gray Apple logo and progress indicator appear, release the Shift key.
Case 2. Can't Start up Mac after macOS Sierra Being Installed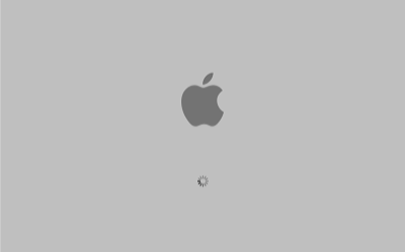 OK now, you have successfully installed macOS Sierra but it seemingly keeps crashing with only a dull grey screen. How to do? For unknown causes, try following fixes:
1. Reset NVRAM - restart Mac and hold Command, Option, P and R keys.
2. Reset the SMC - disconnect all accessories, like printers, devices before resetting. Now, hold down power button for 10 seconds to shut down Mac. Unplug power cord and wait 15 seconds. Plug the power cord back and turn on Mac 5 seconds later.
3. Safe boot Mac - restart your Mac and hold down the Shift key when you hear startup chime.
Note: It is highly suggested to completely remove third-party extensions, antivirus software, VPN software etc, because those kinds of software probably cause macOS Sierra crashing problem because of incompatibility. For more troubleshooting tips for Mac not turning on, please refer to this Apple Support page.
Case 3. macOS Sierra Crashes with Kernel Panic Screen when Upgrading or after Sleep Mode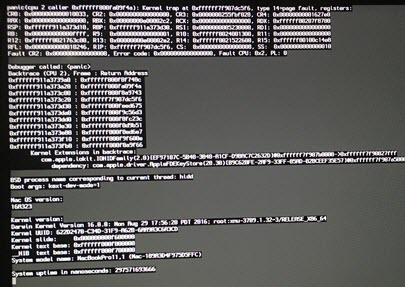 Appearance of kernel panic error usually results from damaged or incompatible software or hardware. It leads to crash of macOS and will make your Mac restart unexpectedly. If you see a kernel panic screen when upgrading or after sleep mode, follow instructions blow:
1. If the software causing kernel panic is confirmed, remove it from Mac.
2. If the reason is unknown, try following solutions:
• Boot Mac into Safe Mode and install available updates (Apple Menu > App Store > Updates)
• Uninstall any third-party plug-ins and software which may not compatible with newest macOS Sierra.
• Disconnect plugged in devices except Apple keyboard and mouse. Remove third-party hardware upgrades (RAM, PCI cards and more). Now, restart Mac. Next, reconnect one device at a time and restart Mac. Repeat this until you find which device causes macOS Sierra crashing.
• Reset PRAM – Restart Mac. Press and hold Option, Command, P and R keys before the black screen with Apple logo appears. Release the keys until your hear the startup sound twice.
• Check if installed hardware is incompatible or improperly installed by using Apple Diagnostics or Apple Hardware Test.
• Disk Utility can help you repair startup disk or disk permissions.
• If kernel panic error still happens, please reinstall macOS Sierra.
If you're experiencing other macOS Sierra problems, this troubleshooting page may lead you out.
• Convert DVD to MP4/H.264, MOV, M4V, MKV, FLV, AVI, WMV, 3GP, iTunes, iMovie, iDVD, Final Cut Pro etc. while keeping high quality.
• Fast Rip DVD to iPhone, iPad, iPod, Apple TV, Android, Windows Phone, Surface Pro/Book, PS3/4, Xbox One/360 and more.
• 1:1 copy DVD disc to ISO image, VIDEO_TS folder or MPEG2 file with original video/audio.
• Remove any copy protections from DVD, including CSS, region code, RCE, Sony ArccOS, UOPs, Disney DRM and special schemes on latest DVD movies, Workout DVDs etc.