How to Extract Audio from DVD as AC3 5.1 Channel Audio File?
There are many cases that you may need to extract the audio from a DVD, aka rip audio off the DVD. For example, it's necessary for transcribers to extract audio from a client's DVD for easier transcription. Or you may need to get the audio only to practice listening as follows.
Q: I teach listening in college. In order to develop the interests of my students and make my class more vivid, I decided to play the audios of hot movies on the class for listening training. I have, to keep pace with the times, some latest DVD movies but I wonder if it is possible to get audio from a DVD?
- The answer is absolutely yes! You can directly rip audio off the DVD for teaching or other purposes by using WinX DVD Copy Pro.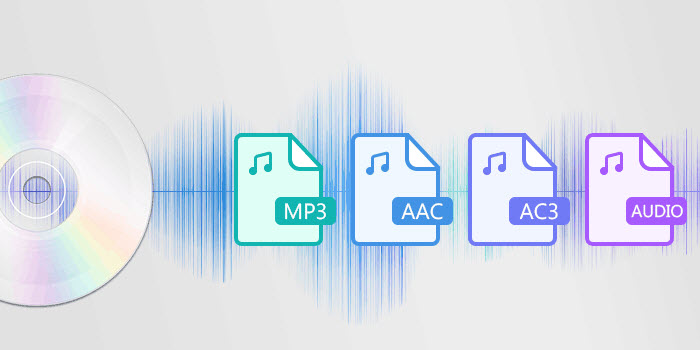 WinX DVD Copy Pro - Easily Extract AC3 Audio from DVD with Intact Tone Quality
WinX DVD Copy Pro is the best DVD copying software fully compatible with Windows 10/8/7/Vista/XP OS. It enables you to extract audio / video only, 1:1 copy DVD to DVD disc / ISO image / DVD folder at a blazing fast speed while reserving intact original video, audio, subtitles and chapters. [100% Clean and Safe!]
Part 1: What Are the Merits of AC3 Format File?
AC3 (Dolby Audio Coding 3) is composed of up to 6 audio channels, specifically, 5 channels for normal-range speakers (20 - 20,000 Hz) and 1 channel (20 Hz - 120 Hz allotted audio) for the subwoofer driven low-frequency effects. In specific, the surround system provided by Dolby AC3 typically consists of 5 pure frequency domain channels including left front, right front, center, left rear and right rear and 1 ultra-low track, called 5.1 channel.
Generally, DVD accepts 3 kinds of audio formats: AC3, MPEG2 and DTS. Compared with the latter two, AC3 mainly has the strong points below:
Good sound effect: AC3 audio is born with extremely good audio effect; it enables you to feel original DVD audio and surround sound;
Small file size: AC3 has a high compression ratio, so the file size is small but the sound effect is amazing. The AC3 file of small size is easy to copy and carry;
No subtitle: the AC3 audio file extracted from DVD contains no subtitle, which is customized to listening practice for both personal study and public instructional use;
Easy controllability: you can pause, go fast forward or rewind this audio file grabbed from DVD conveniently;
Meritorious recoverability: AC3 audio can be recovered, with excellent recovery effect. All information within 6 channels is digitalized in the processes of making and restoring, so the information loss is very small.
Therefore, WinX DVD Copy Pro, an up-to-date DVD backup solution provider, chooses AC3 which is more frequently used in DVD as the output audio format to satisfy the needs of the masses.
Part 2: What Can AC3 File Be Applied to?
AC3 audio can be played by VLC, WMV, and common players for DVD. If you cannot play AC3 files directly, try to install an AC-3 filter on your computer.
Furthermore, extracting audio from DVD has other applications besides enjoying the original DVD sound:
Ripping audio from a DVD is useful for further editing. The extracted audio from DVD can be added to the self-created video for some video edition lovers. Audio extraction is also applicable to homemade DVDs. The uses can be more only if you can imagine.
How to Extract AC3 Audio Only from DVD in a Simple Way?
If it is useful for you, extracting audio off DVD saves more time than ripping video to a great extent. There is a click-and-go way to grab only the audio from a DVD and save it as a AC3 5.1 channel audio file. What's better, you can also select the title you need for audio extraction while letting other unnecessary titles go to spend less time and make the extracted AC3 file smaller.
Before getting it started, you'd better get everything needed well prepared. The things you need for extracting audio from DVD are:
A computer with Windows 10/8/7 OS
A DVD that you want to extract audio from
WinX DVD Copy Pro - Free download and install it on your computer
Step 1: Launch WinX DVD Copy Pro before or after you put the source DVD in the drive of PC and browse to choose the folder to save the target AC3 audio file;
Step 2: Choose "Extract Audio Only" for your purpose with this professional DVD copy software;
Step 3: Select the title number you want to extract; for the whole content of DVD movie, "main title" is suggested;
Step 4: Choose the audio ID, audio language, audio format or channel listed on the right;
Step 5: Just click "Run" and go.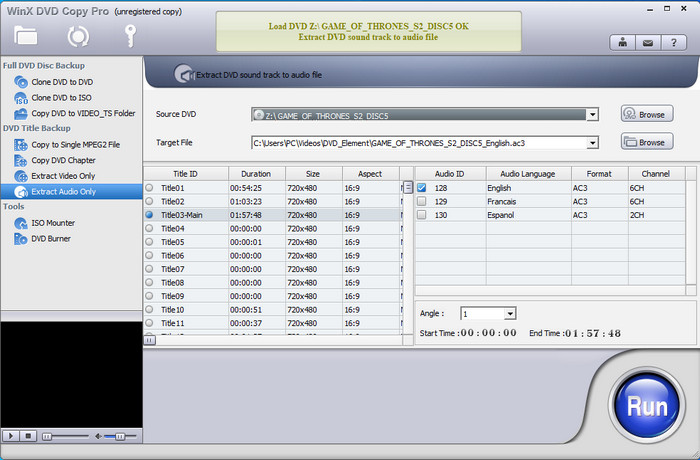 In addition to extracting audio only, WinX DVD Copy Pro branded to provide varied DVD backup solutions. It also has special abilities to Extract Video Only and Copy DVD Chapter to meet demands of different people.
How about Ripping DVDs to More Formats for Playing Anywhere? Try WinX DVD Ripper Platinum!
Best fastest DVD ripper and converter to convert DVD disc to digital video as MP4, AVI, WMV, MPEG, H.264, HEVC, MOV, iPhone, iPad, Android, etc. at fastest speed. Also enable you to 1:1 copy DVD to ISO image/folder/MPEG-2 file with original quality by accessing all DVD protections.