DVD to Tablet Converter: Digitize DVDs for Playback on Android Tablets and iPad
The best DVD to tablet converter on PC Mac that helps digitize dics for playback on Samsung, Google, ASUS or other Android tablets
- I was copying a movie DVD that I own to my computer hard drive so that I could use another program to convert the files to MP4 to be able to load on to a tablet for a long flight I have coming up.
Sadly, nearly all tablets in the world come with no DVD drive. This defeats many users' attempt to play discs directly on their iOS or Android pads. It was a pity if you have had a substantial investment in DVD collection.
But for your information, WinX DVD Ripper will allow you to convert DVD to tablet, like Samsung Galaxy tablet, Huawei tablet, as well as Amazon, Google, Lenovo, Acer and ASUS tablet and so on. After ripping, you can, for example, watch your DVD movies and TV series on your tablet with or without a mobile hard disk, or zip drive. Or, you can watch them on your TV at home via Chromecast or the Firestick, or archive an extensive DVD collection onto hard drive.
How to Use the DVD to Tablet Converter Free: 4 Steps (with Pictures)
To playback a DVD on whatever playing devices, you need to download WinX DVD Ripper, the best free DVD to tablet converter.
The step-by-step guide below will show you how to rip DVD to tablet PC in details.
1. Load DVD to the DVD to tablet converter.
"DVD Disc" on the top left of the main interface and load the source DVD until the DVD information is read and shown.
Tick the DVD title(s) you want to rip: Generally, the DVD ripper will choose and tick the main DVD title for you. But you can change or add DVD titles for converting.
2. Choose a target tablet profile.
First please know about the built-in table models and brands of WinX DVD Ripper: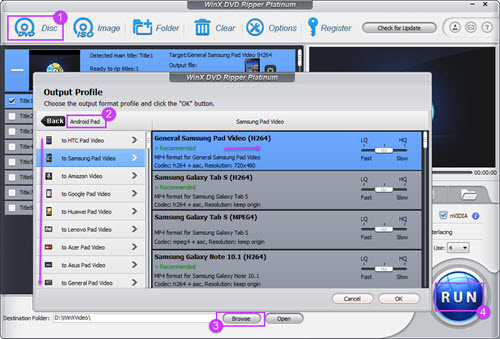 Acer tablets: generals, Acer Iconia tab A200, Iconia tab A210, Iconia tab A510, Iconia tab A700
Amazon tablets: general, Kindle Fire, Kindle Fire HD 7 inch, Kindle Fire HDX 7 inch, Kindle Fire HD 8.9 inch, Kindle Fire HDX 8.9 inch
Apple tablets: iPad, iPad 2, iPad 3, iPad 4, iPad Air, iPad Air 2, iPad mini, iPad mini 2, iPad mini 3, iPad mini 4, iPad Pro
ASUS tablets: generals, Transformer Pad TF701T, Transformer Pad Infinity TF700T, ASUS Nexus 7, ASUS MeMO Pad 7, ASUS Eee Pad MemO 171, Eee Pad Slider SL101, Eee Pad Transformer TF101, Eee Pad Transformer TF201, Eee Pad Transformer TF300
Google tablets: generals, Nexus 7, New Nexus 7
HTC tablets: generals, HTC Jetstream, HTC Flyer, HTC EVO View 4G
Huawei tablets: general, Huawei Ideos S7 Slim, Huawei MediaPad 7, Huawei MediaPad 7 Lite, Huawei MediaPad 10 FHD
Lenovo tablets: generals, Lenovo IdeaPad Tablet A1, Lenovo IdeaPad A2107, Lenovo IdeaPad A2109, Lenovo IdeaPad A2110
Samsung tablets: generals, Samsung Galaxy Tab S, Samsung Galaxy Note 10.1, Samsung Galaxy Tab 7.0, Samsung Galaxy Tab 7.7, Samsung Galaxy Tab 10.1
If your tablet model does not included in the list above, don't be trouble with it, because the DVD to tablet converter supports all General Android Pads. Otherwise, you can choose a tablet model that is similar in size, or adjust the output Aspect Ratio accordingly. If still not figuring out how to set the parameter for your specific tablet, you can contact Digiarty Support Team.
3. Set Destination Folder.
Click Browse button on the Destination Folder bar, and choose a folder on your hard drive to save the converted DVD file.
3.Start converting.
Afterwards, tap RUN button on the left to start the DVD to tablet conversion.
People Also Ask (Related Q&A for DVD to Tablet Converter):
What Video Formats Does an Android Support?
To sum up, Android supports H.263, H.264 AVC, VP8, VP9 and HEVC videos, including the file extensions of .3gp, .mp4, .mkv, and .webm. For details, please read Android File Formats >>
When Converting a DVD Movie to Tablet, What Is the Quality of the Copy?
It depends on the output profile you are choosing. But the DVD to tablet ripping will not cause video quality loss generally, because the resolution of a DVD is mostly 720 x 480 pixels, and WinX DVD Riper will keep the original 480p resolution. If you need the original Dolby 5.1 surround sound effect, the original DVD structure and content to be keep at 1:1 ratio, we suggest you choose DVD to ISO or DVD to MPEG2 file in DVD Backup Profile.
How Can I Watch a Ripped DVD on My Android Tablet?
It is quite simple to watch a converted DVD on your Android tablet: just transfer the video file from your PC / Mac to the tablet via a USB cable. Instead, if the tablet has a USB memory stick slot, you can put the movie on the USB drive or other flash drive and plug it in the tablet. After that, you can find the target video file and play.
Disclaimer: Digiarty Software does not advocate ripping copy-protected DVDs for any commercial purpose and suggests referring to the DVD copyright laws in your countries before doing so.