Download Best Free DVD Player Software for Windows/Mac
With today's DVD player software, you can turn your movie watching experience from sub par to superb. Even if your computer only has two speakers, the latest DVD player software produces more sound diversity than ever, enabling you to hear more of the subtle audio nuances in your movie soundtracks.
Today's DVD player software also offers intense, natural color and contrast, empowering your computer screen to display sharp detail during shadowy or highly illuminated scenes. Moreover, with the help of advanced video display features, these programs can keep the picture in focus, instead of clouded or blurred, during rapid scene changes.
Most Feature-rich DVD Player Freeware - 5KPlayer
With 5KPlayer, you can insert whatever DVD disc you have homemade disc or commercial disc and let it play DVDs produced or distributed by Disney, Sony, Marvel, Paramount, Warner Bros., 20th century fox, workout DVDs (insanity/beachbody), Japanese adult DVD, damaged disc, unplayable DVD, NTSC/PAL DVD, region code DVD.... with all the DVD codecs supported! Windows 10 & macOS Big Sur supported!
Please Note: WinX DVD Player has been revampd and renamed as "5KPlayer".
Exceptional DVD player software may offer a variety of features, be easy to use and install and offer plenty of help. The audio and video quality should also be excellent, allowing for multiple types of environments and configurations.
DVD player software has embedded into our lives. A suitable DVD player software program is necessary for all of us at this age of the world.
Best Free DVD Player Software Gives You the Highest Video Quality
What kind of DVD player software is right for you? Looking for exceptional DVD player software, you have to take these factors into consideration and help you choose the right DVD player for yourself to download.

Basic Functions
For DVD player software, the more functions available, the better. And the basic function should be supporting playback of different types of DVDs and all popular video files.

Easy-to-use
Great DVD player software is easy to use for users. Even no experienced users could control most of the functions. And simple interface could save users a lot of time on playing or editing DVD video.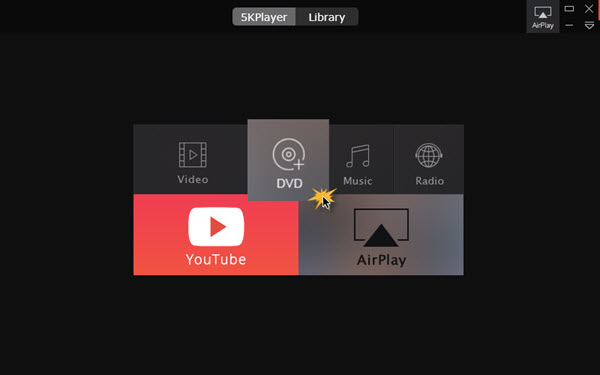 Video & Audio Quality
Video & audio quality is a very important element on choosing DVD player software. It should allow user to adjust video & audio quality for optimal viewing in both darker and lighter environment.

Powerful Features.
For experienced users, powerful features are necessary. Capture screenshot from DVD or Video is the basic one. If it supports AC-3 surround sound up to 5.1 channel, that will be better. Maybe you can expect your DVD player software could help you enjoy protected DVDs, commercial DVDs or other encrypted DVDs.

Others You May be Interested In
Small size, ease of installation and setup, cheap price and so on.
Free Download Best DVD Player Software for Any DVD Playback [Cross Platform]
The best free DVD Player, professional and easy-to-use, is fully compatible with Normal DVDs (DVD+R/RW, DVD-R/RW), protected DVDs, commercial DVDs and all regions (1-6) DVDs and all popular video files. Unlike other software that is bound to DVD playback issues such as black bars while playing DVD, 5KPlayer offers excellent video/audio quality, supports AC-3 surround sound up to 5.1 channel, allows users to select multi language and chapter, from 0.1x to 16x playback adjustable, offers easy-to-use and beautiful interface without any issues. It is absolutely the best DVD player software for you on PC and Mac.