Disc to Digital Free: How to Convert a DVD to Digital Title
[FREE Way] Make Digital Copies from Your DVD Discs with Ease
There are too many cases that you want to convert a DVD into digital:
1. When play a movie, the DVD is not playing on TV smoothly, giving you various kinds of problems that only make things confusing;
2. Hundreds of DVD discs are full of the shelf, drawers or boxes. However, not all discs are in a great condition but covered with dust, small scratches and other hurts which result in DVD player can't access the contents.
3. Bring massive discs on the trip is a challenge to both your energy and the discs.
To revive the huge DVD collection, especially for some hard-to-find movies, disc to digital conversion is an advisable choice. A digital copy with full video, audio, subtitle tracks can be better stored on hard drive, other storage device/cloud and enjoyed on mobiles whenever wherever. How to rip a DVD disc to digital free?
Best Solution: DVD Disc to Digital Free with WinX DVD Ripper [Our Pick] |
★★★★★
WinX DVD Ripper is packed with the ability to convert a DVD disc to digital with ease. It can handle a wide range of discs, from homemade to commercial, from old damaged to new encrypted by removing current protection on DVDs. It gives several output options allowing you to turn the disc into MP4/H.264, WMV, MOV, FLV, MPEG or a file accepted by iPhone, Apple TV, Android and PSP. Whatever format you select, this disc to digital program will deliver the possible highest speed and quality.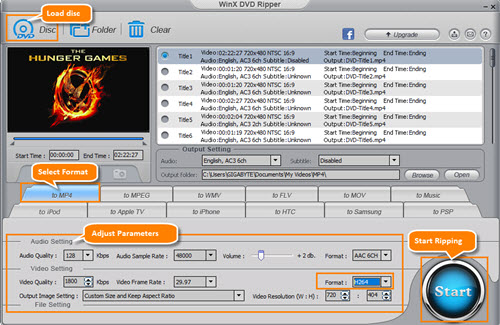 How to Tutorial
Step 1. Download and install WinX DVD Ripper on your computer.
Platforms: Windows 10 or lower; macOS High Sierra or lower
Step 2. Insert the DVD disc into your computer DVD drive. Launch WinX DVD Ripper. Click DVD Disc button. A smaller window pops up asking you to select disc. Generally, if there is only one disc in the drive, it will be automatically detected. Then, click OK.
Step 3. All titles are loaded soon. Main title is selected by default. Now, select an output format. For example, if you want to rip DVD disc to a MP4 digital file, click to MP4 tab. Audio/Video Setting panel appears. Adjust those parameters as you like or keep default.
Tip: It is suggested to select video format as H.264 instead of MPEG4 because H.264 can give better quality but smaller size than MPEG4.
Step 4. Click Start button to get the disc ripped.
Pros and Cons to Rip Disc to Digital Free with WinX DVD Ripper
Pros:
• Easy to use. Best for beginners
• Support copy-protected discs, even the latest DVD movies
• Various output formats
Way 2. DVD Disc to Digital Free with HandBrake | ★★★★
HandBrake is actually one of the most popular open source video transcoders. Both DVD discs and digital video files can be converted to MP4 or MKV. Through continuous update, HandBrake gives many improvements on supported codecs and technologies in order to meet more requirements on profiles and ripping speed. HandBrake lacks of the function to rip copy-protected DVDs unless installing libdvdcss which can help circumvent CSS scheme on DVD.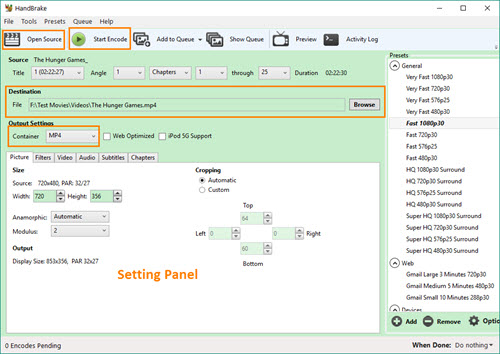 How to Tutorial
Step 1. Download and install HandBrake on your computer.
• Windows: http://handbrake.fr/rotation.php?file=HandBrake-1.0.7-x86_64-Win_GUI.exe
• Mac: https://handbrake.fr/rotation.php?file=HandBrake-1.0.7.dmg
• Linux: Available at https://edge.launchpad.net/~stebbins/+archive/handbrake-releases
Step 2: Insert DVD disc into DVD drive. Open HandBrake and a source selection panel on the left side appears. Click the disc on this panel. Otherwise, click Open Source button to load the source disc.
Step 3: The source DVD disc info will be loaded with Title/Angle/Chapter/Duration. Next, go to Destination section and click Browse button to define output folder to the name of resulting file. Note: HandBrake may select wrong main title. If so, please manually choose the right one.
Step 4. Select Container as MP4 or MKV depending on your needs. There is a setting section allowing you to adjust resolution/aspect ratio, video codec/framerate, audio/subtitle tracks or other parameters.
Step 5. Click Start Encode to rip this DVD disc to digital.
Pros and Cons to Rip Disc to Digital Free with HandBrake
Pros:
• Support video transcoding
• Abundant presets for devices
Cons:
• Not so easy to use. A little difficult for a newbie to learn settings
• Can't rip copy-protected DVDs
• Only 2 output formats: MP4, MKV
Way 3. DVD Disc to Digital Free with MakeMKV | ★★★
MakeMKV is another disc to digital program which can transcode video clips from DVD or Blu-ray disc to MKV files. With MakeMKV, virtually all information without any change of source disc can be perfectly maintained, including video/audio tracks, chapter, meta and more. MakeMKV offers a beta version with 30-day free trial. And, you can choose to buy a key for full version when exceeding the trail time or re-down beta version for another 30-day free use.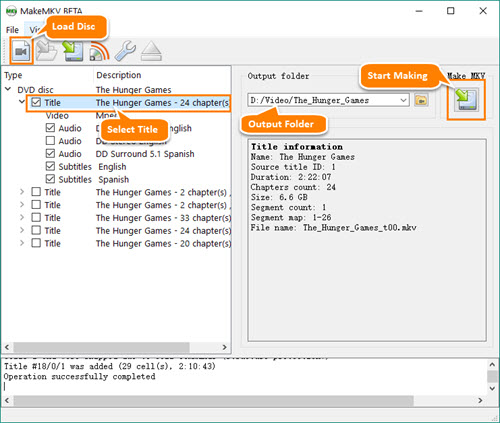 How to Tutorial
Step 1. Download and install MakeMKV on your computer.
• Windows: https://www.makemkv.com/download/Setup_MakeMKV_v1.12.0.exe
• Mac: https://www.makemkv.com/download/makemkv_v1.12.0_osx.dmg
Step 2. Insert the disc into DVD drive. Launch MakeMKV. Click File > open disc or the movie icon located on the left first under menu bar to load the disc.
Step 3. MakeMKV will read the disc and then display the contents including video, audio and subtitle contained in one title.
Note: If there are several titles listed, you may need to judge which title is correct main title and uncheck other titles.
Step 4. Set an output folder to save ripped digital file.
Step 5. Click Make MKV button next to output folder panel to start making the disc to a MKV digital file.
Pros and Cons to Rip Disc to Digital Free with MakeMKV
Pros:
• Support Blu-ray discs
Cons:
• Not friendly for users. Much guesswork
• No compression. The size of resulting file is too big.
• Although it announces supporting encrypted discs, the ripped digital file from a copy-protected disc is only 10 minute.
• The only output format MKV is incompatible with almost all portable devices.
Bottom Line
All 3 ways can help you rip DVD disc to digital free. WinX DVD Ripper is in the lead to support copy protected discs and brings the easiest solution. HandBrake plays as a versatile program to perform both DVD and video transcoding. MakeMKV make people - who want preserve all contents and features of DVD – satisfied. Which way is better for you? All depends on your needs.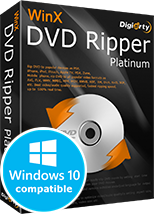 The Most Powerful and Efficient DVD Ripper for Disc to Digital Is Prepared For You!
WinX DVD Ripper Platinum - Shows More Prominent Features than Its Free Version WinX DVD Ripper
• Copy and Rip ANY DVD disc - covering unprotected DVDs, latest DVD movies, Disney DVDs (which are not suppported by WinX DVD Ripper), workout DVDs and more - to MP4 (H.264), AVI, WMV, MOV, FLV, 3GP, iPhone, iPad, Apple TV, Android, Chromecast, Xbox, Sony PlayStation and more with original quality and relatively smaller size.
• 1:1 Copy DVD Disc to ISO Image, VIDEO_TS folder or a single tMPEG2 digital file with full features.
• Take full advantage of hardware acceleration using Intel QSV, Nvidia CUDA/NVENC to greatly speed up video encoding, decoding and processing.
Purchase benefits: Get FULL LICENSE at $39.95 only (a $20 saving). Lifetime free upgrade. 30-day money back guarantee.
Disclaimer: Digiarty Software does not advocate ripping/copying copy-protected DVDs for any commercial purpose and suggests referring to the DVD copyright laws in your countries before doing so.