How to Free Download All Videos from YouTube Channel
Free download all videos from a YouTube channel including YouTube Vevo
While opening YouTube website, lots of YouTube videos provided by various YouTube channels come into view. You can find channels focusing on music, film & entertainment, comedy, beauty and fashion, news, technology, science & education and so much more. A YouTube channel can be owned by a company, a celebrity, an artist or an ordinary people. Anyhow, you must have your favorite channels and sometimes are desperate to download all videos from your beloved channels at one go. How to download YouTube channel? It's easy. All you need is a free YouTube channel downloader.
Must-have Simple yet Free YouTube Channel Downloader
WinX YouTube Downloader - 100% Clean FreewareFree download all videos in any YouTube channels including YouTube vevo channel to MP4, FLV, 3GP or WebM at one time.
For Windows and Mac only. If you are a mobile user, please click here.
Which is the Best YouTube Channel Downloader for YouTube Channel Downloading?
Some users may want to download YouTube channel videos using IDM, namely, Internet Download Manager. But there are some issues related to IDM you should note:
- Users always get confused when working on the less straightforward interface. It is not easy to use;
- Only users armed with technical knowledge can access the advanced features;
- YouTube channel downloading speed is not optimal;
If you want to use an easy-to-use YouTube channel downloader with intuitive interface, fast downloading speed and wide Windows OS compatibility, WinX YouTube Downloader is the second-to-none choice. It is available to free download videos from any YouTube channels, be them processed by an organization, a company, or privately owned. It enables you to free download videos, playlists from KatyPerryVEVO, TaylorSwiftVEVO, RihannaVEVO, beyonceVEVO and more popular channels. And with the support for Multi-thread and Multicast Technology, it is able to download dozens of YouTube channel videos at super fast speed.
How to Free Download YouTube Channel on PC and Mac?
Downloading YouTube channel videos is as easy as ABC. Users at any level can deal with it. You can download this YouTube channel downloader for Windows operating systems including Windows 10. For Mac user running Mac OS X 10.6 – 10.11 El Capitan, please turn to the free YouTube downloader for Mac. And the steps are almost same as below.
Step 1. Add YouTube channel video URL.
After downloading, installing and running WinX YouTube Downloader, you should go to YouTube website and find out the target YouTube channel where you want to download videos. Navigate to the Videos section, open a video, copy the video URL, and paste and analyze the video URL.
Step 2. Choose output plan for the YouTube channel videos.
A few seconds later after pasting and analyzing the YouTube channel video URL, you will be required to choose output plan. That is to say, you should choose your desired file format, file size, resolution and audio codec. And then click "Ok" to move on. To download all or multiple videos from a YouTube channel, you can simply repeat the first two steps.
Step 3. Hit Download to begin downloading YouTube channel videos.
After you have adding all videos from a YouTube channel, you can click "Download" button to get started. WinX YouTube Downloader will download all the videos one by one automatically. You can put it aside and do other things as usual.
If you want to download entire YouTube channel video to MP3, a video to audio converter like WinX HD Video Converter Deluxe is necessary. It is available to free download YouTube channel videos and convert them to MP3, AAC, AC3, iPhone Ringtome, etc. at one go.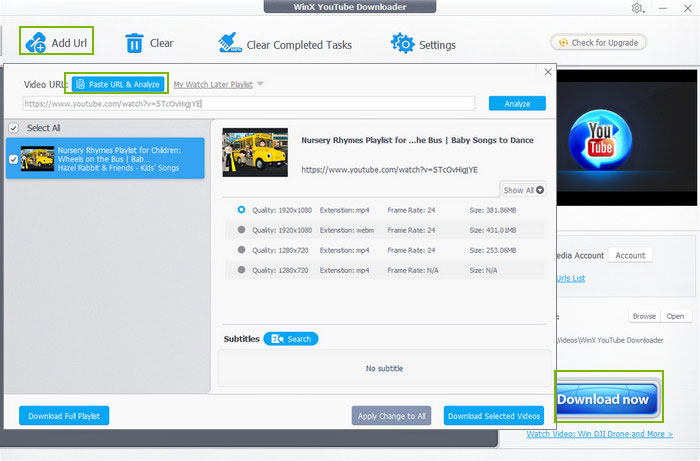 Top YouTube Channels Recommended for You
To help you reach more popular YouTube channels for downloading, here we have listed the top 5 most subscribed YouTube channels of 2016.
PewDiePie – The shared videos are about a Swedish comedian playing video games while his facial reactions and commentary are being recorded through webcam and audio.
YouTube Spotlight – It covers the most popular and trendy videos.
VanossGaming – A very popular gamer uploads game play videos with his own commentary, in comic sense, attached with it.
HolaSoyGerman – Owned by a popular Spanish YouTuber, this channel videos are in Spanish and are usually comic videos about the common issues and problems faced by the adults and teenagers.
SkyDoesMinecraft – It is processed by a well known Minecraft gamer.
Disclaimer: Digiarty Software does not advocate downloading copyright content for any commercial purpose and suggests referring to the copyright laws in your countries before doing so.
WinX HD Video Converter Deluxe
Best video/music downloader & converter, video editor, DVD converter, video/webcam recorder for Windows (10) and Mac. Ultrafast video processing speed with Nvidia/Intel/AMD hardware acceleration.
For PC and Mac only. Go to mobile page.