Home > Resource > Download Video > Download YouTube Cat Videos
How to Download YouTube Funny Cat Videos (for Kids) Free
Let's free download YouTube funny cat videos (for kids) to feel fatal charm of the cutes.
Cat lovers can give you infinite reasons to love cats. Their eyes are catchy, their faces are expressive; they know how to keep clean, they can comfort us when we feel upset. Treating the cutes as families, cat owners raise, educate and of course show off them via capturing lovely, funny and smart behaviors of cats and sharing the video online. On the other hand, they appreciate other online funny cat videos and would like to download them for relieving tiredness during a long-time journey or making kids happy. And now, what I'm going to talk about is to free download YouTube cat videos (for kids) with a handy YouTube video downloader on computer and portable devices for enjoying happiness cats bring.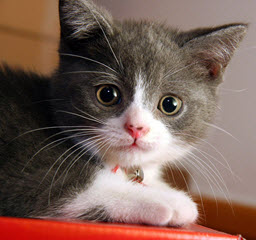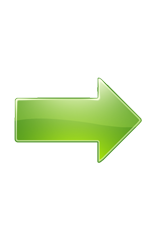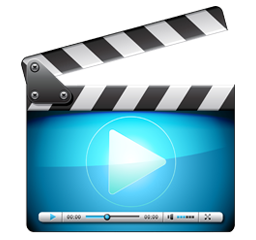 Download YouTube Cat Videos (for Kids) Free?
Garner the best YouTube video downloader - WinX YouTube Downloader to achieve a convenient and speedy way to free download any funny/cute cat videos (for kids) in 360P SD, 720P/1080P HD to watch cat/kitten videos on PC, Mac and portable devices with no interruptions. [100% Clean and Safe!]

How to Free Download YouTube Cat Videos
You can discover a large number of funny cat videos, adorable kitten videos and special cat channel portraying a cat's life on YouTube. However, when you determine to download the funny cat videos for kids or offline playback later, there is no option of direct download offered by YouTube. Therefore, an online video downloader program is required to free download YouTube cat videos.
WinX YouTube Downloader is an user-friendly tool to free download any funny/cute cat videos in SD, 720P, 1080P HD, even 4K/8K UHD (if there is a source) from YouTube, Vimeo, Dailymotion, Metacafe and alike online video streaming sites (up to 300) and deliver original video/audio quality with no effort at all. Built-in Multi-thread and Multicast Tech, it can reach 5-8x real time download speed. In addition, this YouTube cat video downloader is perfectly safe and clean so that your computer will be never messed up by adware, spyware or virus.
Tutorial of YouTube Cat Videos Free Download
Download install WinX YouTube Downloader and free download YouTube cat videos as following.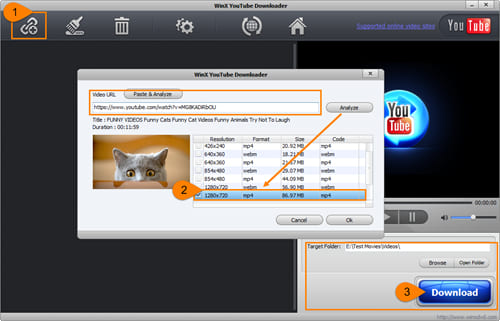 Step 1. Import Cat Video URL
Get your favorite YouTube cat video and copy its URL. Launch WinX YouTube Downloader and tap +link-shaped button on navigation bar. A smaller window appears. Paste the copied URL of cat video to address bar in this pop-up window. You can also free download funny cat videos, pet videos and animal videos from any supported video sites by WinX YouTube Downloader.
Step 2. Analyze Cat Video
Click Analyze button located at right of address bar. The video title, duration and versions in different resolution, format, code and size will be listed a few seconds later. Select one version, for example 1280x720 MP4 and click OK.
Step 3. Free Download YouTube Cat Video
Save the video to the target folder (hard drive or disk of your device which has been connected to computer) by clicking Browse button. At last, start downloading cat videos from YouTube.
Funniest Cat Videos on YouTube (Top 10)
▪ Surprised Kitty (Original) - Author: rozzzafly | Views: 75,693,165
▪ The Two Talking Cats - Author: TheCatsPyjaaaamas | Views: 59,416,070
▪ Funny Cats Compilation - Author: Forget Your Sadness | Views: 46,780,921
▪ Stalking Cat - Author: モアクリ| Views: 46,064,600
▪ Best Cat Vines - Author: studarmy | Views: 38,251,682
▪ Funny cats and babies playing together - Author: Tiger Productions | Views: 31,909,844
▪ Cute cats feel guilty - Author: Tiger Productions | Views: 28,093,181
▪ When Cats Pray - Author: sign543 | Views: 24,854,511
▪ The OMG Cat - Author: Davincipop | Views: 23,037,500
▪ Cats Playing Patty-cake - Author: JC Elliott | Views: 20,719,718
Still have some trouble about how to free downoload YouTube cat videos (for kids)? Please feel free to Email Us >>
▪ Free download funny cat videos, dog videos, pet videos, animal videos (for kids) 720P/1080P HD in MP4, WebM, FLV, 3GP from YouTube and alike sites easily and quickly.
▪ Convert any cat videos (downloaded online or recorded by camcorders) to iPhone, iPad, Android, Windows Phone (10/8), Xbox, PS3/4, Surface Pro etc, retaining vivid images and hi-fi audios for playback whenever and wherever.