How to Free Download Movie Subtitles and Add Subtitles to Movie
Step-by-step Guide to Download Subtitles for Movies from Top Subtitles Download Sites and Subtitle Downloaders
Subtitle is usually essential when you cannot understand the spoken language well or want to learn the language. But what to do if the movie downloaded online doesn't accompany with subtitles or the movie subtitle is not the version you like? Take it easy. Here, you can get detailed tutorials to download movie subtitles in English, Arabic, Spanish or other languages from subtitle downloading websites and subtitle downloaders. When you get the hang of downloading movie subtitles, you can download any movie subtitles at will, such as, English subtitles for Korean movies, Hindi movies, Bollywood movies or French movies and so on. (Switch to WinX HD Video Converter Deluxe if you want to add subtitles to a movie.)
* Download Movie Subtitles | * Add Subtitles to a Movie/Video
How to Download Movie Subtitles?
In this part, you'll learn how to download subtitles for movies from subtitle downloading sites and subtitle downloaders.
1. Download movie subtitles from subtitle downloading sites
Instead of searching movie subtitle from Google for downloading, you're suggested to rely on some popular subtitle downloading sites, for example, Moviesubtitles.org, OpenSubtitles.org, Subscene, etc. These websites covers countless movie subtitles in different languages. You can even find the subtitles for the latest hit movies, say, Ant-Man, Jurassic World, as well as subtitles for old classic movies.
Step 1. Type the movie title in the search box provided by the subtitle downloading site.
Step 2. Click "Search" button and pick out the correct one from the search results list.
Step 3. Specify which language or file format you'd like to download for your movies.
Step 4. In most cases, the subtitles downloaded online are compressed. After downloading, you need to unzip the file. And then you can add the subtitle to the correct movie instantly.
2. Download movie subtitles from subtitle downloaders
It is also a good idea to download film subtitles from subtitle downloaders, such as Sublight. And it works similar to movie subtitles downloading from websites: enter the movie title in the search bar and click search -> choose the right subtitle file -> download the movie subtitle.
Since you have figured out the process of downloading movie subtitles, it is necessary to move to the next step – add/import subtitles to movie.
How to Add Subtitles to a Movie on Mac and PC?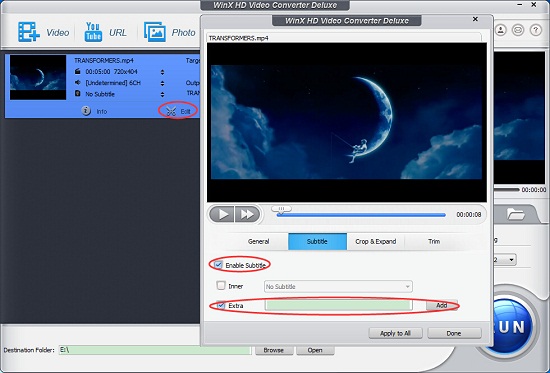 To make downloaded subtitles visible on your movie, you are recommended to take the help of WinX HD Video Converter Deluxe/for Mac to add SRT subtitles to movie. This tool not only enables you to import downloaded subtitles to a movie, but also convert movie videos to all mainstream formats (MP4, AVI, WMV, MKV, HEVC, MOV, etc.) and popular devices (iPhone 6/6 Plus, iPad Air 2, iPad mini 3, Samsung Galaxy Note 4/Note Edge, Sony Xperia Z3, HTC One M8, WP8, etc.). A few clicks later, you can enjoy movies with subtitles on any devices anywhere as you like.
Step 1. Click "+ Video" to load the movie video that needs subtitle.
Step 2. Choose output format from the auto pop-up Output Profile Window.
Step 3. Tap on "Edit" button, move to "Subtitle", check "Enable Subtitle", check "Extra", and click "Add" to browse and select the downloaded movie subtitle.
Step 4. Hit "Done" and "RUN" button to begin loading subtitle to the movie video.
Still have problem about adding subtitles to movie video? Please feel free to Email Us >>
WinX HD Video Converter Deluxe – Add downloaded subtitles to movies; disable inner/extra subtitles; convert movie videos to MP4, H264, H265, AVI, WMV, MOV, MKV, iPhone, iPad, Samsung Galaxy Note 4, Sony PS3/4, Microsoft Surface Pro, Xbox, WP8, etc; free download movies songs; make phone slideshow videos, edit movie videos.