8 Best Sites to Free Download Subtitles for Movies and DVD Releases
Subtitles are essential when movies are in a foreign language that you don't understand, when you're on noisy bus or in a quiet place like the library or office, and whenever it's not convient to enjoy the video's audio. However, not all movies accompany with subtitles and not all the movie subtitles are available in your language. When this happens, you can easily download movie subtitles in English, Arabic, Spanish or other languages. Below we list the best 8 movie subtitles download sites where you can download subtitles for any movie, TV show, and DVD release at will, such as, English subtitles for Korean, Hindi, Bollywood, French movies, and so on.
Content 3 Steps to Add the Downloaded Subtitles to A Movie
After the movie subtitles are downloaded, you can add the subtitle to a movie/video/TV shows in 3 easy steps:
1. Download WinX HD Video Converter Deluxe and add the movie to the software;
2. Click Edit > Subtitle > Enable subtitle;
3. Check Extra > select the downloaded movie subtitle from your computer and then click Done and Run the software.
For Windows and Mac only. If you are a mobile user, please click here.
Where can I Download Free Subtitles for Movies, TV Series, and DVDs?
1. Subscene
2. OpenSubtitles
3. YIFY Subtitles
4. Subtitle Seeker
5. Podnapisi
6. Addic7ed
7. Moviesubtitles
8. Isubtitles
Subscene.com is a popular website to free download any film subtitle in English, Japanese, Chinese, Korean, French, Hindi, and any language you name it. The best part is, the site always keeps up with the latest movies, TV shows, and music videos. Thousands of subtitles are uploaded by users everyday, and almost all the subtitles on the site come in SRT format. Therefore, you can easily add the dowloaded subtitles to a movie.
● Subtitles for the latest films and shows.
● There is an option to download subtitles for hearing-impaired users.
● No registration is required to download.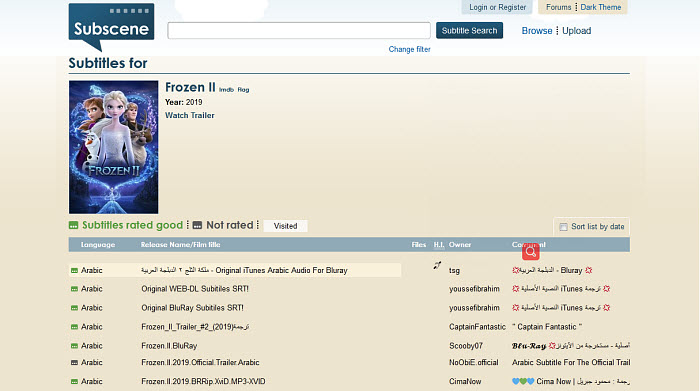 OpenSubtitles is one of the biggest source to get free subtitles for digital movies/TV shows and DVD releases. On this site, you can find subtitles in 49 languages. Enter your search query and hit Search, it will bring up a list of the matched subtitles uploaded by users, each comes with a movie name, overall rating, upload date, and comments. Select a result and start to download the movie subtitles. With API support, the site works with various players like Plex, Media Player Class, MPC-HC, SMPlayer, etc. which allows you to search Opensubtitles while playing.
● Large subtitle library.
● Allows other players to search subtitles directly.
● Registration is required.
● Malware, misleading adds, re-directs, and unless extensions are reported.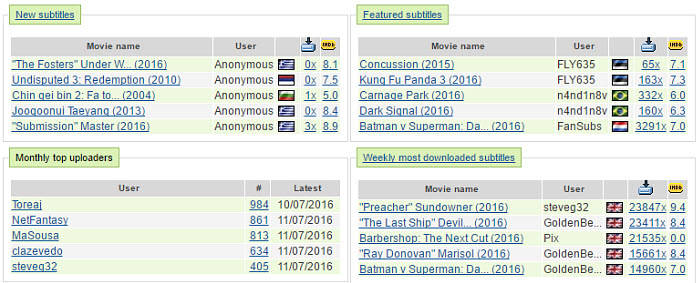 With the same name as the famous piracy group, YIFY Subtitles is dedicated to offering free subtitles download for movies and TV shows. Ignore the ads and wired links on the site, you can rest assured that this site is safe and piracy-free. You can find subtitles based on genres, language, or name. 38 languages are available. However, most subtitles are for relatively old movies and the subtitle library for the latest movies is limited.
● There are bewildering sites with smiliar names online.
● Too many intrusive ads on the site.
● No registration is required to download.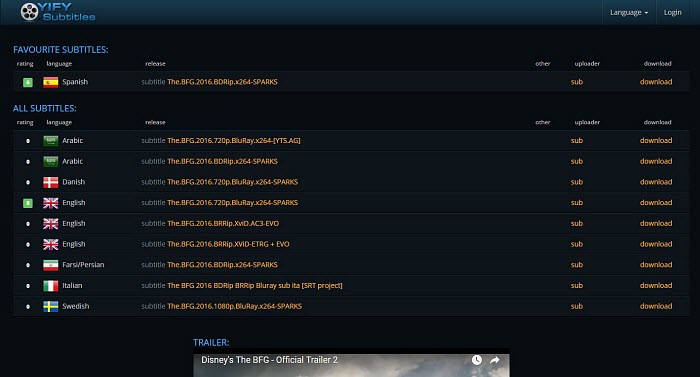 For those who want to download free English movie subtitles in SRT format, I will recommend Subtitle Seeker. It centers on English subtitles, plus some other languages. Different to other movie subtitle download sites on this list, this site doesn't hold a subtitle database. Instead, it works like a search engine with which you can find a search bar and get results from 20+ subtitle sources. The good thing is that the site is always updated with the newest movies and TV shows.
● A good place to download English subtitles in SRT format.
● No registration is required to download.
● Every film subtitle download page offers a brief movie introduction.
● Annoying re-directs.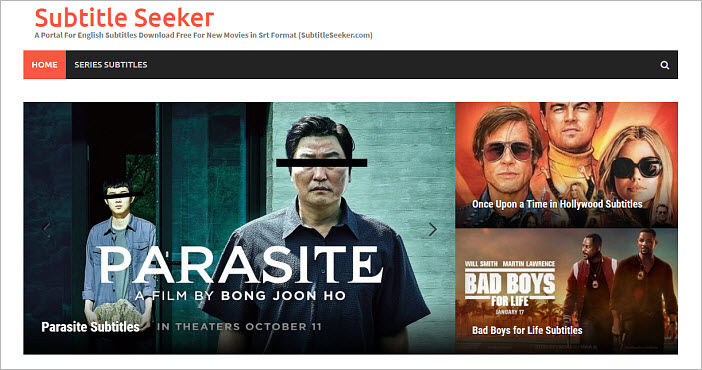 Podnapisi is a popular site which has witnessed more than 1.9 billion subtitle downloads. It has a massive subtitle database of over 58,000 movies and 6,600 TV shows in 100 languages. The site is well known for being updated regularly so you can easily find subtitles for the latest movie releases. To download movie subtitles, simply enter the movie in the search box and click the download button. No registration is required to film subtitles download. Podnapisi also has an addon for Kodi to let Kodi users find Podnapisi subtitles directly on the player.
● Clean and simple interface.
● Options for hearing impaired and hard-of-hearing viewers.
● Huge subtitle collection in dozens of languages.
● No registration is required to download.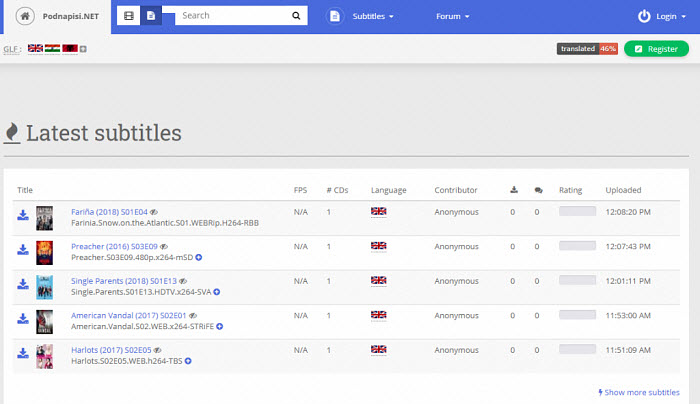 On Addic7ed, you can find subtitles by shows, movies, top downloads, popular shows, etc. You can download free subtitles for movies and TV shows in 18 languages without an account. It also offerrs FAQ and tips on how to synchronize subtitles, how to upload, etc. However, you will need to sign up in order to view some of the pages. After being a users on the site, you can also view and edit the sutitiles.
● Easy to download with various useful tips.
● No registration is required to download.
● Outdated interface. As its name suggests, Moviesubtitles lets you search and download free subtitles for DivX/Xvid movies and TV shows in 13 languages. It has seen more than 32 million downloads, most of which are English movie subtitles. Find the caption of your film, click the any result for you search query, you will see the basic info and user rating of the subtitle. You can upload any movie subtitles easily without an account.
● Safe subtitle download without virus or other malware.
● No registration is required to download.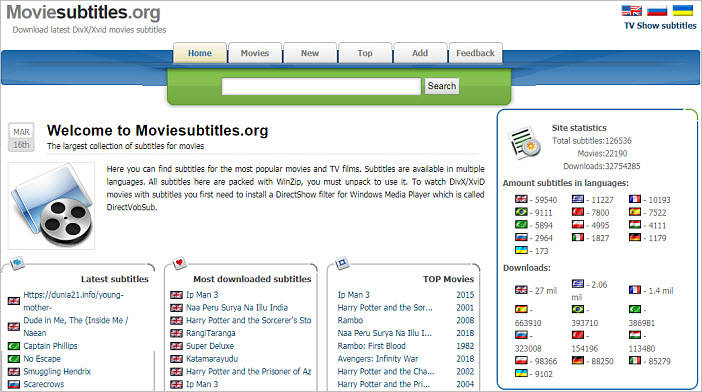 iSubtitles is a famous subtitles website that favours different speakers. The site provides free subtitles of up to 82 languages for movies from different countries. You can find film subtitles by name, subtitle release, genre, country, etc. Everyday, newest movie subtitles are uploaded, which are listed on the right of its homepage.
● Basic movie information is provided, incl. IMDB rating.
● You can preview the subtitles before download.
● No registration is required to download.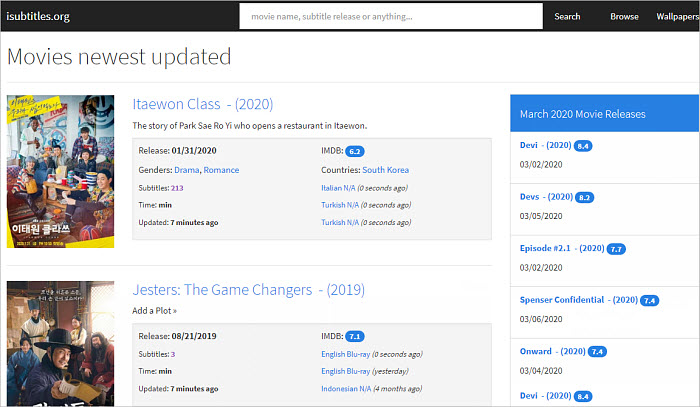 How to Add Subtitle to A Movie in Clicks
To add the downloaded subtitles onto your movie, you need to take the help of WinX HD Video Converter Deluxe:
* Import downloaded subtitles to a movie (MP4, AVI, WMV, MKV, HEVC, MOV, any format);
* Disable the original subtitles from the movie video (except burned subtitles);
* Change other movie subtitle track;
* Edit, crop, trim, convert, compress, download videos.
Step 1. Click "+ Video" to load the movie video that needs subtitle.
Step 2. Then click "Edit" icon and you will see the Subtitle option on the Edit Toolbar. Click "Subtitle" .
Step 3. Check "Enable Subtitle" box and select "Extra" to load a corresponding SRT or ASS subtitle file from your computer.
Step 4. Hit "Done" and "RUN" button to begin loading subtitle to the movie video.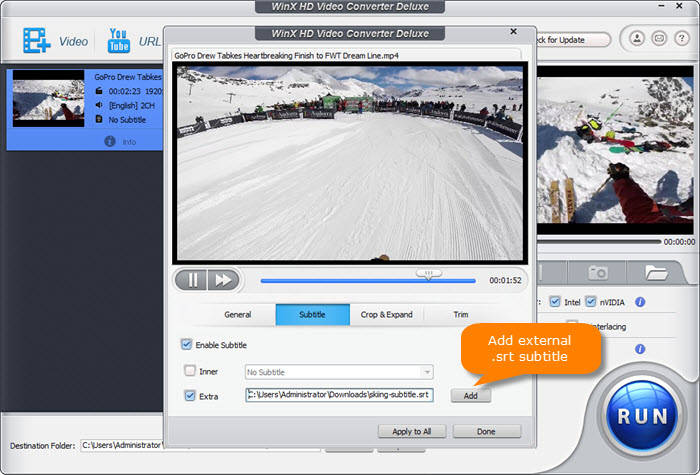 How to Add Downloaded Subtitles to DVD?
To add subtitles to DVD, you need to make use of WinX DVD Ripper Platinum. Free download and install this software on your computer, and then follow our guide below to add the subtitle you download to DVD movie.
Step 1. Insert your source DVD into DVD drive, open WinX DVD Ripper Platinum, click "DVD Disc" button to load the DVD you just inserted.
Step 2. Choose an desired output format.
Step 3. Click "Edit" button, navigate to "Subtitle" tab, check "Enable subtitle" -> "Extra", and then click "Add" to import the subtitle you download before. Hit "Done".
Step 4. Hit "RUN" button and then you will get a new file encoded with the subtitle you download online.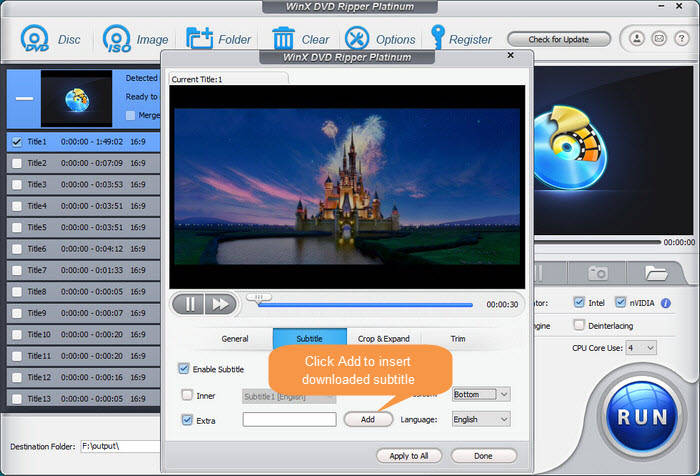 Free Download Movie Subtitles with Video Players
If you just need subtitles during movie playback, the following video players can provide a faster way.
1. VLC Media Player
If you have VLC (later than VLC 2.2.x) installed on your computer, you can download movie subtitles from OpenSubtitles.org with its extension called VLSub. First download the plugin from VLC website and install it as per the instructions. To download free movie subtitles, open VLC and load the movie > under the View menu, select VLSub > now you can search by name or hash > select a result and click Download selection. Then you the movie subtitle will be downloaded and you can view the movie with subtitles now.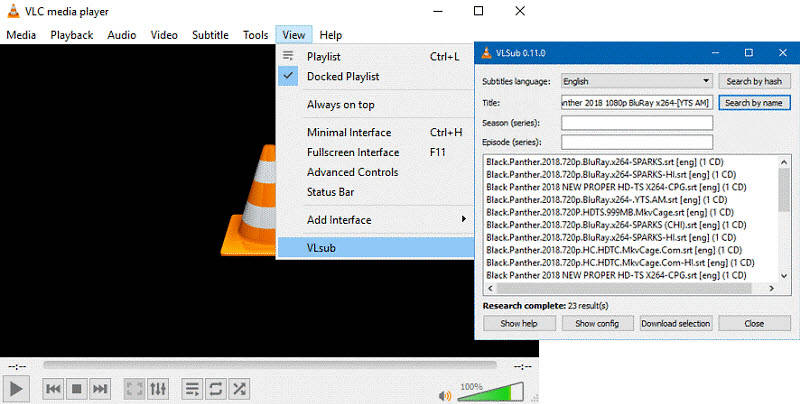 2. PotPlayer - This player supports various different subtitle formats and you can use it to search and download subtitles from OSdb(Open Subtitle Database).
3. BS. Player - Enable Preferences > Online subtitles, the player will auto detect and download film subtitles from bsplayer-subtitles.com, opensubtitles.org and subtitles.com.br.
4. SMPlayer - As mentioned above, OpenSubtitles works with a slew of apps to offer online subtitles. SMPlayer is one of those which will find and download subtitles from the site. Other players that support OpenSubtitles include Media Player Class, MPC-HC, and Plex.