Portuguese/Spanish Songs Are More and More Ruling
Portuguese songs, along with its close relative Spanish songs, are getting popular in recent years. There are many well-known Spanish world cup theme songs like Waka Waka, Waving Flag and We Are One (Ole Ola). How about the hit Portuguese songs? Let's check out some typical Brazilian/Portugal singers and top Portuguese songs lists below:
• Amalia Rodrigues/Amália Rebordão Rodrigues (1920-1999): Fado is a symbol and soul of Portuguese music, and as the queen of Fado, Amalia Rodrigues is regarded as the interpreter of national culture to some degree who made the standards and wrote the rules of fado, despite having passed away for over a decade.
• Alexandre Pires/Alexandre Pires do Nascimento: He won Artist of the Year at 2003 Latin Billboard Music Awards and nominated for several times at Latin Grammy Awards.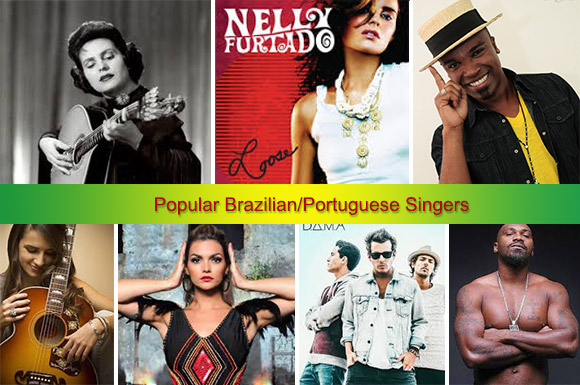 • MV Bill/Alex Pereira Barbosa: He is one of the leading but also most controversial Brazil rappers in Rio. His works L. Gelada-3 Da Madrugadahas has been collected into the Fast & Furious 5 soundtrack in 2011. >> Download Fast and Furious Soundtrack
• Nelly Furtado: She is actually a Canadian singer with Portugal descent, winning Best Female Pop Vocal Performance at 2003 Grammy Award. She launched many songs in Portuguese like Scared of You, Onde Estás, Força.
• Kelly Key/Kelly de Almeida Afonso: She is a native Brazilian singer of Portugal descents. After the first album at the age of 17, many pop Portuguese pop songs, for example Baba, Cachorrinho, Anjo, Chic Chic etc.
• Ana Free/Ana Gomes Ferreira: Ana Free is a rising star in video sharing site - YouTube. She often releases the cover version of some hit English songs, the most well-received one of which is Waka Waka from Shakira. Her album Together once took the No.1 spot on MTV Portugal Top 50 National Music Chart.
• D.A.M.A: This is a quite hot Portuguese band. Last year, album Uma questão de princípio performed so well that it has won 5 times No.1 at the Portuguese Albums Chart.
>> List of Portuguese singers [wiki]
New Hit Portuguese Songs 2016/15: Duele El Corazón, Enrique Iglesias and Wisin; I Took A Pill In Ibiza, Mike Posner; Tempo Pra Quê, D,a,m,a; O Amor é Assim - Hmb; Por Fin Te Encontré - Cali y El Dandee; Nada Errado - Dengaz/António Zambujo; Melhor de Mim - Mariza; NÃO FAÇO QUESTÃO - D.A.M.A ft. Gabriel o Pensador; Miúda Linda - Nelson Freitas; Dizer Que Não - Dengaz feat. Matay; Gente de Zona - La Gozadera; É Isso Aí - Ana Carolina, Seu Jorge; Duele El Corazón - Enrique Iglesias/Wisinr; >> Find more Top Portugal Singles
Top Portuguese Fado Songs: O Fado Não é Mau - Deolinda; Da Vida Quero Os Sinais - Mísia; Ai Esta Pena de Mim - Amália Rodrigues; Ciúmes Da Saudade - Camané; Através Do Teu Coração - Ana Moura; If Thy Soul Check Thee - Cristina Branco; Sombra Do Desejo/Casa Do Fado/Maria Madalena - Carlos do Carmo; Armandinho - Armenio de Melo; Vou lá Ter - Lucilla Carmo/Lucília do Carmo; Lagrima - Bévinda
Top Love (Eu te amo) Songs in Portuguese: Nunca me esqueci de ti - Rui Veleso; Um Dia De Domingo - Tim Maia; Lebe beijo Triste - Lucia Moniz & Paulo Gonzo; Jardins Proibido - Paulo Gonzo; Cada Lugar Teu - Mafalda Veiga; António Variações - Canção Do Engate; Eu Sei Che Eu Vou Te Amar - Vinicius de Moraes and Antonio Carlos Jobim; Carinhoso - Pixinguinha; Detalhes - Roberto Carlos; Falando De Amor - Tom Jobim
Top Latin Dance Music: Suavemente - Elvis Crespo; Si No Te Quisiera - Juan Magan; La Bomba - Ricky Martin; Cuento de Hadas - by Kiko Rivera; Oye Nina - Xriz; Yo Te Voy Amar- N*SYNC; No Te Veo; Danza Kuduro- Don Omar; Jealous - Chromeo; Corazon Sin Cara- Prince Royce
There are many other popular Portuguese songs that are really fair-sounding and amazing, but we cannot list them all here. To keep abreast with the trend, you have to watch out the Portuguese songs chart instantly and seek out ones of your taste. Hot Portuguese songs collection part is over. Let's go on to the tutorial of how to free download (hot) Portuguese (love/fado/dance) songs MP3/MP4 HD music video online.