How to Download 4K UHD Video from Vimeo or Upload 4K on Vimeo
Download Vimeo 4K Ultra HD Video or Upload 4K Footage 60 FPS on Vimeo
Q1 - "Are there any free and easy Vimeo video downloader programs I can download, which will allow me to download Vimeo 4K Ultra HD video clips off the internet?"
Q2 - "How can I download Vimeo 4K UHD videos onto my PC/Mac?"
Several months ago, if you pose a question about how to upload 4K video (60 fps) on Vimeo, a media center now for UHD videos, its staff member would tell you that Vimeo doesn't support 4K and all 4k video clips you found on Vimeo will display at 1080p or less. But now, things have changed. You are allowed to upload or download 4K videos/footages from Vimeo. On top of that, Vimeo begins 4K UHD video streaming, at last catching up with YouTube.
Download 4K Video from Vimeo on PC/Mac
Download 4K UHD video from Vimeo or convert 4K footage 60 fps for Vimeo uploading with the best all-in-one Vimeo video downloader and converter - WinX HD Video Converter Deluxe
Preparation for Vimeo 4K Video Download
Best Vimeo 4K Video Downloader & Converter
To be specific: There are 8255 videos tagged 4K on Vimeo. Vimeo announced in its blog post that Vimeo PRO members and On Demand sellers can allow people to download Vimeo 4K video files. However it should be noted that only members of this media hub have access to Vimeo 4K UHD video download, at a certain cost, on condition that the person who uploaded it chooses to allow downloads in the meantime. To free download 4K video from Vimeo, a HD video downloader is necessary. For successfully uploading 4K footage 60 fps on Vimeo, figure out Vimeo supported video file formats first and grab a UHD Vimeo video converter. WinX HD Video Converter Deluxe, a fully featured 4K/8K UHD video downloader and converter, enables users to download 4K video from Vimeo to 1080p/720p in MP4, AVI, MKV, etc, convert 4K footage 60 fps to Vimeo supported formats with correct frame rate for uploading and download 4K/8K movies from YouTube.
Part 1: How to Download Convert Vimeo 4K UHD Video to 1080p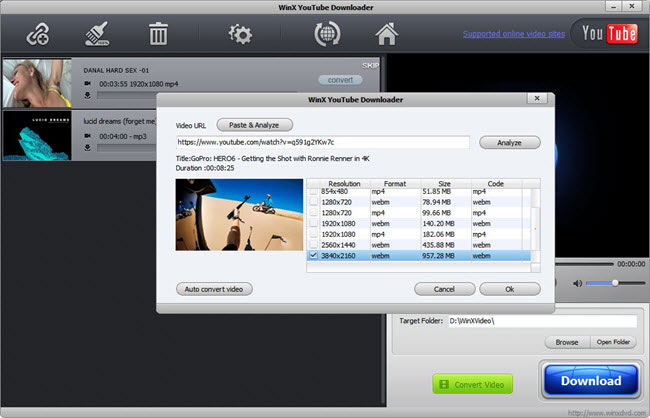 Download and install WinX HD Video Converter Deluxe to get ready for your Vimeo 4K video download on Windows/10 PC or WinX HD Video Converter for Mac, if you plan to experience 4K visual feast on your iMac Retina (5K display), Samsung/Sony 4K TV, iPhone, iPad, Android, etc.
Step 1: Go to vimeo.com and find a 4K UHD video clip/footage to download.
Step 2: Tab button "URL", copy, Paste and Analyze the Vimeo 4K video link.
Step 3: Select your preferred output video format, resolution, etc and press OK button.
Step 4: Hit "RUN" button and it begins to download 4K Ultra HD video on your laptop. If you want to convert downloaded Vimeo 4K UHD video to iPhone, iPad, Android devices or TV formats, check the "Auto convert" box in the previous step.
Part 2: Settings for 4K Video Upload on Vimeo
1. Codec: High Profile H.264
* Codecs not working on Vimeo: G2M2, G2M3, Canopus HQ.
2. Frame rate: 24, 25, or 30 FPS
* If you are uploading a 4K UHD footage exceeding 30 fps, such as 60 fps, you will have to adjust the frame rate of your video.
3. Bit rate: You'd better choose "VBR" (Variable Bit rate) if you know how to edit video with a video editing software.
Get clear on recommended video compression settings before you try to upload 4K video on Vimeo. If you need to fast convert 4K video to file formats working on Vimeo or change video/audio settings on Windows, please refer to WinX HD Video Converter Deluxe. Thanks to Multi-core CPU utility, Hyper-threading Tech and Hardware Encoder Support (Intel and Nvidia), this program can handle 4K video conversion at an extremely high speed.
How to Download Convert Viemo 4K Videos?
WinX HD Video Converter Deluxe
Download convert 4K UHD video from Vimeo, YouTube, etc.
WinX HD Video Converter for Mac
Download and Convert YouTube Ultra 4K Movies on Mac.
It can save (and convert, natch) videos from the likes of YouTube, and output presets for every portable device from Android to Windows Phone. - Rick (CNET Editor)
Part 3: How to Edit and Upload 4K Video on Vimeo: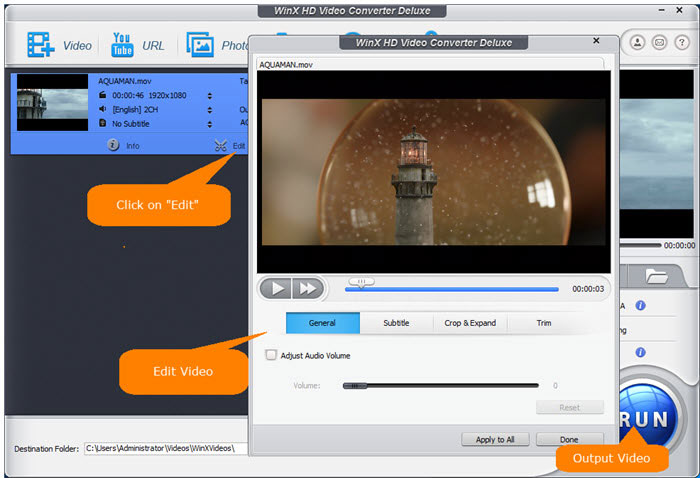 Get started with downloading WinX HD Video Converter Deluxe and installing it on your PC.
Step 1. Load your 4K UHD video/4K footage 60 fps by clicking button "+ Video".
Step 2. Select a Vimeo supported video format, such as MP4 (H.264) by going to the Output Profile -> PC General Video -> MP4 Video (AAC), and click "OK" button.
Step 3. Go to the Video/Audio Options, choose VBR in the Bit Rate option and adjust Frame Rate from 60 to 30.
Step 4. Specify an output folder and tab button "RUN" to start converting your 4K footage 60 fps for Vimeo uploading.
Still have question on Vimeo 4K video download or upload? Please feel free to Email Us >>