[Solved] What Is the Best Disc Burning Software to Burn DVD Disc on Windows?
Use the best free disc burner software to burn DVDs on Windows 10, 8.1, 8, 7, etc.
Nowadays we seem to prefer working with digital media files, because they are easy to manage. We have many players to play them and can store them in the cloud or other miscellaneous storage devices. Does this mean that we don't need optical disc? Optical disc is dead? Certainly not. According to the internet search volume, a fairly large number of people still long to go with optical discs. In addition to buy commercial CD/DVD/Blu-ray discs, they even want to burn their home-made videos or sources downloaded from YouTube, HBO Now or other places to DVD discs for preservation or other purposes. Burning disc needs professional disc burning software. Then, the question comes – what is the best disc burning software? If this question also troubles you, you may be willing to take a moment to find out the best free disc burning software here.
2019 Best Free Disc Burning Software for Windows 10, 8.1, 7 and More
WinX DVD Author - Best free DVD disc burning/authoring software especially designed for Windows XP/Vista/7/8.1/10 OS, which is capable of free making DVD disc out of your recorded video of various video formats by camcorder, webcam, iPhone, iPad, Android etc., eg. MKV, AVI, MP4, MOV, FLV, 3GP, MPEG, H.264, VOB... [100% clean and secure]

Find out Your Favorite DVD Disc Burning Software
1. Not interested in installing additional software? Try Windows built-in disc burning software.
As a matter of fact, Microsoft has designed a piece of disc burning software, namely Windows DVD Maker, for Windows Vista, and also included it in Windows 7, to help people burn a DVD-video disc. Windows users working on Home Premium, Enterprise, or Ultimate edition of Windows Vista, or Home Premium, Professional, Enterprise or Ultimate edition of Windows 7 can try it for DVD burning. But if you are a user of Windows 8, 8.1 and 10, you need to download a Windows DVD Maker alternative, because the built-in one has been removed as of Windows 8.
2. Download third-party disc burning software if the built-in is limited.
DVD disc burning software is easy to find in the market. But not every program can meet your needs. While selecting a piece of DVD burning software, you need to check the features (e.g. supported input/output formats), user interface, disc burning steps, and check if it comes with unfriendly stuff, and more. That's really a headache task. If you don't have much experience of picking out best disc burner, you can simply go to the post of "top 3 free DVD disc burning software review" and choose any one you like. Here, we will show you one of them – WinX DVD Author.
WinX DVD Author - Best Free Disc Burning Software for Windows (10, 8.1, 8, 7, XP, Vista, etc.)
WinX DVD Author is a Windows-based DVD disc burner that is compatible with Windows 10, 8.1, 8, 7, Vista, XP and lower. It is 100% clean freeware. Following the built-in step-by-step wizard, you can burn camcorder videos, webcam videos, YouTube videos and other video files to DVD without watermark effortlessly. You can input videos in MKV, AVI, MP4, MPEG, MOV, MOD, FLV, VOB, QT and other video formats for later burning. To make your DVD disc look professional, it allows you to create DVD menu, DVD chapter menu, DVD subtitle, and add background music and pictures. Armed with high quality decoder and encoder engine, this disc burning software offers highest possible video quality and fully supports Dolby Digital AC-3 audio. What's more, it can burn a full 4.2GB high-quality DVD disc no more than 1 hour. One more thing, this Windows disc burning software is fully compatible with DVD+/-R, DVD+/-RW, DVD DL+R, DVD DL+/-RW.
How to Use WinX Disc Burning Software to Burn Video to DVD Disc?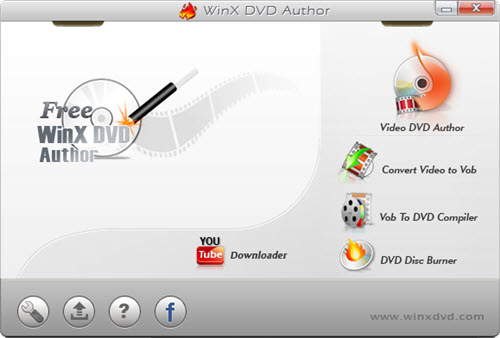 Preparations:
1.

Download the disc burning software and install it.
2. Insert a blank DVD to your computer.
Then you can run this software, and follow the instructions below to burn a DVD disc from video files.
Step 1. Click "Video DVD Author" button to step into a new panel, and tap "+" button at the lower left corner to add one or multiple video clips. After that, you can move selected video up or down to arrange the order, add subtitle file, specify subtitle language/font size, remove unwanted video clip, choose image ratio, video format, DVD type, etc. After finishing all these things, you can hit next step icon ">>" to create DVD menu.
Step 2. In this step, you can make title menu and chapter menu. You are free to change the background picture, add menu background text and music. Once completed, simply press next step button ">>" to move on.
Step 3. Do final settings, for example, the output format, and encoder engine. And then hit "Start" button to enable this disc burning software to begin converting imported videos to VOB files and then burn the VOB files to DVD disc.
Besides working as software to burn disc from videos, it can also convert video to DVD VOB file for compiling it to DVD-folder later, burn DVD folder to DVD disc, download YouTube videos, etc.
Related post: Download Best ISO Image Burner to Burn ISO Image to DVD on Windows
* Still have some troubles about using this disc burning software? Please feel free to Email WinX Support Team >>
What if You Want to Convert DVD to Digital File? Try WinX DVD Ripper Platinum!
This tool can rip and convert any DVD including copy-protected movie DVDs to MP4, MPEG2, AVI, WMV, MOV, FLV, 3GP, iPhone, iPad, Apple TV, Android Samsung, HTC, Sony, Microsoft and more formats and devices. Find more features from WinX DVD Ripper Platinum product page.