How to Decrypt DVD Transformers 4 with HandBrake on Mac/PC
How to Decrypt DVD Transformers 4 with HandBrake on Mac/PC
Transformers: Age of Extinction DVD (Transformeres 4 DVD) is available now! Learn how to decrypt Transformers 4 DVD with HandBrake and HandBrake alternative software.
Transformers 4 DVD – Strictly Encrypted
Many people have been struggling with the same problem since new generation DVD copy protection system was applied to latest Disney, Paramount Transformers 4 DVD, Warner Bros. DVD movies, etc. As an example let's take the Disney movie Frozen. You might have tried a few programs but still have trouble ripping the movie DVD. "Reading error" comes up in most cases. So it is not hard to imagine that decrypting the new Transformers 4 DVD movie will never be easy. A specific DVD decrypter is needed for your later Transformers: Age of Extinction DVD ripping.
It seems that many of you opt to decrypt DVD movie, like Transformers 4, with HandBrake, which is free and compatible with both PC and Mac but difficult to navigate (especially for beginners). So we here offer you a tutorial tailored for your Transformers 4 DVD decrypting with HandBrake.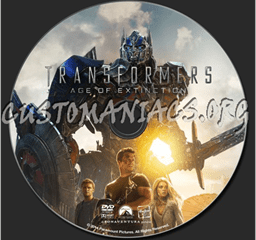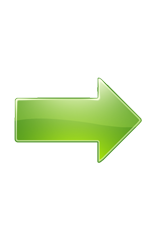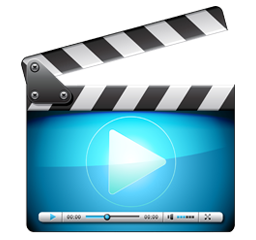 To Decrypt Transformers 4 DVD with HandBrake
WinX DVD Ripper Platinum/for Mac

Best HandBrake alternative software to decrypt and rip Transformers 4 DVD movie on PC and Mac.


WinX DVD Ripper Platinum is the perfect example of a decent DVD ripping software that works well both for advanced and amateur users. - Editor's Review from Download3K
How to Decrypt DVD Transformers 4 with HandBrake
To use HandBrake to rip Transformers 4 DVD movie, you need to first download HandBrake latest version 0.10.2 on your PC or Mac, which, in fact, is much more suitable for advanced users of Mac. Then follow the prompts to instantly install HandBrake and get it started. Below is the Transformers 4 DVD ripping part, by using HandBrake.
Note: To use HandBrake for DVD Tranrsformers 4 decrypting and converting, you'd better have had VLC installed on your computer, which is a third-party video player (64-bit HandBrake only works with 64-bit VLC) needed for your video converting.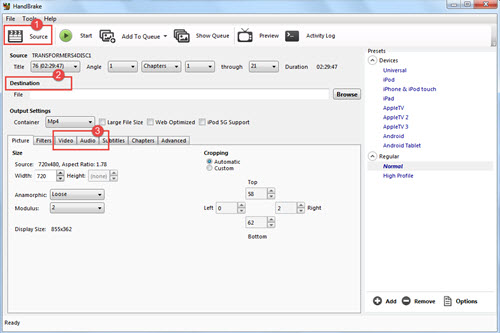 Transformers 4 DVD Descrypting Steps with HandBrake
Step 1: Insert your Transformers movie DVD into your computer's DVD drive and click Source to load the content by choosing D :\(TRANSFORMER4 DISC). Then HandBrake will start to do a DVD title scanning job, which may take you a long time (20-30 min) prior to your Transformers 4 DVD decrypting/ripping, depending on your PC/Mac's processor speed. And you probably will encounter things like "HandBrake cannot select DVD title correctly". Check out the Solution for HandBrake correct title choose.
Step 2: After you make sure which title is the correct one, select a destination folder to save your to-be-decrypted Transformers 4 DVD movie. Then move to the output file settings. Choose your desired output format first in its preset, which includes iPhone, iPod, iPad, Apple TV, etc. FYI, HandBrake has no precise device presets for such as iPhone 6/6 Plus/5S, iPad Air/Mini, or Android Samsung Galaxy Note 4/Note Edge/S5, etc.
Step 3: If you want, you can choose to rename the movie video. And that's the end of your DVD Transformers 4 decrypting process with HandBrake. Power users may need to do further editing or video/audio parameters adjusting. We happen to have detailed HandBrake Tutorial on Windows and HandBrake Tutorial for Mac.
The above is just an ideal successful case for a normal DVD movie ripping with HandBrake. As a matter of fact, HandBrake has big problems with copy-protected DVD, which kind of movie DVD Transformers 4 belongs to, unfortunately. When you try to decrypt Transformers 4 DVD (up to 99 titles) with HandBrake, things may end up with:
1. HandBrake cannot scan or load your new Transformers 4 video file sources.
2. HandBrake crashes or quit unexpectedly just before your Transformers 4 DVD movie ripping finishes.
3. Handbrake doesn't rip the entire Transformers 4 DVD movie.
"I am trying to rip Disney DVD movie on my MacBook Pro OS X, Version 10.6.8, with Handbrake, Version 0.9.9 x86_64. When I run the scan, it shows 51 options to rip. I choose the longest one, which is 1 hr, 30 min and 18 sec long. Before I start the rip, I can look at the preview and it has everything through the end of the movie, yet, when Handbrake is finished, the movie cuts off at the 1 hr, 2 min, 26 sec. No scratches on DVD."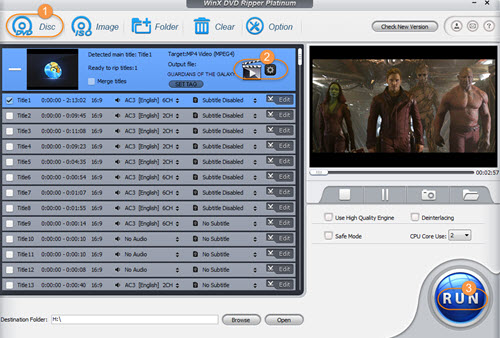 Solution: HandBrake Alternative for Transformers 4 DVD Decryption
Source: HandBrake Alternative
When you are doing copy-protected DVD movie decrypting, like DVD Transformers: Age of Extinction, HandBrake alternatives would do better job as to removing all types of DVD encryption technologies affecting your movie ripping and freely watching on whatever devices, among which WinX DVD Ripper Platinum, which owns unique technology for handling copy protected movie DVDs and performs great than most others, providing you three-step DVD ripping at ultrafast speed.
Please refer to guide for:
Decrypting DVD movie Guardians of the Galaxy
Decrypting Edge of Tomorrow DVD movie
Note: We advocate ripping/copying DVDs for personal use only. Please refer to the DVD copyright laws in your countries before doing so.
If you want to decrypt Transformers 4 DVD to common video formats and popular devices like iPhone, iPad, iPod, WinX DVD Ripper Platinum is the way to go.
Still have some questions about how to decrypt DVD Transformers 4? Please feel free to Email Us >>