How to Copy and Back up Walt Disney DVD Frozen II
Since its arrival on DVD, Frozen 2 has been one of 2021 's biggest home-format sellers. It is one of the best movies that are recommended to watch during COVID-19 hibernation. After purchasing the disc, you may need to convert it onto computers, into a format that works on a range of devices. However, as some users already tried, converting Frozen 2 is not easy.
Have a problem with Frozen 2 copy, get to about 46% and stops...
I copied Frozen II but have picture glitches throught the movie.
I have trouble ripping Frozen 2 4K Blu Ray. There are 8 different versions of the movie, which is the right file?
Let's see how to copy Frozen 2 DVD/Bluray discs below.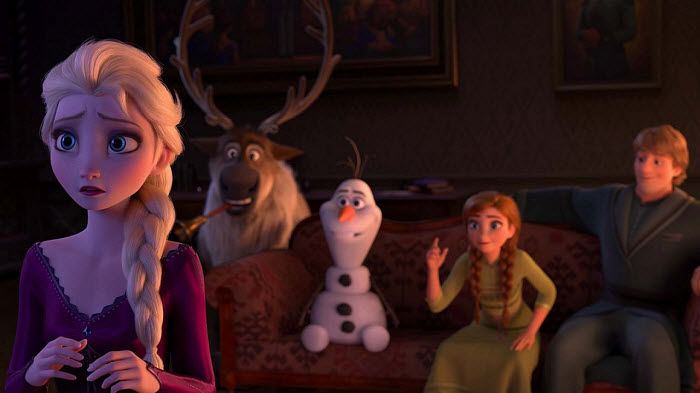 [DVD] How to Copy and Back Up Disney DVD Frozen II
The DVD of Frozen 2 and other Disney/Pixar movies are protected by X-project DRM. The protected DVD has 99 titles and one of which is the right file. Due to this, when you try to rip Frozen 2 DVD, there are problems like output video with only KBs, can't open the disc, long-time title scanning, etc. To rip Frozen 2 DVD without error, you need a strong DVD ripping program.
WinX DVD Ripper Platinum is a powerful DVD ripper. It's designed to easily rip DVDs with 99 titles, region code, DRM, CSS, RCE, etc. You can copy Disney Frozen 2 fast and perfectly to AVI, HEVC, MP4, WMV, MPEG4, MOV, iPhone, iPad, Android, NAS, Plex, etc. It has a Safe Mode to avoid most common DVD ripping errors. According to its history, it has been a tool selected by users to rip Disney Pixar Inside Out DVD, Star Wars: The Force Awakens DVD, other protected discs.
For Windows and Mac only. If you are a mobile user, please click here.
What you need to copy Disney Frozen 2 DVD
Download WinX DVD Ripper Platinum (For Mac user, click the Mac version ).
Frozen II DVD ($19)
Step 1. Load the film
Insert DVD Frozen 2 to the DVD-ROM drive, run the program and click "Disc" to load the film. Frozen 2 DVD has 99 titles. Common DVD rippers, free or charged, will easily crash while copying and backing up DVD Frozen 2. WinX DVD Ripper Platinum offers the most convenient and ideal backup solution by automatically detecting the right title. Just tick the option "Safe Mode" right below the preview windows, and your Frozen DVD ripping will be done with correct order, which makes you free from copy protections. Refer to How to rip Disney DVDs.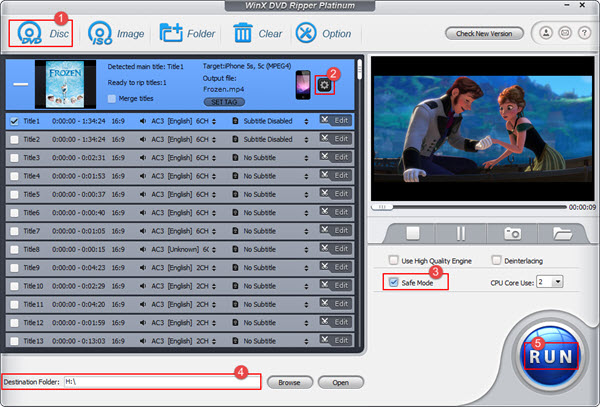 Step 2. Select the output format
Open the list of output format by clicking "Output Profile" and move to the left side. Choose an appropriate video format to put the DVD Frozen on according to your devices. A very large selection of file types are available for you copying DVD Frozen, such as DVD to AVI, MP4, MKV, MOV, WMV, MPEG, iPhone, iPad, iTouch, Android Pad and Mobile, Sony devices etc.
Step 3. Click to run
You are free to customize video audio settings to copy and convert DVD Frozen with the best output effect for your entertainment on PC or portable gadgets. Choose a destination folder and click button "RUN". The whole DVD Frozen backup process will be completed within minutes.
[Blu-ray] How to Copy Disney Frozen 2 Blu-ray Disc
It's a pity that WinX DVD Ripper Platinum doesn't support Blu-ray discs. But you can use the freeware MakeMKV. MakeMKV is dedicated to rip Blu-ray discs into MKV and it support a slew of Blu-rays. It's free during the 30-day beta-testing phase. The output file is saved in MKV format, which is not commonly supported. You'll need to transcode it into MP4 using Handbrake.
MakeMKV: MakeMKV (30-day trial, lifetime license for $30)
Frozen II Blu-ray ($25)


Step 1: After you download MakeMKV on your computer, insert the Frozen 2 Blu-ray disc into the dirve and open MakeMKV.
Step 2: MakeMKV should detect the disc and display it on its interface. Select the Blu-ray drive to scan the disc.
Step 3: After the scanning, you should see a list of titles on the left panel. Select the title you want to rip and click the MakeMKV button with a green arrow on the right up corner. Then MakeMKV will start to rip Frozen 2 Blu-ray disc.
FAQ
Q: Does anyone have the correct MPLS for Frozen II Blu-ray? How can I determine the right file without having to rip the Frozen 2 movie 8 times? 
A: Usually for US released Disney/Pixar 00800.mpls is the playlist for English. So your choice should depend on the language you want. For exapmle, if you need to rip Frozen 2 Blu-ray disc to English language, use 00800. The 00801 and 00802 will be the same except for the titles and credits, which will be in either Spanish or French.
Q: Is it leagal to rip Frozen 2 movie?
A: We believe it's legal to rip your own-purchased DVDs/Blu-ray discs as long as you don't illegally share it. Here Digiarty Software does not advocate ripping copy-protected DVDs for any commercial purpose and suggests referring to the DVD copyright laws in your countries before doing so.
Frozen 2 - A highly-anticipated sequel
Plot: What's Frozen 2 about? In Frozen II, Elsa, together with her sister Anna, Kristoff, Olaf, and Sven, they start a dangerous advantage far away from Arendelle to find out the secrets behind Elsa's magical power and save the kingdom.
Will the sequel lives up to the Frozen 1? Will Frozen II ruin the magic for Frozen or become another monster hit? Let's put it this way, Frozen 2 opened with a record-breaking $127 million in the U.S. and $350.2 million worldwide, the No.1 global debut for an animated movie. And most of those who have watched the sequel remarked it with words like "better than the first", "breathtaking", "amazing"...
Into the Unknown vs Let It Go - "Let It Go" in Frozen 1 won the Best Original Song, will "Into the Unknown" become the "Let It Go" of Frozen II? Like the name and lyrics (like "some look for trouble while others don't"), the song reveals the inner desire of Elsa as she is experiencing change. In fact, Into the Unknown, also from Menzel, has already won everyboday's heart: some call it "freaking amazing" and some others admit "my ears are pregnant now".
By now, Frozen II DVD is released and you can go to cinema to watch it. If you want to rewatch Frozen I, listen to the song Let It Go, it's time to rip and extract Frozen DVD to watch anywhere.
WinX DVD Ripper Platinum
Rip and digitize homemade, scratched, movie DVDs / folder / ISO image and DVDs with 99 titles - the new DRM encryption adopted by Disney and other DVD distributors, bypass DVD CSS, region code, Sony ARccOS, UOPs, APS, RCE, level-3 hardware accelerated.
For PC and Mac only. Mobile user Click here.