How to Convert 4K HEVC to 4K H.264 with Hardware Acceleration
How to convert 4K H.264/AVC video to 4K H.265/HEVC with a smaller size and best quality? How to fast convert 4K HEVC to H.264 for wider playback?
Many people know the differences between H.265 and H.264, while others may not. Before learning how to enable hardware acceleration to fast convert 4K H264/AVC to 4K H.265/HEVC or vise versa, let me briefly explain how H.265 is differ from H.264:
1. Both H.264/AVC encoder and H.265/HEVC encoder are two popular ways to create 4K UHD videos. The merit of HEVC/H.265 codec is that it is more compressed than its predecessor AVC/H.264. To encode a 4K video with same quality, using HEVC is about half the file size, half the bit rate than using H.264. Therefore, HEVC would be the prior choice for encoding large 4K/8K videos.
2. H.264/AVC codec is used in encoding 4K, as well as standard and high definition videos. It is the most popular video codec since the high-end HEVC is not widely used now. H.264 is accepted by most devices and media players.
For different reasons and purposes, users may want to change 4K's encoding method from one to another. This article will focus on both how to convert H.264 4K videos to H.265/HEVC 4K and how to convert H.265 4K to H.264 respectively.
One thing needs to be aware that processing large video files like 4K H.264, 4K HEVC videos, common video converters may get stuck and it may use most CPU power of computer, leaving computer far slow. Based on this, it is highly recommended to use a GPU hardware accelerated video converter program to convert betweeen 4K H.264 and 4K HEVC videos. WinX HD Video Converter Deluxe is the only level-3 hardware acceleration video converter which fully supports GPU accelerated video decoding, processing and encoding.
Best Hardware-accelerated 4K HEVC/H.265, 4K H.264/AVC Video Converter for Windows (10) and Mac
WinX HD Video Converter Deluxe/for Mac
– Best professional 8K/4K/HD video converter enables you to flawlessly convert 4K H.265/HEVC to 4K H.264 with original quality at fastest speed thanks to its hardware acceleration tech, Intel QSV, Nvidia CUDA/NVENC.
– Easily convert MKV, M2TS, AVCHD, MOD, HD camcorder videos, drone videos, and standard MP4, AVI, MPEG, WMV, MOV, VOB, FLV, RMVB, WebM, etc. 370+ output video/audio codecs and 420+ device profiles are provided.
Fast Convert H.264/AVC Encoded 4K Video to H.265/HEVC Encoded 4K Video with Hardware Acceleration
Why Some Prefer 4K Videos Encoded in HEVC/H.265?
HEVC introduces notion of CTUs or coding tree units. It starts down at 4 x 4 and goes all the way up to 64 x 64. The most striking advantage lies in its great compression rate. HEVC promises a 50% storage reduction (More specifically, some says even a reduction of 64% at 4K UHD when compared to H.264) because of the efficient coding used by its algorithm. Therefore, it can encode 4K or 8K videos at the lowest possible bit rate while maintaining a high image quality level (with limited end-user-discernible quality degradation). Even Apple added the support for HEVC format recently to save 40%-50% storage for recoding 4K videos.
In addition, HEVC/H.265 is more network-friendly for lower bandwidth. So it is ideal for playing high or ultra high resolution videos at the same level of quality. With this new format, image resolution around 8192×4320 becomes possible to display and stream.
Therefore, for people who need smaller bulk and online streaming, they will prefer H.265 4K to H.264 4K.
How to Convert H.264 4K to H.265 4K with Hardware Acceleration on?
WinX HD Video Converter Deluxe is an all-in-one and professional hardware accelerated 4K HEVC video encoder and decoder making full use of GPU acceleration. It means that it can encode other video to an HEVC video at extremely fast speed, or convert H.264 4K to H.265 4K quickly. How? Follow the step-by-step guide below:
1. Free download and install WinX HD Video Converter Deluxe on Windows (10) PC or Mac. Launch it.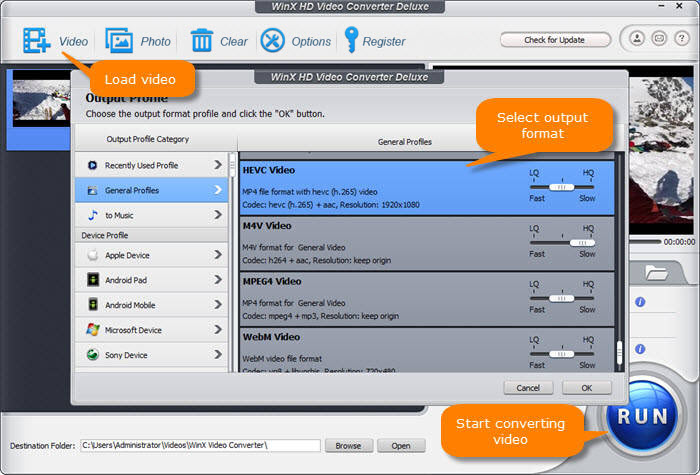 2. Click "+ Video" button to load source H.264 4K video first. You can add more files at one time for batch conversion.
3. On the pop-up Output Profile window, click: Common Video Profile -> PC General Video -> HEVC Video (Codec: HEVC + aac) that will output the original video to an MKV video.
4. Optionally click Settings or Edit button to make any other settings you think necessary through the H.264 to H.265 converter, such as change video bit rate, frame rate, aspect ratio, crop and trim videos, choose/add subtitles, adjust audio volume, etc.
5. Tick Hardware Transcoder Intel or Nvidia (base on computer hadware) to speed up the 4K H.264 video decoding and 4K HEVC encoding process.
6. Press "RUN" to start converting 4K H.264/AVC videos to 4K HEVC/H.265 with original quality at ultrafast speed with hardware acceleration enabled.
Convert HEVC/H.265 Encoded 4K Video to AVC/H.264 Encoded 4K Video with Hardware Acceleration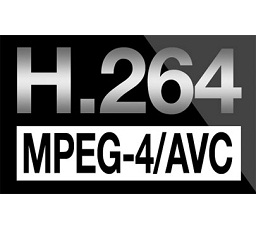 Why Convert H.265/HEVC 4K to H.264 4K?
To your great disappointment, some devices and player do not support your HEVC/H.265 encoded 4K video files, although 4K itself is supported. By far, H.264 is much more pervading, since H.265 is comparatively something new.
Therefore, if you want to play your 4K videos on such devices without downgrading the resolution, you can choose to change the encoding of the 4K videos, more specifically, to convert H.265 4K to H.264 4K for greater compatibility. WinX HD Video Converter Deluxe can help you achieve this as easy as blowing away the dust through only a few clicks.
How to Convert H.265 4K to H.264 4K at Superfast Speed?
1. Free download, install and open WinX HD Video Converter Deluxe - best hardware acclerated 4K video converter - on PC/Mac.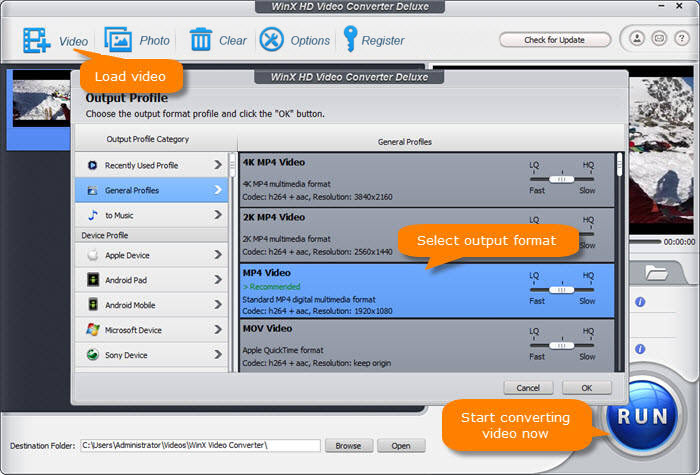 2. Click + Video button on its top left. Browse in your computer and select the exact H.265 4K video file(s) you want to convert. Click Open.
3. On the pop-up Output Profile window, you'll see a great many output formats with H.264 codec, so you have agile choices. For example, you can choose AVC Video in PC General Video, or choose MP4 Video (Codec: h264+aac), MOV Video (H264), iPhone / iPad (Codec: h264+aac), Android Phone / Pad (Codec: h264+aac), and so on.
4. Check hardware acceleration options like Intel QSV or Nvidia NVENC based on your computer hardware equipment.
5. Press "RUN" to start encoding the 4K videos from HEVC/H.265 to H.264 with original quality at fast speed.
Related External Source:
H265/HEVC: High Efficiency Video Coding (HEVC) is also known as H.265 and MPEG-H Part 2, which is a video codec standard. It is one of several potential successors to the widely used AVC (H.264 or MPEG-4 Part 10)...
H.264/MPEG-4 AVC: H.264 or MPEG-4 Part 10, Advanced Video Coding (MPEG-4 AVC) is a video compression standard. As of 2014 it is one of the most commonly used formats for the recording, compression, and distribution of video content...