How to Convert Camcorder AVCHD Video to Android Phone MP4
Convert Camcorder AVCHD Video to Android (8.0) Phone MP4 with AVCHD to Android Converter
When you have shot some fantastic HD camcorder recordings from JVC, Sony, Panasonic & Canon, the output of your HD video is mostly AVCHD format, generally with the file extension of .mts or .m2ts. You know AVCHD video is not only used for HD camcorder recording, but also for playback on different media. With a powerful AVCHD Player, you can play AVCHD video but will cause over-heat of you computer. And with an AVCHD Video Converter, you can smoothly play AVCHD on PC or macOS, watch AVCHD on iPhone iPad, PS4, Xbox, as well as convert and transfer AVCHD to Android Mobiles (MPEG4/H.264), such as Google general mobiles, Galaxy Nexus, Motolora Razr; Samsung general phones, Galaxy S10, Note 10, etc; General HTC mobiles, HTC, New One, Butterfly, HTC Desire, One X, One S; Huawei mobiles, Huawei Ascend; as well as Acer mobiles, Amazon mobiles and other general smartphones.
How to Convert AVCHD to Android on PC/Mac?
Your Premier Choice - WinX HD Video Converter Deluxe
Professional video converter that can help you convert AVCHD video to any Android mobiles, tablets, iOS devices, MP4, AVI, WMV, MPEG, MOV, H.264/H.265, etc.
WinX HD Video Converter Deluxe is a simple-to-use program which comes with advanced features for encoding video files. - Editor's Review from Softpedia
Understanding of AVCHD and Android Phone
AVCHD[1] is the new high definition video format for HD camcorder recording and playback, which stands for Advanced Video Codec High Definition and is jointly developed by Sony and Panasonic. Though some brands of HD camcorder also employ MPEG-4 as output format, they are not as popular as AVCHD video anyway. And convert AVCHD video to Android Phone is regarded as one of the most acceptable solution to enjoy your AVCHD recordings through multimedia Smartphone - Android Phone (Play and watch AVCHD on Android Phone at anytime and anywhere).
Androidis an operating system for mobile devices such as cellular phones, tablet computers and netbooks. Android was developed by Google. Now if you own an Android Smart Phone like HTC (HTC Desire, HTC HERO, HTC Wildfire), Samsung (Samsung i5700, Samsung i7500), LG, then don't underestimate them, all Android Phones are decent AVCHD video playback platforms.
Android Phone Media support
Android supports the following audio/video/still media formats: H.263, H.264 (3GP or MP4 container), MPEG-4 SP, AMR, AMR-WB (in 3GP container), AAC, HE-AAC (in MP4 or 3GP container), MP3, MIDI, Ogg Vorbis, WAV, JPEG, PNG, GIF, BMP. Thanks to H.264 MP4 video supported, after converting AVCHD to Android phone, you are still endowed with high definition quality.
How to Convert AVCHD to Android Phone with Fastest Speed?
WinX HD Video Converter Deluxe fully supports Multi-core CPU (i3, i5, i7), and armed with Hyper Threading Technology (Converting AVCHD to Android Phone by multi threads at the same time, speed up the conversion timely) and Hardware Acceleration Tech. That is why WinX AVCHD to Android Phone converter program can be the fastest solution in the current market. Free Download to Experience >>
Step 1: Load your target AVCHD video into this AVCHD to MP4 converter by clicking "+(add) Video" button. Or you can directly drag your AVCHD footage into the Instruction Panel to import.
Step 2: Select "Android Mobile" from OutPut Profile Category and choose the option according to the model of your device. Click OK.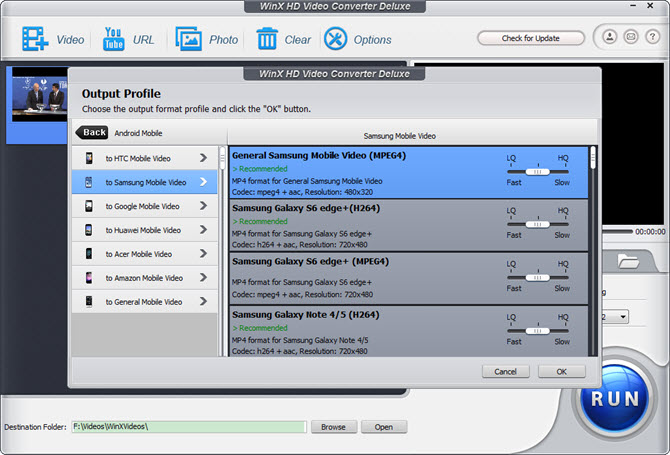 Step 3: Set the output folder by clicking "Browse" Button and start AVCHD to MP4 conversion by clicking RUN button.
Other Features of this AVCHD to Android Phone Converter:
1. While converting AVCHD to Android Phone format, it converts AVCHD video from interlaced to progressive scanning, 1080i to 1080p. It will achieve better image quality than original.
2. First and unique AVCHD to Android Phone converter supports Multi-track video, which helps you play and watch AVCHD video on your Android Phone with the language track you preferred.
3. Built-in 370+ video/audio codecs, supports converting all HD/Video. Decode AVCHD to AVI/MOV, Convert AVCHD to MP4, etc.
4. Apart from shifting AVCHD to Android Phone, it can also convert AVCHD to iPhone, iPad, iPod, Apple TV, PSP, Chromecast, USB and other portable devices.
5. It has extra features to help download HD YouTube videos, edit videos and make photo slideshows easily.