How to Convert 8K/4320P UHD Videos to 1080P on PC or Mac?
Tips on How to Convert or Compress 8K UHD Video to 2160p, 1080p, 720p, etc
"How to convert 8K video to MP4/1080p for the least steps?"
Part of our goal is to answer the question regarding 8K video to MP4 conversion mentioned above. Mainly, we are here to create a compelling and easy-to-understand tutorial page on 8K UHD video converting, being also an introduction page of 8K resolution, to provide people with quick access to 8K/4320p Ultra HD visual world. To figure out "how to convert 8K video to MP4/1080p", you should first be clear on the following aspects:
1. Don't mix resolution up with video format, which means "convert 8K to MP4 format" is quite an inaccurate description. 8K resolution is said to be the successor to 4K, which refers to ahorizontal resolution of 8000 pixels, just like 4K 2160p/4000 pixels, 1080p/2000 pixels, etc, with total image dimensions up to 7680×4320. You can convert 4320p to 1080p/720p and encode1080p video in MP4 video format.
Hot search: AVI vs VVC, HEVC vs VVC, 8K vs 4K
2. For the time being, 8K UHD video seems to be only encoded in HEVC/H.265 and in MKV/MPEG format, while 720p/1080p full HD videos mostly are H.264 codec. So converting 8K video to 1080p MP4/MKV would be your best option to maintain the highest possible video/audio quality despite the compressing of 8K video file size.
3. A great 8K video converter software is a pre-requisite for UHD video conversion. One of the best 8K video converter that we've tested and surely supports converting video in 8K resolution is WinX HD Video Converter Deluxe, perfectly compatible with Windows (10) and Mac OS X.
How to Convert 8K Ultra HD Video on PC/Mac?
WinX HD Video Converter Deluxe/for Mac
Best 8K video converter to download 8K Ultra HD videos from YouTube, Vimeo, etc and convert 8K resolution 4320p to 2160p, 1080p, etc in MKV, MP4...
WinX HD Video Converter Deluxe is a simple-to-use program which comes with advanced features for encoding video files. - Editor's Review from Softpedia
Download and Convert 8K Video Online from YouTube
For the first time, 8K video successfully went viral on YouTube, even though no computer/TV screen existing really display 8K Ultra HD resolution and there is still rare 8K video resource, let alone 8K movie or 8K TV series/show. But as the prevalence of 4K video, 8K will be the trend in the future. Here we will show to how to download and convert 8K video from YouTube. It won't take you more than three minutes to figure out how to download and convert YouTube 8K Ultra HD video: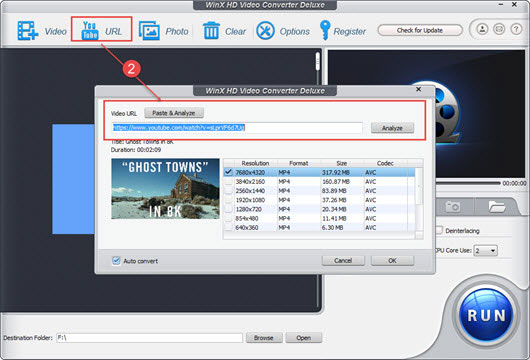 Step 1: Download and install 8K video converter
Download WinX HD Video Converter Deluxe from its official webpage, double click the .exe file, follow the wizard to finish installation and then open it up.
Step 2: Analyze YouTube 8K video URL
Find the 8K video on YouTube (Ghost Town) and copy the video link. Then turn to the 8K video converter, click "URL" button, Paste and Analyze the 8K video link, and end with selecting your preferred video resolution/format. Do remember to tick the "Auto convert" box if you want to download and convert 8K video all at once.
Step 3: Convert 8K/4320p to HD 1080p
Here we take "convert 4320p to 1080p" as an example. Click the gear icon on the main interface to get into the V/A Options section, and you will see Resolution. Scroll down to select 1920 x 1080.
Step 4: Start to Convert 4320p to 1080p
Specify a folder to save the video and press button "RUN" to initiate the 4320p to 1080p video conversion.
How to Convert 8K UHD Video to MP4/AVI/FLV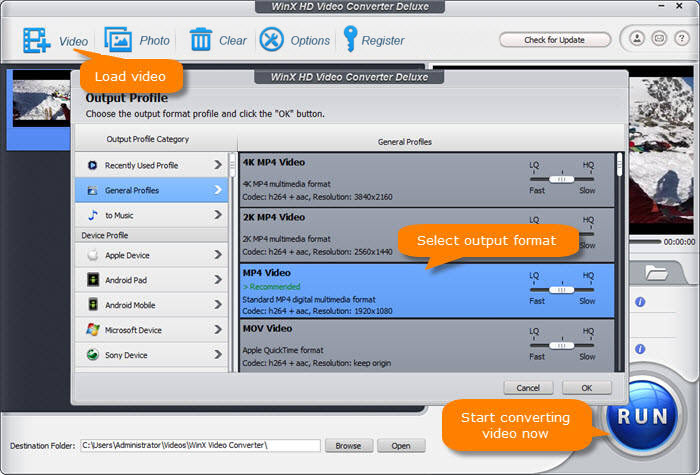 Next simplesteps are what we are doing to get 8K video conversion through, in case you want to convert video in 8K resolution to MP4, AVI, WMV, FLV, etc format for playback on PC, Mac, iPhone, iPad or for uploading to YouTube:
How to download and convert video on PC/Mac for 4K UHDTV?
Step 1. Open the 8K video converter and load your UHD video via "+ Video" button. Here we assume that there is an 8K resolution video saved on your hard disc. If not, follow the previous part to download one.
Step 2. Go to the Output Profile center, click General Profiles, and you will see MP4, AVI, iPhone, iPad, Android, etc. Choose MP4, for example.
Step 3. Select an output folder, and RUN the conversion.
Still have problem about converting 8K UHD video on PC/Mac? Feel free to Email Us >>