Learn of the Pros and Cons of 8K Video Compression
Pros: Compress 8K video, so you can reduce 8K video file size while maintaining Ultra HD quality --> better for saving local space, bandwidth, etc --> uploading faster on YouTube --> easier for loading online with no stuttering --> more compatible with portable devices when playback.
Cons: Compress 8K video --> your UHD 8K video may look blocky and blurry, for losing too much bit rate/resolution.
Note: If you have an 8K video downloader and plan to purchase an 8K TV, then compressing 8K video seems unnecessary. But should you replace your HDTV with 8K TV now? It depends. Stick to HDTV if 1080p movies/TV shows are the mainstream in your daily life. Compress 8K video to 4K/1080p if you want to watch UHD video on 1080p TV, PC, Mac, etc. Really wanna a sneak peak and money is no big deal to you? Then buy it.
How to Compress/Reduce 8K Ultra HD Video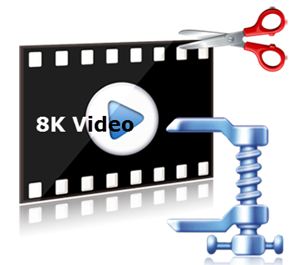 The key point about compressing 8K video is to adjust (cut down) bit rate. Others, such as video resolution, frame rate, video format, etc, also have a certain effect.
• Bitrate: The higher the bitrate, the more fluent the video and the larger the file size (video size = bitrate x time). First, Bitrate should neither be too high or too low. The former only leads to staggering big file size, while the latter one will be against your will of compressing 8K video without quality loss. Besides, some UHD video compressor enables you to choose between CBR (constant bit rate) and VBR (variable bit rate). Simply, to compress a 8K action movie video, use VBR; drama movies, CBR.
• Resolution: Changing video resolution also helps compress and reduce 8K video slightly. Considering your display resolution, you can change from 7680 x 4320 to 3840 x 2160 for playback 8K video on 4K TV, compress 8K video to 1920 x 1080 for playback on FHDTV/iPhone 6 Plus, etc.
• Frame rate: Relatively, frame rate is of little use in 8K video compression, which always varies from 23.97 to 30 and has to be in line with YouTube/Vimeo uploading requirements.