Posted by Donna Peng - Contact Author

Can Xbox One Play DVDs? How to Fix Xbox One Won't Play DVD
Get an exact answer to "Does Xbox One play DVDs?" and fixes of Xbox One DVD playback issue...
Xbox One S All-Digital Edition, comes at a cheaper price with Ultra HD 4k streaming, HDR and spacial audio features, etc. same as a regular Xbox One S, except a Blu-Ray disc player, has hogged the spotlight. It's indeed great to play games, watch digital movies and enjoy music on Xbox One. But when Microsoft's disc-less Xbox One S comes out, there's a side-subject that also comes into our sight: Can Xbox One play DVDs? Without a disc drive, you cannot even insert a DVD? But there is always a way to get around. How to play DVD on Xbox with/without disc drive? Now, let's make it all clear.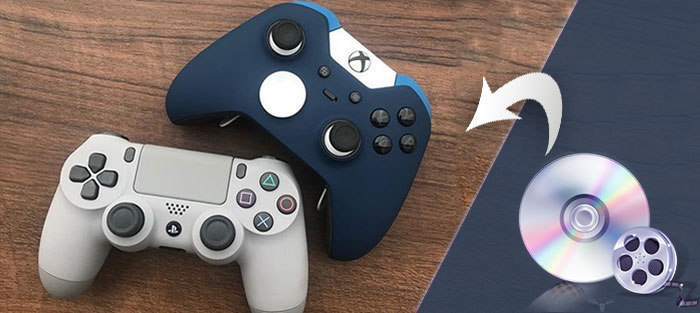 How to Play DVD on Disc-less Xbox One S All-Digital Edition?
As Xbox One S All-Digital Edition ships with no Blu-ray disc drive, Xbox One S won't play a DVD movie directly. To watch a movie or TV series on the console, you will need to convert the disc to digital formats for Xbox. First, learn what formats Xbox console will support:
Xbox supported video formats:
1. AVI (.avi, .divx), H.264 (.mp4, .m4v, mp4v, .mov, .avi), MPEG-4 Part 2 (.mp4, .m4v, .mp4v, .mov, .avi), WMV (VC-1)
2. The maximum file size for an MPEG-4 Part 2 or H.264 file is 4 GB.
Attention:
Xbox One S' 1TB HDD has preloaded with Minecraft (1.12GB), Forza Horizon 3 (46.34 GB – 60 GB), and Sea of Thieves (25GB). Though the storage is enough to hold several games, you need to know that video games, quite different from media like movies which top out at a few GBs at most, are reaching 100GB on Xbox One and PS4. For example, Gears Of War 4 (116.77GB) and Halo 5: Guardians (97.53GB). Therefore, you need to keep the digital version of the DVD movies smallest possible to keep fluent gaming experiences.
Consider the two facts above, try the powerful DVD converter - WinX DVD Ripper Platinum.
Digitize DVD to AVI, MP4, MOV, WMV, M4V, MPEG, MKV, FLV, 3GP, etc.
Convert DVD directly into Xbox & other devices like Xbox One, Xbox, PS4, iPhone, Galaxy, etc.
Compress DVD videos to 90% smaller size with 98% quality reserved.
No.1 fast ripping experience - Level-3 Hardware Acceleration delivers 5x faster speed than others.

Download WinX DVD Ripper Platinum for Windows

to convert DVD to Xbox One S

Download WinX DVD Ripper for Mac

to convert DVD to Xbox One S
Follow the steps to convert DVD to Xbox One digital formats.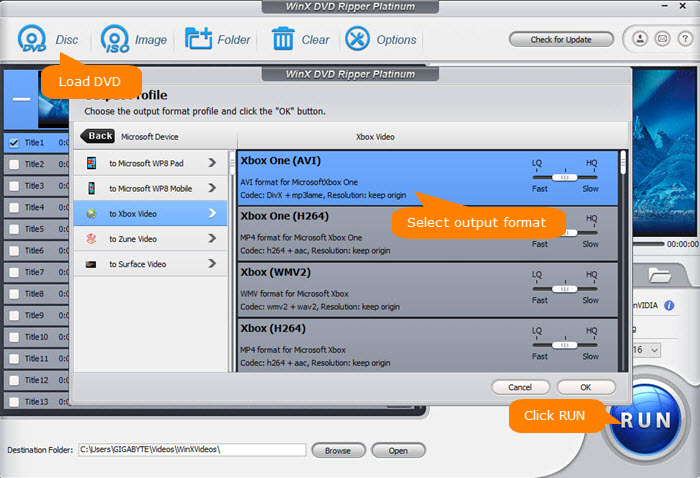 Step 1. Launch this Xbox One DVD ripper and click DVD Disc button to load the DVD you won't play on Xbox One.
Step 2. The DVD will be instantly loaded and the main title will be automatically checked. After the Output Profile window appears, move to Microsoft Device > to Xbox Video > Xbox One (AVI/H264/WMV2) > OK.
Step 3. To ensure the smallest ripped video for Xbox One, click the gear icon to adjust the bit rate, resolution, and other video/audio settings; and click the Edit button to cut any unwanted parts, remove commercials, etc.
Step 4. Check the Hardware Accelerator boxes on the main interface to speed up the process if possible. Click Browse to set the destination folder and click RUN to rip DVD to Xbox One. Then you can stream the ripped digital file from DVD to Xbox One for free playback.
How to Play DVD on Xbox One X/S with Drive?
Xbox One X/S/Xbox One/360 all pack with a Blu-ray optical drive to play physical discs. DVD playback on those consoles is much easier. One thing you need to note is that Xbox one, like other DVD players/computer drives, supports discs sold in the same region as the console. You can't play any foreign DVD movies on Xbox One. For example, you cannot play Japanese DVD on Xbox One you bought from the USA.
1. Set Xbox One console for disc playback. To play a DVD on Xbox One, you need to adjust some settings first:
* Press the Xbox button and enter into the settings.
* Select System > Settings and choose Disc & Blu-ray. You can select Disc settings or Blu-ray settings based on the disc you have.
"Play disc automatically" to let the console play a DVD automatically when you insert it.
2. Xbox One won't play DVDs without installing the Blu-ray player app. You can install this app in 2 ways:
a. From Xbox Home
Go to Store from Xbox Home and search Blu-ray Player app. After it appears in results, click it to enter info page. Select Free or Install to download and install it on Xbox One. After the app is installed, you can find it on Home Screen.
b. By inserting a DVD disc
Put a DVD disc into the optical drive on Xbox One. The Blu-ray Disc app appears. Click it and select Free or Install on Blu-ray player app info page. After the installation is completed, your DVD will play automatically. Please make sure the DVD is supported by your standalone player. Check the DVD player supported formats.
Attention:
Many users ask the question "how to play DVD on Xbox One without internet?" DVD playback on Xbox One doesn't require internet. But you should note that you need to connect the internet at least once to download the Blu-ray player to local. If you weren't connected to Xbox Live and didn't download it when you first put a Blu-Ray/DVD in the console, then it would give you an error. Additionally, there are many problems with disc drive when playing DVDs, such as DVD drive not showing, there is no disc found/detected and more.
But Xbox One won't Play/Read DVDs...
Although there is an absolute YES answer to "Can Xbox One play DVDs", the forum is thronged with complaints of DVDs not playing on Xbox One. Below are some of the most typical Xbox One won't read discs & other DVD playback errors.
-- My Xbox One plays games just fine, as well as Blu-ray disc but not DVDs. When I put a DVD in the console, the Blu-ray app starts and then the screen goes black. The DVD discs are in great condition.
-- I want to watch a DVD but a message came up to a black screen: "We're having trouble reading this. Make sure it's a Blu-ray or DVD".
--When I tried to play a DVD my Xbox One X says it cannot play the DVD because it is the incorrect region code.
-- I can't play the DVD with the error reads, "Unplayable Disc: If this is a game, DVD, or CD, please place it in your Xbox 360 disc tray."
-- It gives me the error "Eject the disc, then try again. Make sure you're using an xbox one game, a music cd or a movie on blu-ray or DVD. (0x80820002)."
Why this kind of problem occurs? How can we do to fix it?
Reason 1: Defective or scratched DVD disc.  Please check your DVD disc. If the disc is broken, incorrect format, or in a bad condition, it won't play on Xbox One and even show the error 0x91d70000 code. If it is just dirty without damaging, clean it with a soft and clean cloth. Please don't touch the top or bottom surface with your hands.
Reason 2: Cracked disc drive.  If the DVD plays well on another console, probably something wrong happens to the disc drive. You need to replace the optical drive with a new one. Learn how to repair Xbox One disc drive yourself >>
Reason 3: Blu-ray player app is not correctly installed If you can play games well on Xbox One but not Blu-ray discs or DVDs, try to uninstall and reinstall Blu-ray player app. It will also remind you to connect the internet to play a DVD on Xbox One if you're offline with no Blu-ray player app installed.
Reason 4: DVDs are not purchased from the same region as Xbox One or strictly protected. If you got a region-coded DVD incompatible with Xbox One, you should make it region-free first. What's more, some DVDs (especially newly released DVD movies) are encrypted by particular protections which Blu-ray player app is not improved to support. You are suggested to decrypt DVD to digital file in a format supported by Xbox One for fixing the playback issue.
Remove DVD Region Code & Fix "Xbox One not Playing DVDs" Errors: Convert Protected DVD to Region-free Video for Xbox One All-Digital Edition/S/X.Easier & fast Solution
Settings aside, most DVD won't play on Xbox One errors involve bad disc or region code (protections). If you want to play these discs on Xbox One X/S or any other devices, you also need a DVD ripper. To address those issues, a regular program will fail to help. In fact, 95% of DVD rippers will lead to DVD not recognized, random crashes, freezing at xx%, incomplete DVD copy, or poor output quality when dealing strictly-protected or unplayable DVDs.
To successfully handle those discs for Xbox One, also try WinX DVD Ripper Platinum.
Convert DVDs of any type, 99/multiple-titles, new releases, workout, damaged/unplayable discs, etc.
Easy to remove all DRM protections like region code, CSS, RCE, Sony ArccOS, and other schemes.
Trouble-free experience, get rid of any DVD won't read/rip errors thanks to its Safe Mode.
Monthly upgrade to support the latest copy protections and fix any new DVD playback- related errors.

Download WinX DVD Ripper Platinum for Windows

to make region-free DVD for Xbox One

Download WinX DVD Ripper for Mac

to make region-free DVD for Xbox One
Follow the steps to remove region code for Xbox One drive and fix other Xbox One won't play DVD errors.
Step 1. Run WinX DVD Ripper Platinum and click the Disc button to load the DVD that won't play on Xbox One.
Step 2. It will automatically detect the right title from region encoded/protected DVDs and pop up a format window asking you to select the output file. You can click General Profiles > MP4 or find Microsoft Device under Device Profile and select Xbox One.
Step 3. Check the Safe Mode on the right lower part of the interface and it will remove any ripping errors. Then click Run and start to convert DVD to Xbox One. After the rip, you can play the DVD movie on Xbox One S/X without limitations.
Final Words:
Whether you're using Xbox One S All-digital Edition or Xbox One X/S/360, yes, you can watch DVDs on Xbox One. At the same time, a DVD ripper is a must-have to convert DVDs for drive-less Xbox One and fix any "Xbox One won't play DVD" errors. WinX DVD Ripper Platinum, with the industry-leading DVD digitizing & protection removal ability, is your best choice.
Disclaimer: Digiarty Software does not advocate ripping copy-protected DVDs for any commercial purpose and suggests referring to the DVD copyright laws in your countries before doing so.
If all above troubleshooting tips can't fix "DVD won't play on Xbox One" issue, please contact Microsoft team for getting a repair service of your console.