Convert Virtual Reality Video Formats with WinX HD Video Converter
Noticeably, there lie different concepts when talking about converting VR videos: converting non-VR to VR formats such that the ordinary videos can let you have the 360°, super three-dimensional and immersive experience; changing a VR video from one format/resolution to another, for example, to the formats supported by VR video players.
For the first concept, since Virtual Reality is not an abstract and abstruse technology indeed, there already have many tools and apps to convert general videos to VR ones. It can be realized not as difficult as you think.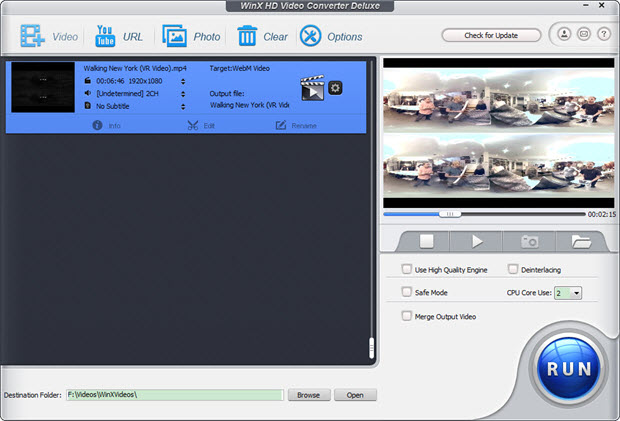 While for the second, WinX HD Video Converter Deluxe can surely do the help.
If you fail to upload your ready-made 360 degree videos to Facebook or YouTube, there are several factors to consider, including aspect Ratio, resolution, duration and video format. Please refer to the best video formats for uploading to YouTube and Facebook, adjust the aspect ratio/resolution, and convert the video formats by downloading the VR HD video converter right above.
WinX HD Video Converter Deluxe can also help you free download 360 degree videos online. After downloading, such videos can be viewed by a VR viewer or player. If not, that is mostly because of the incompatibility with the video player. In another words, the VR video you are playing is not in the format accepted by the player. In such cases, you have to convert the VR video format to another.
Yes, different VR video players might have different supports for video formats, resolutions, aspect ratio, etc. Taking UtoVR Player as an example, it just suppots MP4, H.264, MOV and F4V ordinary and 3D panoramic local/live videos in 2K (2,048xunspecified) and 4K (2160p).