2021 Best Video Shrinker to Reduce (4K/1080p) Video File Size
1080p HD video has dominated our digital life for many years in broadcasting, Blu-ray disc, smart mobile product, HD camera and Internet content. But in recent years, 4K UHD starts to rise in usage with the emerging of more efficient HEVC video compression standard and the support from both hardware and software. We can record fantastic 4K/60fps videos using our new iPhone 8/X anytime, air our go travels or extreme adventures using GoPro Hero 6/5 Black 4K action camera, and score memorable family moments using 4K-enabled Panasonic/Sony/Canon/Nikon camera more often. What's more exciting/joyful than shooting 4K video itself is to share the stunning homemade film to others via social apps or video sharing sites like Twitter, Facebook, Whatsapp, Instagram and YouTube.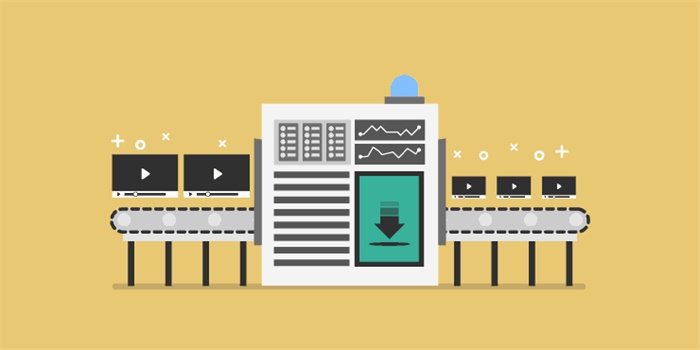 There're quite many programs to shrink video file size. But most of them may disappoint you by producing smaller-sized video with much quality loss.
- I took some short 4K videos with my iPhone. But when I tried to send them to my friend, I found they were so much oversized (at least 100M). Is there any good video shrinker to reduce the file size without losing the quality?
- Hi All. I've recorded a 1920X1080 video in 15 min 30 sec video with DJI Phantom 4 Pro, and the size reaches up to 6.8 GB!!! Any of you guys know how to reduce (P4P/GoPro) video file size while keeping same video format? The reason I am asking is that I am using Premiere Pro in Post Production and these huge-sized files take me hour to Render and Export. And I have a good computer...
- Is It Possible to Shrink Video File Size with No Quality Sacrifice?
- It depends.
To make it clear whether downsizing a video will cause quality loss or not, we should firstly take a look at several ways to shrink video file size:
Way 1. Shorten the video duration by cutting unwanted parts off, only remaining the most wonderful moments.
Way 2. Crop video by removing top & bottom black bars, or to specific dimension.
Way 3. Lower parameters like video/audio bit rate, video frame rate or resolution (4K to 1080p, 1080p to 720p etc.).
Way 4. Compress large 4K/HD video by changing the video codec to a more efficient one, like from H.264 to H.265, VP8 to VP9. >>Comparison of Video Codecs
Where there is resetting on video parameter, there's the quality loss. That's to say, if we just do some "physical shrinking" with the former two ways, we only lose content with quality remained high still. However, when we change video codec, bit rate, frame rate and resolution with the latter two methods, the video will experience video processing during shrinking, which is bound to damage the quality to some degrees.
2021 Best Video Shrinker for Windows 10 PC - WinX HD Video Converter Deluxe
• A wise video shrinking software that can shrink MP4, AVI, H.265, MKV, etc. 
• Shrink video by changing codec, decreasing bit rate/resolution/frame rate and trimming.
• Also support downloading and shrinking online large (4K/1080p) video at one go.
• Hardware accelerator enabled to shrink video faster than ever, with the minimum quality loss.
• Supported OS: Windows 10 or lower (32 & 64 bit) | Average User Rating: ★★★★☆
How to Downsize Video on Windows 10 PC with WinX HD Video Shrinker
After taking some big (4K/1080p) videos with smartphones or cameras, we would soon export them to computer for post production before uploading online or sending to others. But the truth is large-sized videos not only make everything related quite time-consuming, but also take up too much space on hard drive. Maybe we can end these problems by shrinking fussy big videos with video shrinker. WinX HD Video Converter Deluxe offers different video shrinking solutions to large video file problem. Follow the easy steps below.
Step 1. Free download WinX video shrinker on Windows (10 or lower) PC, and open it after installation. All of WinX programs are 100% clean and secure, containing no annoying adware or risky spyware/trojan/virus.
Step 2. Skip the registration page and click either of " + Video" icon to load source large video. Note that WinX shrinker allows multiple videos to be loaded at a time for batching shrinking.
Step 3. Seconds after file importing, an output profile pops up here, where over 400 profiles are classified clearly to choose, both specific video format and console are provided.
Step 4. Click " RUN" to start video shrinking process. If the computer is equipped with Intel QSV or Nvidia, WinX video shrinker would automatically make the most of them, boosting video shrinking speed to advanced 16x faster, while preserving the highest possible quality thanks to hardware processing.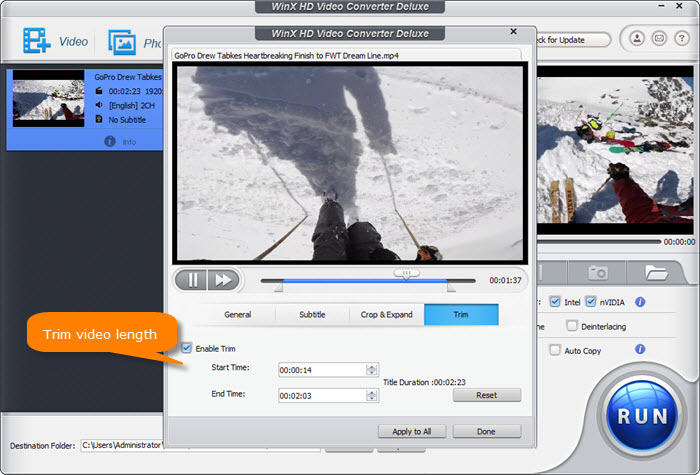 [Crop & Trim are built in Edit function. And codec/resolution/bit rate/frame rate is located under Settings. Only after the output profile is selected, it's free to do video editing and settings.]
>If you only want to shrink video by cropping or trimming with no quality loss, please keep all of the video parameters unchanged including codec, format, resolution, bit rate and frame rate, all of which can be checked by VLC media player.
>If you don't want to lose any content, you can hold the original codec or change to more efficient one like well-educated MP4 (H.264), and then lower resolution (like from 4K to 1080p, 1080p to 720p), bit rate or frame rate to make video size smaller. Take care that decreasing bit rate and frame rate too much may produce a smaller video with horrible image quality.
WinX video shrinker can also help us:
1. Download and Shrink Online Big Videos. With the online video URL analysis library updated continuously, WinX HD Video Converter Deluxe features free downloading any new or old videos from YouTube, Dailymotion and 1000 more websites. You only need to: Click "YouTube URL"-> Copy and paste full video link into the address bar -> "Analyze" it -> Check big video and click "Auto convertion" option and OK -> Shrink it in the same workflow mentioned above.
2. Make Small-sized Photo Videos. Moreover, this video shrinker for PC is also packed with photo slideshow maker, which helps creating small and personal video with 4K/HD pictures and whatever background music for sharing without shrinking at all.
Please feel free to share this tutorial if you think it is helpful!