Best 3 Free YouTube 3D Video Downloaders and How to Download 3D Videos from YouTube
Use the best free 3D video downloader for Windows (10) - WinX YouTube Downloader to free download online 3D videos with ease.
"I got a new TV last month, which can broadcast 3D videos with good effect. However, videos in my collection are 2D. Luckily, YouTube has many 3D videos and movies, but I don't know how to download those 3D videos from YouTube. Anyone can help me?"
YouTube has embraced 3D videos for a few years. However, some people are still looking for the best YouTube 3D video downloader to get 3D videos downloaded for offline watching on 3D TV set or other displays. In this post, we rounds up the best 3 free YouTube 3D video downloaders, including desktop software, plug-in, and online site. You can select one according to your own needs. Besides, we have attached how-to guide for each 3D YouTube downloader.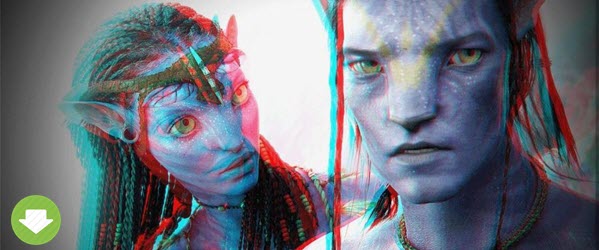 Best 3 Free 3D YouTube Downloaders [Review & How-to]
1. YouTube 3D video downloader desktop software - WinX YouTube Downloader
WinX YouTube Downloader is a 100% clean and free program compatible with Windows 10, 8, 7, XP, Vista, etc. It delivers what its name promises - download YouTube videos. In addition to 2D videos, it is also able to free download 720p/1080p/4K UHD 3D videos from YouTube. Equipped with Multi-thread and Multicast Technology, it enhances audio video sync and offers 5-8x real-time download speed, certainly which also depends on your internet speed. Besides, your output 3D videos will be kept in good quality, because of built-in High Quality Engine. By the way, this downloader also supports other media-sharing sites, 300+ in total.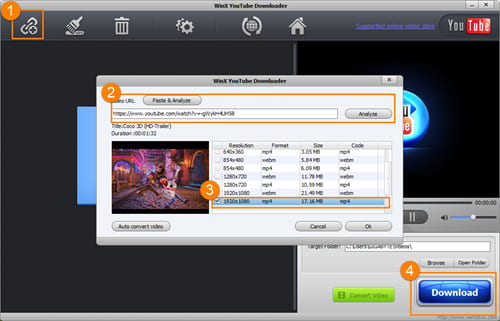 How to free download YouTube 3D movies/videos?
Step 1. Free download WinX YouTube Downloader to your PC and then install it.
Step 2. Head over to YouTube site, type in the video name you want to download into the search box and tap Enter on keyboard, and then navigate to Filters and choose 3D to present 3D videos only.
Step 3. From the results list, find the wanted, open it, and then copy the URL.
Step 4. Launch the 3D video downloader, hit link-shaped button and then press Paste & Analyze in the pop-up panel.
Step 5. Select an output, hit Ok, and then click the blue Download button to begin downloading 3D video or movie from YouTube.
Tip: This downloader allows you to add multiple 3D videos and download them in batch, which is not permitted by other two downloaders.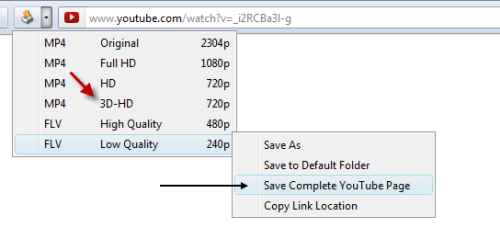 2. 3D YouTube Downloader plug-in/add-on - Complete YouTube Saver
Complete YouTube Saver is an add-on for Firefox only which can free download YouTube 3D videos in 1080p, 4K, etc. Furthermore, it is able to extract audio track from video to MP3 or WAV, and save audio in native format, including Ogg, AAC/M4A, MP3 and OPUS. A plugin seems very easy to install and use, however it isn't as stable as desktop software. Sometimes, it is even unusable. What's more, it will slow down your web browser. Anyway, it is still a method to download 3D videos off YouTube.
How to save YouTube 3D videos with Complete YouTube Saver?
Step 1. Search for Complete YouTube Saver, and then add it to your Firefox. And then you'll see an icon in front of address bar.
Step 2. Go to YouTube, and then search for target 3D video or movie using the method we told you before. Next, open it, move to the icon besides address bar, hit the drop-down button, movie to a 3D option, and then click "Save As", "Save to Default Folder" or "Save Complete YouTube Page" based on your own needs.
3. YouTube 3D video downloader online - videograbber.net
Videograbber.net is a web-based free YouTube 3D video downloader. It comes with modern elegant design, making it easy to use. Not only available for YouTube, it is also used to download videos from Dailymotion, Vimeo and other online video sites.

How to download 3D videos from YouTube using videograbber.net?
Step 1. Open YouTube site, find the 3D video you need, and then copy its link.
Step 2. Switch to videograbber.net, and then paste the 3D video link into the text field.
Step 3. Hit Download button, then you will be prompted to launch Apowersoft Online Launcher. Just hit Launch Application and then it will begin to analyze the YouTube 3D video.
Step 4. Once complete, select output to begin YouTube 3D video download.
Online tool is very slow and unstable. It takes longer time to analyze the video. And I received "Failed to analyze video links" for a few times during testing.