Disney, a Hollywood star, currently brings us animations, general films, music, televisions, theme parks, hotels, toys, children books and so on, among which Disney's Hollywood Studios (addressed in Bay Lake, Florida) theme park once made the record of fifth-most visited amusement park in United States. The typical events associated with Disney movie hosted by Disney's Hollywood Studios is Star Wars Weekends, during which storm troopers, other Star Wars roles and even actors would be here for photos and autographs. What a pity this distinctive weekend was canceled in 2015.
Best Disney Hollywood Movie Series
To begin our Disney Hollywood movies journey, let's right start with above mentioned Disney Hollywood Star Wars movies:
Night Star Wars saga films, from original trilogy to prequel and to the newest sequel trilogy, each has three episodes, are all here with time and worldwide box office:
Note: All the Disney Hollywood movies' gross data is searched online and just for your reference.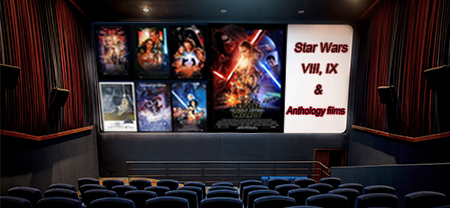 1. Star Wars: A New Hope - 1977, $786,598,007
2. Star Wars: The Empire Strikes Back - 1980, $534,171,960
3. Star Wars: Return of the Jedi - 1983, $572,705,079
4. Star Wars: The Phantom Menace - 1999, $1,027,044,677
5. Star Wars: Attack of the Clones - 2002, $656,695,615
6. Star Wars: Revenge of the Sith - 2005, $848,998,877
7. Star Wars: The Force Awakens - 2015, $2,058,662,225
8. Star Wars Episode VIII, estimated to release on December 15, 2017
9. Star Wars Episode IX, estimated to release on May 24, 2019
Anthology films: Rogue One: A Star Wars Story (2016), Untitled Han Solo film (2018) and Untitled Anthology film (2020)
Animated: Star Wars: The Clone Wars (2008)
TV Seris: CBS recently unveiled its upcoming new Star Wars: Discovery at Star Trek 50th anniversary pane, the story of which will take place in "prime" timeline
Watch Any Disney Hollywood Movies of Full-length
Download this advanced copy protected DVD ripper software WinX DVD Ripper Platinum, you can:
* Remove all DVD encryptions from Disney Hollywood movie DVDs, old or new, including Disney X-project DRM, CSS, region code, RCE, Sony ArccOS, UOPs.
* Continuously updated to rip newest Disney Hollywood DVDs to MP4, iDevice and other 320+ formats/devices.
* 1:1 backup copy protected DVDs to DVD ISO, DVD folder and MPEG2 file (5 min only).


Then comes to the another "symbol" of Disney movie - Disney Hollywood Animation:
Judged from the influence, grossing and public comments, those 10 movies are taken as top Disney Hollywood animations. Let's rank them from higher score to lower one.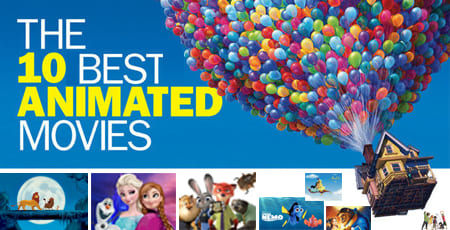 1. The Lion King - 1994 , $987,480,140
2. Frozen - 2013, $1,274,234,980
3. Beauty and the Beast - 1991, $424,967,620
4. Zootopia - 2016, $1,016,656,108
5. Finding Nemo - 2003, $936,429,370
6. Aladdin - 1992, $504,050,219
7. Big Hero 6 - 2014, $657,818,612
8. Toy Story - 1995, $364,545,516
9. The Princess and the Frog - 2009, $270,997,378
10. Inside Out - 2009, $853,923,085 >> More Disney and Dreamworks Animated Movies
You must have watched many of those classic Disney animated movies, and also you may find there are quite a lot princess characters among them, like Elsa princess in Frozen, Belle in Beauty and Beast and Tiana in The Princess and the Frog. Obviously, Disney has molded characters of princess in its Hollywood movies successfully. So, apart from the aforementioned ones, we collect other top Disney princess enchanted Hollywood films to follow your dreams: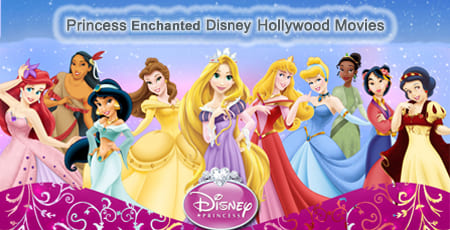 1. The Little Mermaid - 1989/2000/2008, Princess Athena
2. Snow White and the Seven Dwarfs - 1937, Princess Snow White
3. Tangled - 2010, Princess Rapunzel
4. Sleeping Beauty - 1959, Princess Aurora/Briar Rose
5. Cinderella - 1950/2002/2007/2015, Princess Ella/Cinderella
6. Brave - 2012, Princess Merida
7. Alice in Wonderland - 1951/2016, Princess Alice Kingsleigh
8. Enchanted - 2007, Princess Giselle
9. Pocahontas - 1995, Princess Pocahontas
10. The Return of Jafar (sequel of Aladdin) - 1994, Princess Jasmine
After reading all those Disney Hollywood movies lists, DVD ripping solution, if you have any questions about thm, please feel free to Email Us >>