Top 3 Free Online Video Downloaders 2021
Get 2021 Best three tools to download online videos free
The flourishing of online video-sharing sites stimulates demands for online video downloader which specifies a more effortless way to free download online videos. What bothers online video downloader seekers is that it is difficult to have the actual useful one from countless tools. Which one is the best? Take a look at the list of top 3 best free online video downloaders 2021 and you can find what you want.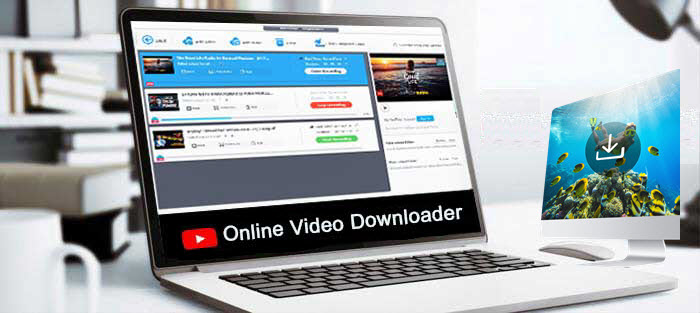 In consideration of well support for online video download, moderate user interface, usability, fast download speed, we pick the following best 3 free online video downloaders which are anticipated as Grade A downloaders of 2021 beyond any others in the market.
TOP 1 - WinX YouTube Downloader
Originally developed for YouTube video download, WinX YouTube Downloader is now greatly improved as an all-round online video downloader for Windows (10/8/7) empowering users to download free videos, movies, music, sports etc, from 300+ online video-sharing sites, including YouTube, Vimeo, Dailymotion, Tumblr, MTV, Billboard, ESPN etc, and popular Asia video sites, like nicovideo.jp, FC2 video, youku.
It can analyze videos to help users select output video version in different resolutions (SD, 720P/1080P HD, 4K/8K) and formats (MP4, WebM, FLV, 3GP). In addition, it can free download 3D movies/videos if there is a source on the site.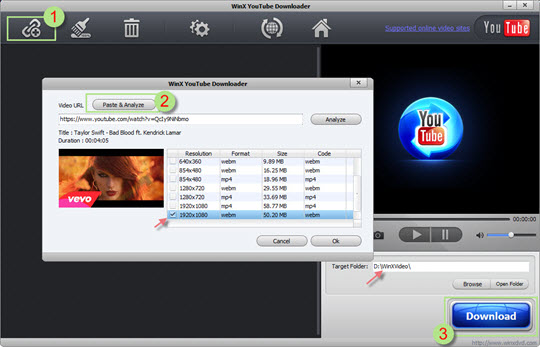 This best free online video downloader 2021 has a very concise design so that everybody even a green hand can learn how to use it without guess work. Thanks to its High Quality Engine, Multi-thread and Multicast Tech, it can keep original quality of downloaded video and deliver 5-8x real time download speed. Last but not the least, WinX YouTube Downloader is a completely clean and safe program bundled no adware, malware and virus.
TOP 2 - Freemake Video Downloader
Freemake Video Downloader qualifies as one of the top 3 free online video downloaders 2020 for its powerful capabilities for downloading videos from YouTube, Dailymotion, Facebook, Vimeo, Vevo etc, keeping hi-fi images and audios. Like WinX YouTube Downloader, it offers choices of video quality and format for video downloader: 4K, HD, SD, MP4, WebM, 3GP, FLV. But the test figures out that it cannot download 8K video at present.
Instead of downloading online videos as usual, users can switch to "One click mode" to download multiple videos with the same settings (resolution, format and destination) more conveniently. In addition, it can perform simple video conversion to convert online videos to AVI, MP4, MKV, MP3, iPhone, iPad, Android and more.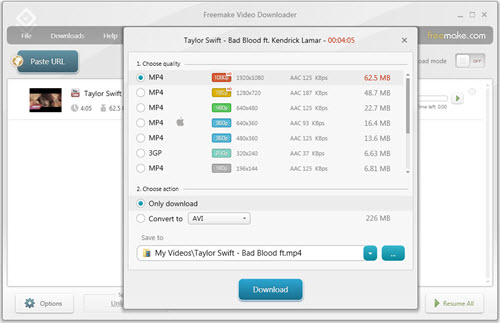 What bothers users may be that Freemake video downloader is bundled with some adware, for example AVG toolbar, which are too stubborn to uninstall once it is installed on computer. If you don't want this plug-ins, read the reminder carefully in the wizard during installation. Select custom installation rather than default.
Compared with the other two best free online video downloaders 2020, 5KPlayer has a much shorter history but quickly finds its place in the market. It is not only a player program as its name, but a great free online video downloader available to free download SD/HD/4K/8K videos in MP4, WebM, FLV or 3GP from YouTube, Vimeo, Dailymotion, Facebook, Metacafe and more at a sharp speed.
That's not all. After the download process is finished, users can choose to directly play the video offline using 5KPlayer, convert video to MP3, AAC (especially for music video), or stream the video from iPhone, iPad to Mac, Apple TV, Windows PC for better enjoyment.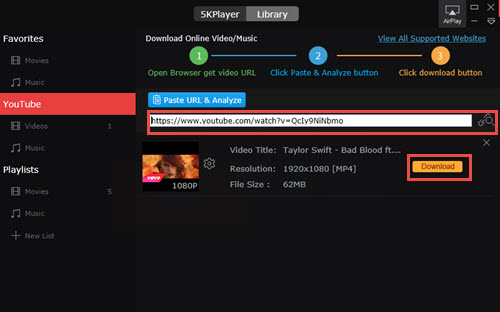 Owing to compact design, amazing features and great performance, 5KPlayer has received positive reviews from users and editors from famous tech sites. Anyway, it must be included in the list of top 3 free online video downloaders.
Conclusion
As a matter of fact, it is hard to say which one is the best free online video downloader 2020 among the three programs.
If you want a professional video download tool, WinX YouTube Downloader is the right choice since it boasts the feature to download all sorts of online videos. In addition, it offers a safest and fastest way of online video download.
Freemake Video Downloader is an all-in-one video downloader and converter which helps users achieve video conversion to solve incompatibility problem with devices. If you don't mind of the adware, it is great for you.
At last, 5KPlayer is a combination of player and online video downloader. For someone who wants to download online videos and play a great collection of various videos, DVDs, it seems to be the most appropriate one.