How to Batch Convert ISO to MKV on Mac with HandBrake/Alternative
Convert ISO to MKV on Mac Free with HandBrake or Easily Batch Convert ISO Movies to MKV/MP4/AVI with Best HandBrake Alternative
1. Should I batch convert ISO files to MKV or MP4? What is the difference?
ISO: An abbreviation of "International Organization for Standardization". In a readily understandable way, ISO refers to a file format of a disc, including CD, DVD and Blu-ray.
To figure out which format you should batch convert ISO to, MKV or MP4, factor in the following elements:
* What's your DVD source? You are converting Blu-ray ISO or DVD ISO files to MKV/MP4?
* Which device are you going to convert ISO file to MKV/MP4 for playback on, PC/Mac or mobile/tablets?
* Compare MKV with MP4 before you decide to batch convert ISO to MKV or MP4.
Simply put, converting Blu-ray ISO to MKV and converting DVD ISO to MP4 would be your best bet for getting an output with possibly high original video/audio quality and at the meantime keeping quality in balance with file size. It is not certain whether you should convert ISO to MKV for playing on phones or not, since nowadays portable gadgets come with higher-resolution displays, such as QHD/4K screen. For details, please turn to MKV vs MP4.
Best ISO to MKV Converter for Mac
Batch convert DVD/ISO files automatically to MKV, MP4/H.264, MOV, FLV, MPEG, AVI, or to iPhone, iPad, Apple TV, iTunes, iDVD, iMovie, Android, Google Nexus, WP 10 etc with WinX DVD Ripper for Mac.

2. What is the best software for free converting DVD ISO to MKV on Mac?
"I did some research a few months ago looking for a reasonably easy way to convert many DVD iso files to MKV for use with PLEX server on my NAS but couldn't find anything that wasn't very labor intensive. Anyone know of anything that might have come along or that I might have missed earlier?"
If you have tested HandBrake or MakeMKV to batch convert movie ISO files to MKV, MP4, AVI, etc for using in a server/NAS/HTPC and are satisfied with the results, but want to find a more easy-to-use and streamlined ISO to MKV converter for Mac, WinX DVD Ripper for Mac is one of those that deserve to be mentioned:
* Batch convert DVD/ISO/DVD folder to MKV, MPEG2, MP4, H.264, MOV, M4V, AVI, etc. Up to 320+ different output formats;
* Easily convert ISO to 350+ presets, incl. iPhone, iPad, iPod, Apple TV, iTunes, Android phones, tablets, etc on Mac, if you are not familiar with video format/codec settings;
* Adjustable output settings of video bit rate, sample rate, resolution, aspect ratio, CPU-usage, etc, depending on your necessity of quality and file size.
Related: ISO File Converter, HandBrake Batch Convert Tutorial, Best Handbrake Bluray Rip Settings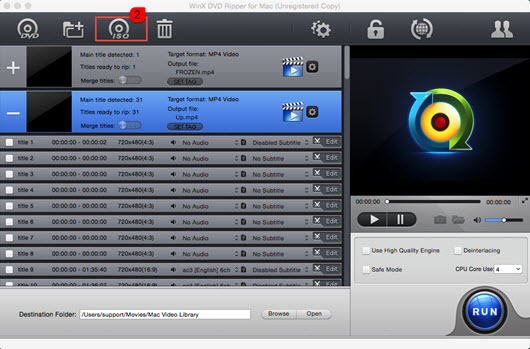 3. How to batch convert DVD ISO to MKV with HandBrake alternative
"Is there any way to batch convert hundreds of ISO's to MKV automatically? I've looked up makeMKV and the Handbrake CLI, but I wanted to ask around first since my Googling didn't turn up anything solid."
Step 1: Free get best DVD ISO to MKV converter. Download WinX DVD Ripper for Mac first for a free trial.
Step 2: Load DVD ISO files in batches. Click "ISO" and browse to add your ISO movies from local sites for converting to MKV.
Step 3: Set MKV as the output format. Go to Output Profile -> choose "DVD Backup" -> Backup full title (video + audio + subtitle) to MKV.
Step 4: Start to convert ISO to MKV. Click "OK" -> tap RUN -> the batch conversion from ISO to MKV will be carried out one by one automatically.
Still have trouble about how to batch convert ISO files to MKV? Please feel free to Email Us >>