How to Backup DVD to External Hard Drive or Thumb Drive?
For most of times, we copy/transfer DVD to external hard drive/thumb drive for better storage and playback. If you raise a question on the internet and ask people for what reason will they copy DVD to external hard drive or thumb drive, you will be surprised that their answers are like chalk and cheese. The following lines are some top reviews selected from hot forums.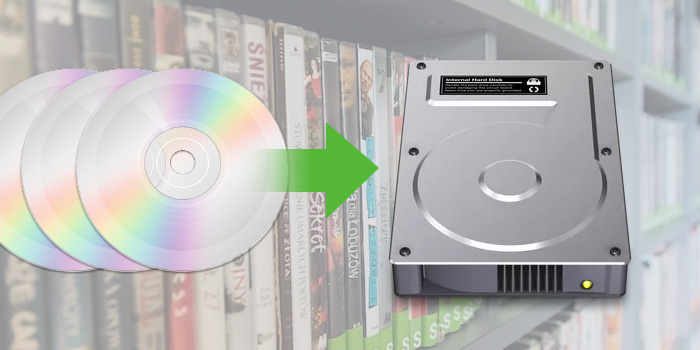 - I intend to backup all of my DVD's and videos to an external hard drive for the purpose of creating my own "Video on Demand", where I can browse through all of my movies with my computer before selecting a movie to watch.
- I'm trying to rip my entire collection of nearly 2000 DVDs to hard drive to be plugged into my smart TV. I also will be watching movies on my android and laptop as well. The quality of the video leaves a little to be desired compared to Handbrake.
- I am ripping my DVDs into mp4 and storing them on an external drive. I have a converter that plugs into my hdmi port that allows me to plug the drive in and play the files.
Basically, people convert DVD to thumb drive or hard drive externally to create video on demand, to create a DVD collection, to play DVD on airplane travelling, to play back DVD videos on separated devices, namely, smart TV/Apple TV, iPhone/iPad/Mac, Android smartphones/tablets, and laptops, to free up space on computer hard drive…Whether your intentions on DVD backup are with them or not, I bet here's one thing - one safe and secure tool to backup DVD - is what we all call for.
Best Tool to Copy DVD to External Hard Drive, Thumb Drive - WinX DVD Ripper Platinum
WinX DVD Ripper Platinum, with its specially built-in Hardware Acceleration Technology, empowers fast-processing but no quality-compromising on DVD backup to external hard drive, thumb drive, USB flash drive and more within minutes. With more than 82,000,000 cases perfectly solved, it is trusted and favored by more than 180,000,000 fan users from over 200 countries.
Free download WinX DVD Ripper Platinum and try it now!
Step by Step Tutorial on Backing up DVD to Thumb Drive
After you have properly downloaded and installed WinX DVD Ripper Platinum, then continue the following 6 simple steps to get the job finished.
Step 1: Evoke WinX DVD Ripper Platinum by double left-clicking your mouse on your desktop icon.
Step 2: Insert a DVD disk and load the DVD content by clicking the DVD Disc icon. Or else you can choose the ISO image icon or the Folder icon if you have such file or folder on the internal hard drive of the Windows PC.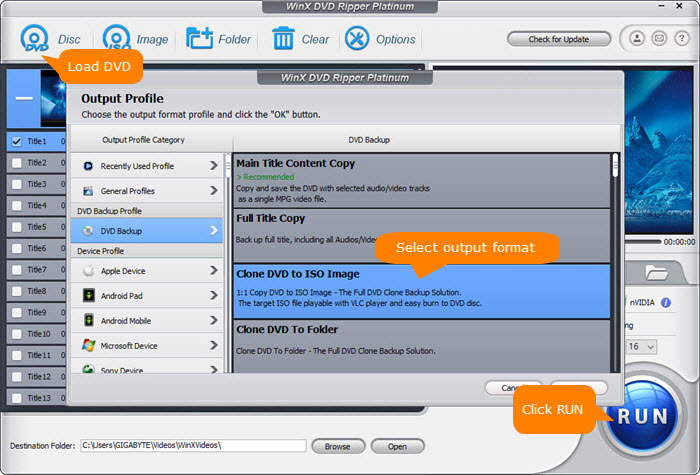 Step 3: Choose the output format.
For example, you are suggested to choose PC General Video -> MP4 Video (H.264) for putting DVD to an external drive. Alternatively, to 1:1 copy DVD to hard drive, please select the DVD Backup button.
Step 4: Select the destination where you want the converted video to be stored by clicking the Browse button.
Step 5: Click the RUN button and wait until the mission is completed. You can minimize the window and leave it background running.
Step 6: Find the output video file. Plug your external hard drive into the port of your computer, and then copy/move the video file to the drive.
Disclaimer: Digiarty Software does not advocate ripping commercial DVDs for any illegal purpose. You're suggested to refer to the DVD copyright laws in your country before doing so.
How to Choose Your Ideal Output Format for Diversified Purposes?
You may be confused about how to choose an output format since there is no direct profile(s) named "Hard Drive" or "Thumb Drive". Indeed, you have a great many choices only depending on what your purpose of using the output video file.
1.Backup DVD to ISO image/MPEG2/DVD folder: fast speed, original DVD quality and structure, big file size, convenient for future DVD burning;

2.Convert DVD to PC/Mac General Video: diversified choices, different video formats for different purposes and acceptances, convert DVD to AVI, MP4, MOV, WMV, MPEG, etc with smaller file size;

3.Rip DVD to Device/Web Video: convert DVD to mobile/web videos, make DVDs playable on the Apple/Android/Microsoft/Sony/other portable devices in mobile way, or compatible with YouTube, Facebook, general webs, etc.
We recommend MP4 as the output format when ripping DVD to external drive/thumb drive with comparatively well preserved video quality, small file size and wide uses.
Final Thoughts
To backup DVD with WinX DVD Ripper Platinum, one can rip DVD to external hard drive and thumb drive for whatever his intentions are. Safe and clean, intuitive and clear, you will enjoy a happy jorney with it. If you forget the password of some encrypted DVDs, give WinX DVD Ripper Platinum a whril as it is in full support of ripping copy-protected DVDs.