Review of Apple Watch Price, Features and More | Does Apple Watch Live Up To Its Price Tag?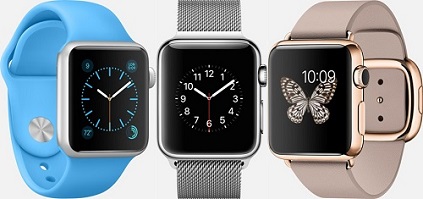 Here's review of Apple Watch price, features, weakness and more.
The expected Apple Watch was announced to arrive on 24 April 2015 during the event on 9 March 2015 with unexpected expensive price starting from $394 to $12,000. It works with iPhone 5/5c/5s/6/6 Plus running on iOS 8.2 or later. Apple seemingly intends to make Apple Watch to be a luxury brand offering 3 collections: the anodized aluminum bodied Apple Watch Sport, stainless steel cased Apple Watch and the rose or yellow 18-karat gold Apple Watch Edition and two sizes (38mm and 42mm) for each collection. No matter what a loyal fan you are, the Apple Watch price is shocking enough to let you hesitate to pull cash from pocket. So, does Apple Watch live up to its price tag? Read the following Apple watch review in aspects of features and weakness to get an answer.
Apple Watch Review
Apple Watch is not only a time teller, but also a intelligent personal device to cope with commnunications samrtly, make you and friends/family closer, care about your health and more. On the other hand, some weaknesses emerges. Now, let's take a look at Apple Watch review to learn more about this new Apple product.
Apple Watch Features
As a watch, Apple Watch can do everything a general watch do. As a smartwatch, Apple Watch drives you to garner a modern way to handle with calls, notifications, messages, Emails in conjunction with iPhone. On the other hand, it natively supports calendar, maps, weather and reminder for your information. Functions will be greatly expanded when third party apps are settled, for example Twitter, Instagram, WeChat and more. Also, Apple Watch is a wearable music player for you to store (2GB at most) and play music.
Apple Watch Music Download/Streaming
5KPlayer - The best tool to free download relaxing yoga music, energy body-building music for fitness or any other your favorite MP3 songs to Apple Watch as well as stream Apple Watch music to Mac via AirPlay for better music enjoyment using connected hi-fi speakers.

If you are tired of old and dull way to connect with friends, families and lover, Apple Watch makes it totally fresh. Digital Touch features help you speak out feeling by sketching, tapping and sending your heartbeat to other Apple Watch wearers who you want to connect. What's more, Apple Watch cares about your health suggesting fitness goals based on data of your daily activity and encouraging you to get more exercise.
Related Apple Devices Info: Jailbreak iPhone 6 (Plus) and iOS 8 Device, Prevent Virus/Trojan Horses in iPhone/iPad etc, Fix Problems Caused by iPhone 6/6 Plus 1GB RAM
Apple Watch Weakness
Obviously, Apple Watch price is the biggest obstacle. Even the most affordable Apple Watch Sport is much costlier than other smartwatches, for example Samsung Gear, Moto 360, but doesn't show much more useful features, while Apple Watch Edition is seemingly specially designed for luxury lovers or wealthy suckers for Apple products.
In addition, the battery life worries fans. It only lasts 18 hours with full-charged power, active in 6.5 hours for listening to music and 3 hours for calling. In other words, even though you just take it as a time-telling watch, you should charge it every day.
>>How to Extend iPhone 6/6 Plus Battery Life
Is Apple Watch Worth Buying?
On basis of the above Apple Watch review, it seemingly fails to level up to its price for unremarkable features, battery life shortage and device limitations. And, it is not an essential device you need since iPhone can completely meet your needs and can do much more than Apple Watch from every aspect, e.g. to answer calls, reply messages, handle various apps, and play music and movies. However, Apple Watch is the only choice to experience a much convenient way for connection with smartwatch for iPhone users. And, the delicate design is another reason that faithful fans would like to pay for the pricey Apple new device.
Still have some trouble about Apple Watch price, features and more? Please feel free to Email Us >>
Best Music Downloader and Converter Software for iPhone/iPad/Apple Watch
WinX HD Video Converter for Mac is available to download music videos/MP3 songs of new hits, familiar favorites, albums/playlits by your favorite singers from 1000+ sites, including YouTube, Vevo, MTV, Soundclound etc, for Apple Watch in a flash and convert music videos/movies to iPhone, iPad, MP3, FLAC, M4A (iPhone ringtone) etc, without quality loss.