Must-Download Apple Watch Apps | Best 5 Apps for Apple Watch
Here's a list of best 5 Apple Watch apps and some other top apps now available for Apple Watch.
Apple product category welcomes a new member. Yes, it's Apple Watch, which has been available to pre-order on April 10, 2015. Despite of negative Apple Watch reviews in aspects of high price, short battery life and some unpractical functions, fans show their love to this new Apple gadget and get ready to wear it. On March 21 at Apple Event 2016, Apple introduced a price-cut of Apple Watch (now $299) and new colorful nylon bands, both of which appeal more iPhone-owners to possess an Apple Watch. OK. if you have got one, why not seize best Apple Watch apps to make this wearable personal device greater?
Hot Searches: Music Downloader and Converter for Apple Watch, Apple Watch Review, iPhone 7 Rumors, Google I/O 2015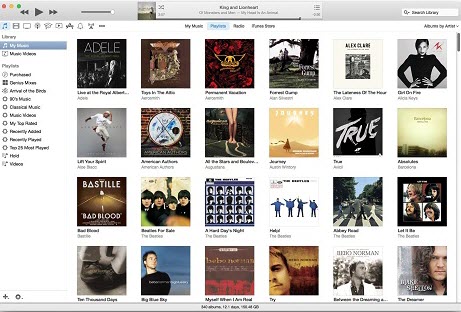 Best 5 Apple Watch Apps
iTunes
Undisputedly, iTunes is an essential and initial app for Apple Watch, which empowers you to access entertainment whenever and wherever. It is not only a music library collecting your favorite radio and music from any genres, but a professional controller assisting you to manage music playback, such as play, pause and skip songs. Along with songs/albums, you can discover a diverse of third-party Apple Watch apps in iTunes Store. That is to say, besides as an attached app, iTunes also specifies a pretty simple way for you to catch desired apps for Apple Watch.
Tip: Instead of purchasing or seeking for free music in iTunes, you can free download hit/latest songs or any music you like from YouTube and convert to MP3 for Apple Watch via this all-in-one YouTube music downloader and converter – WinX HD Video Converter Deluxe. With this tool, you can also convert any HD/SD videos, like MKV, M2TS, AVI, WMV etc, to iTunes for a smooth video/movie playback on iPhone/iPad/iPod and more.


Pandora
Some of you may satisfy with iTunes to enjoy music, while some others take third-party Apple Watch music app as a preferable choice. Pandora, a highly-acclaimed music streaming service, carries an intuitive experience while playing music on Apple Watch. You can browse playlist and check now playing music title and article via a glance. Music applications and volume adjustment can be much easier accessed without taking out your iPhone from pocket.

Nike+ Running
Are you an amateur of running? Do you want to have a more smarter and efficient running exercise? Nike+ Running app is launched on Apple Watch for you to record distance, duration and pace. Get more encourages by comparing with other runners in the community. What's more, this best Apple Watch app for fitness allows to you share the running data to challenge and motivate your friends.
Instagram
As one of the most fashionable social networking services, Instagram starts hitting on Apple Watch. You can track every activity of your favorite instagrammers, browse breathtaking photos and hilarious videos, quick access notifications, leave emoji comment as soon as possible and keep everything updated via this best social Apple Watch app.

eBay
eBay is absolutely one of the best Apple Watch apps for online bidding. This professional auction app will never be tired of sending instant notifications of outbid, which ensures that you can win the target product. Certainly, you can browse information of bids you have attended, for example items you had or you failed to get.
Other Must-Have Apple Watch Apps
Apart from the above best 5 Apple Watch apps, sort of awesome apps are on the platform to take full advantages of this smartwatch.
Social

Entertainment

Assistant

Sports

Travel

Twitter
Facebook
WeChat

Fandango - Movie Ticket Service
Shazam – Song-indentifying App

Evernote– Note-taking App
Dark Sky – Weather App
Alarm.com – Home Security App

MLB.com
ESPN

Target
American Airlines
Citymapper
Still have problem about best Apple Watch apps? Please feel free to Email Us >>
• Rip any homemade and copy-protected DVDs (e.g. region code DVD/Disney DVD) to iPhone, iPad, iPod, iTunes etc, for movie playback on any iOS (9) devices with no worries.
• Copy DVD discs to iOS images, VIDEO_TS folder or backup main/full title to a single MPEG2 file at 1:1 ratio.