2016 Apple Music Festival Lineup, Ticket & Download Watch Guide
2016 Apple Music Festival will return soon in Sept. Apply for the free ticket and download all Apple Music/iTunes Festival videos/music albums online at no cost.
2016 Apple Music Festival Lineup and Dates: All of the questions about the 10th Apple Music Festival in 2016 are finalised on August 25, with its official web page renewed. No suspense this time, Apple Music Festival will be expected to be held at the historic Roundhouse theater in London again from September 18-30. And its lineup will be leaded by Elton John, Britney Spears, Chance the Rapper, Calvin Harris and more.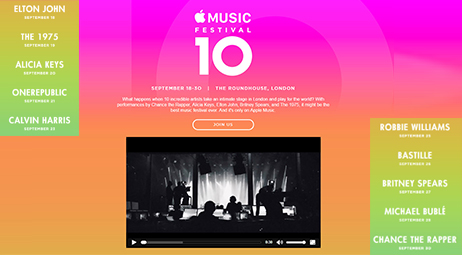 Referring to Full Lineup/Schedule of Apple Music Festival 2016:
Sept. 18 2016: Elton John
Sept. 19 2016: The 1975
Sept. 20 2016: Alicia Keys
Sept. 21 2016: OneRepublic
Sept. 23 2016: Calvin Harriss
Sept. 25 2016: Robbie Williams
Sept. 26 2016: Bastille
Sept. 27 2016: Britney Spears
Sept. 28 2016: Michael Bublé
Sept. 30 2016: Chance the Rapper
First brought here in 2007, Apple Music Festival now becomes a well-known music event in UK through years piling up. (Actually, Apple Music Festival was rebranded from iTunes Festival since 2015.) Various artists' performances become classic to fans, like Lady Gaga premiered several song tracks in 2013 iTunes Festival, One Direction has joined this music gala for twice in 2012 and 2015 respectively and related EP and live videos can be found on iTunes for watching and downloading. John Legend, Adele, Flo Rida, Coldplay, Kendrick Lamar, Lang Lang, Bruno Mars, Ed Sheeran, P!nk, Lana Del Rey, Avicii, Jessie J, Justin Timberlake, Katy Perry, Iggy Azalea,  5 Seconds of Summer and Sam Smith, no lack of big singer names at all at Apple Music Festival! >>View the dates and lists of 2007-2015 Apple Music/iTunes Festival
How to Apply for Free Apple Music Festival Ticket?
Apple only doles out the free Apple Music Festival tickets to Apple Music or iTunes registered users. Ask for the tickets on iTunes stores on PC/Mac or Apple Music app on iOS, confirm your name, email and UK postal address, and then just wait for the luck struck. Do remember to check your email daily!! Because if the winner doesn't respond within 3 days, the free ticket will be invalid.
What If the Free Apple Music Festival Ticket Application Fails?
Apple Music Festival is only available for UK residents. However, since this music event is de facto a marking measure for Apple to promote its Apple Music streaming service, Apple Music will provide another way out if the philharmonic come to nothing after the application or from other districts other than UK. Last year, the full show was broadcast on Beats 1 live-radio station of Apple Music, and the Connect channel also shared behind-the-scenes news and footage directly from the artists.