Apple iPhone 6 vs Sony Xperia Z3: Who Will Win in the Smartphone Fight?
Apple iPhone 6 vs Sony Xperia Z3: Who Will Win in the Smartphone Fight?
The most popular models of latest smartphones in 2014 and the biggest eye catchers in September 2014 in field of technology are the high-spec ​​Apple iPhone 6 (or iPhone 6 Plus) from Apple and Xperia Z3 from Sony. Since Apple's new "larger" iPhone 6 and Sony's Xperia Z3 almost share the same size, 4.7 and 4.6, we'd like to make a side-by-side comparison between the two mobile phones to see which is more preferable to us.
1. iPhone 6 vs Xperia Z3: also a Shootout between Apple and Sony
iPhone 6: the elegant new iOS phone in the essence of time-lapse video shooting and lighter/thinner body.
iPhone 6 has three colors for us to choose, say, space grey, silver, and gold, the same as iPhone 5. It is equipped with A8 chip, Touch ID, faster 4G LTE wireless connection function, 8-megapixel iSight camera with Focus Pixels, running the newest iOS 8 that was released also in September (on 17th). The enclosure design changes to be slightly rounded. The potassium ion tempered glass with a Retina display makes it even more beautiful, along with the edging that is partly machined aluminum frame. Featuring mounted A8 chip and M8 processor, compared with the original iPhone 50-fold performance, and the integrated GPU is now 84 times faster. If you want to compare Sony Xperia Z3 with Apple iPhone 6, let's take a look at the information about the Z3 Xperia then.
You may be interested in: WinX DVD Ripper Platinum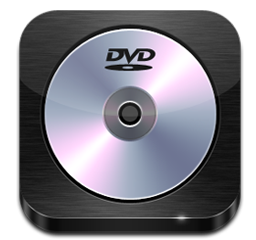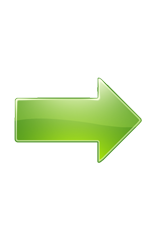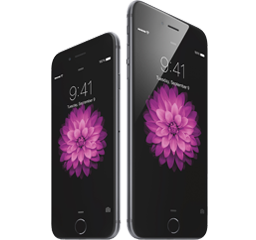 Desire to play DVDs on iPhone or Sony Xperia?
WinX DVD Ripper Platinum

- Fast rip videos from the purchased or rented DVDs to Apple iPhone 6/6s/6s Plus, Sony Xperia Z4/Z3/Z2/Z1, with high image quality.


WinX DVD Ripper Platinum is the perfect example of a decent DVD ripping software that works well both for advanced and amateur users. - Editor's Review from Download3K
2. Xperia Z3: thinner and compact, waterproof, dustproof, capable of shooting 4K video
The Z series of Sony flagship smartphone is divided into basic and compact forms. Mounted with a magnetic charging cable slot and micro SD/USB charging terminal, the dimension of Sony Xperia Z3 is 146x72x7.3 mm, which is much smoother than Xperia Z2. Whipping straight out by 20.7MP "Exmor RS" CMOS sensor, it makes shooting a 4K video possible. Using the Timeshift video, it applies slow motion to any particular part of the recording, letting you shoot in 120 frames per second at 720p resolution and select scenes to slow the playback speed. In addition, the background defocus, AR effect and digital noise cancelling technology earn a high score for it. It is also compatible with high-resolution playback of sound source, but only when you output to a USB DAC, such as a micro-USB port. The following is the table listing the detailed specs between Apple iPhone 6/iPhone 6 Plus and Sony Xperia Z3/Z3 Compact.
>> see iPhone 6 vs iPhone 5 full spec comparison
>> see the best free iOS 8 apps
Device
iPhone 6 / iPhone 6 Plus
Xperia Z3 / Xperia Z3 Compact
Color
space grey, silver, and gold
black, white, green, orange
Dimension and Weight
138.1mmx67mmx6.9mm, 129g 158mm×77.8mm×7.1mm, 172g
127.3x64.9x8.6mm, 129g
CPU
1.4GHz Apple A8 dual-core Cyclone, 1GB RAM, Apple M8 motion co-processor
2.5GHz Qualcomm Snapdragon 801, 2GB RAM, Adreno 330 GPU
Display
4.7-inch IPS Retina HD LCD,1334x750 pixels, 326ppi, 1400:1 contrast ratio
5.5-inch (diagonal) LED-backlit widescreen Multi-touch IPS display, 1920x1080, 401ppi, 1300:1 contrast ratio
5.2-inch TRILUMINOS multi-touch capacitive
4.6-inch IPS LCD, 1280x720 pixels, 319ppi
Camera
front FaceTime camera: 1.2 million pixels; rear iSight camera: 800 million pixels (pixel pitch 1.5μ m); optical image stabilization equipped (iPhone 6 Plus only)
Front Camera: 2.2 million pixels, rear camera: 20.7 million pixels CMOS image sensor
Resolution
1334 × 750 (4.7 inches), 1920 × 1080 (5.5 inches); (60fps or 30fps) 1080p HD video recording
1920 × 1080 full HD resolution
1280 × 720 full HD resolution
Storage (RAM)
16GB, 64GB, 128GB
16GB, microSD up to 128GB
Battery
1,800mAh
2,600mAh
Operating System
iOS 8
Android 4.4 KitKat
Features of iPhone 6 and Xperia Z3 in Common
Display are in full HD.
Video resolutions of both reach to 1080p, at 60fps.
Both have camera of LED flash, supporting shooting 1080p video.
Xperia Z3 and iPhone6 ​​adopts new designs
Xperia Z3 and iPhone6 are dustproof.
Both are thinner than previous model.
Multi-touch screen support.
Number of CPU cores: Quad-Core.
Bluetooth Version: 4.0.
GPS: A-GPS.
It is obvious that iPhone 6 is greater than the previous model 5S because it is thinner in shape and higher in resolution. On the other hand, Xperia Z3 which is smaller and thinner is also a considerable upgrade to Z2. With advantages and disadvantages, it is hardly to tell which one is better from the data compared above, and the answer of "Apple iPhone 6 vs Sony Xpeira Z3" may be different from person to person based on personal preference. But admittedly, both of these latest models have full HD displays which are the best kits to play our movies. >> Free Movies Online for iPhone 6/5S
See also:
Apple iPhone 6 vs Samsung Galaxy S5
Apple iPhone 6 Plus vs Samsung Galaxy Note Edge
iPhone 7 vs iPhone 6s vs iPhone 6s Plus
- I often see numerous passengers watching videos on portable devices on the bus and underground. Is it possible to watch DVD movies on the new iPhone 6 Plus or Xperia Z3? What should I do to incorporate my favorite DVDs into the mobile phone at hand?
With advances in technology, playing movies and videos has accommodated the wide variety of ways, and playing them on portable devices becomes part of our lives. In this respect, WinX DVD Ripper Platinum may help you rip and convert DVDs (even copy protected DVDs) to Sony Xperia Z3 and iPhone 6/6 Plus supported video formats. Even without Wi-Fi/3G/4G network, you can play DVDs such as Transformers 4, Muppets Most Wanted, How to Train Your Dragon 2, Godzilla, Captain America: The Winter Soldier, The Amazing Spider-Man 2, Maleficent and Guardians of the Galaxy on any of the latest gadgets.
Guide to Rip a DVD to Xperia Z3 or iPhone 6 for Movie Playback
To rip DVD to iPhone 6 or Xperia X3, the first thing to do is to download, install and install WinX DVD Ripper Platinum or WinX DVD Ripper for Mac on your PC or Mac. The software is multi-language supportive, so you can choose the most familiar language version before installation. Then please refer to the following guide: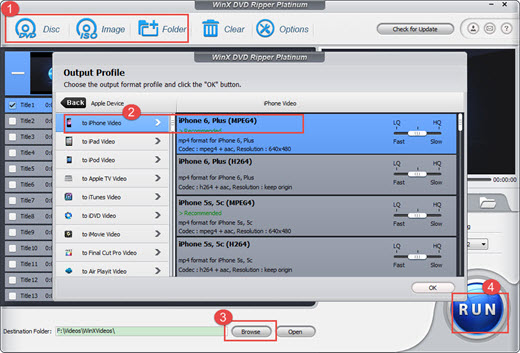 1. Click "DVD Disc" after inserting a DVD into your DVD-ROM. Also, you can input an ISO image or DVD folder instead of a disc itself. After quick DVD content loading, the main movie title will be auto checked. You can also change the title selection as you wish.
2. Choose an output format to fit your iPhone 6 or Xperia Z3.
For iPhone 6: Apple Device (under Device Profile) -> to iPhone Video -> iPhone 6, Plus (MPEG4 or H264);
For Sony Xperia Z3: Sony Device (under Device Profile) -> to Xperia Video -> Sony Xperia Z1/Z2/Z3 (MPEG4 or H264)
3. Choose an ideal folder in Disk D/E/F … to save the output DVD digital file.
4. Click RUN button on bottom to start to rip and convert the DVD to the iPhone 6 (Plus) or Xperia Z3 friendly video.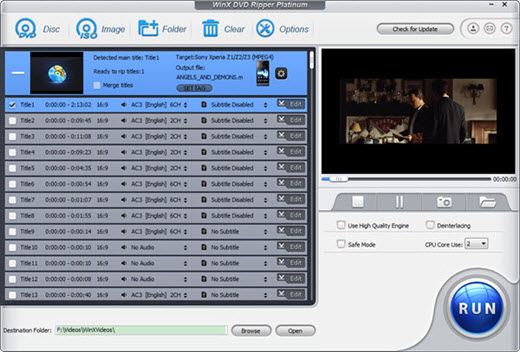 WinX DVD Ripper Platinum also supports ripping DVDs to Samsung Galaxy Note 4, Galaxy Note Edge, HTC Desire 816, Xperia Z4/Z2/Z1, Asus MeMo Pad 7, Huawei Ascend P7 and any other new devices. With 380+ profiles in total, it also assists you in playing back DVD movies on iPhone 6s/6s Plus/5S/5C/4S, iPad Air 3/2, iPad Mini 4/3/2, Apple TV, iPod Touch, Samsung Galaxy S5/S4, Tab S, Windows Phone 8, Surface Pro 3, Google Nexus 7, Amazon Kindle Fire HDX, HTC One and so on. You can simply use it to convert DVD to AVI, MP4, WMV, MPEG, MTS, FLV and MOV videos. If you have a higher requirement on the output quality, please choose ISO image, DVD folder, Main/Full Title Copy under DVD Backup as the output format to maintain the original audio/video quality in one hundred percent.
Rip DVD to Sony Xperia Z4 Devices
Rip DVD to Sony Xperia
Rip DVD to Apple iPhone 6
Rip DVD to iPhone
Rip DVD to iPad
Rip DVD to Android

Other Option: If you want to convert HD MKV, M2TS/MTS, MOD or standard AVI, MPEG, WMV, M4V, MOV, RM and VOB videos for your iPhone 6/6s/6s Plus or Xperia Z series, WinX HD Video Converter Deluxe is your best choice. Even more, it helps download YouTube videos, make ringtones, make slideshow and edit videos for your iPhone & Xperia!