2. AAC vs. MP3 File Size Comparison
Here we'll convert the original WAV music file - Butterfly from Jason Mraz(62.38M) to MP3 and AAC with one of the most popular audio converter software - Freemake Audio Converter, and compare their file size. In order to keep the converting test as accurate as possible, we only change the bitrate parameter from 96 to 256, no audio channel or sample rate(default 4.41 kHZ) change.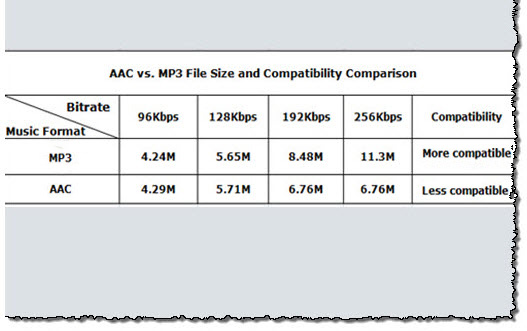 From the table above, it's obvious to see that AAC and MP3 own the similar size at lower bitrate while AAC is much smaller in size at higher bitrate.
3. AAC vs. MP3 Compatibility Comparison (Why AAC is not So Popular as MP3?)
AAC is less compatible: available on iTunes, iPhone, iPad, iPod, Microsoft's Zune, Sony PS3/PSP, and some mobile phones.
MP3 is more compatible: actually works with every cellphones, pads and audio players.
AAC is less widely supported than MP3, partly because it's relatively newer and Windows Media has risen constantly. Although AAC was developed by Nokia, Sony, AT&T Bell Laboratories and Dolby Laboratories, Apple takes is as "Apple's baby" - a standard audio format for iPhone, iPod, iTunes, and iPad. Maybe AAC can be used with a wide variety of non-Apple devices in near future.
Summary: Objectively speaking, taking all the factors into consideration, AAC does have higher quality sound and smaller size than MP3 at the same or similar high bitrate. But MP3 is much more compatible than AAC. Since different file formats have different merit and demerit, different users have different preference and needs, neither AAC nor MP3 can rank the first. One word to tell, the best format is the one that compatible with your device and meets your needs!