Factors That Decide Video Quality - Bit Rate #4
1. What is bit rate?
The video bit rate is the amount of bits required to encode a single second of video. The higher the bit rate, the bigger the data processed.
1 kbps = 1000 bps
1Mbps = 1000 kbps
1Gbps = 1000 Mbps
2. How does bit rate affect video quality?
Bit rate is the main factor that decides video file size (video size = bit rate x duration). Also it affects video quality. Higher bit rate normally brings better video quality. But there is diminishing marginal utility effect, meaning when video quality reaches a certain level (same as the original), the increasing of bit rate will only result in bigger file size without enhancement in quality.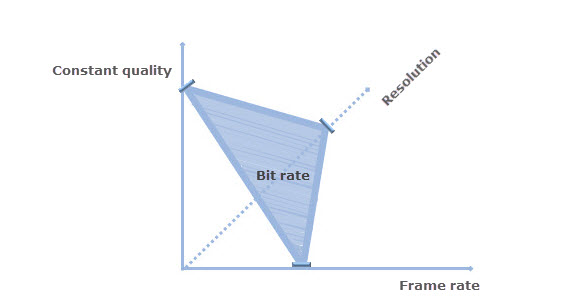 3. What bit rate should you use to output video in best quality?
What bitrate should you choose when recording, for example, a 4K video for uploading to YouTube? Well, there are several things to be considered. Firstly, adjust bit rate according to the resolution, FPS and Constant Quality of video. To be specific, the bit rate for 4K video should be higher than that of 1080p. Bit rate for 4K 60fps video should be higher than that for 4K 30fps. And bit rate for 4K 20 CQP is definitely larger than that for 4K 30 CQP. Secondly, upload speed also matters. If you only have 20Mbps upload speed, choose the lowest possible bit rate 35 Mbps for a 4K video uploading to YouTube, since the numbers among 35 to 45 Mbps are all allowed. Well, stuttering and long-time uploading is inevitable. The good thing is that some video editor software like WinX HD Video Converter Deluxe offers you up to 370+ presets, each of which comes with proper bit rate. So just choose your desired output format or device, and forget about the bitrate calculating.
Factors That Decide Video Quality - Rate control modes #5
1. What is rate control mode?
Rate control mode is the way of bits allocating for a given frame. There are kinds of rate control modes in the most popular x264/x265 encoder, including CQP, Bitrate and CRF. Bitrate can be divided into CBR, ABR and VBR. While CQP is a mode targeted on the compression for every Macroblock in a frame and Bitrate focuses on file size, CRF allocates bits intelligently to control the output video quality. CRF ranges from 0 to 51, the same as QP, but it delivers smaller-size file at same good quality by giving more bits to complex segments and less data to simple ones. 18-20 is suggested for SD videos in x264 and 20-23 for HD.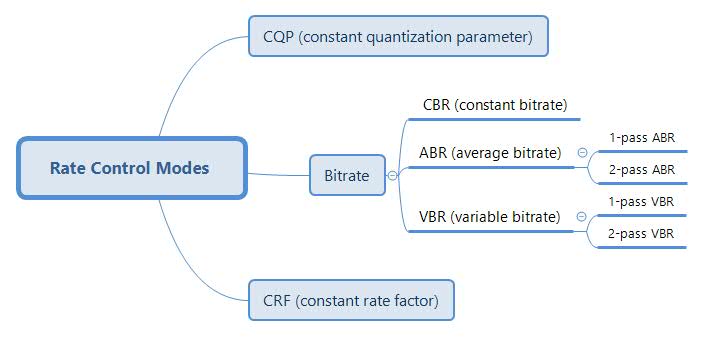 2. How does rate control mode affect video quality?
Video encoding is to remove redundant data and compress video file size for saving as many bits as possible for delivering frames, which is realized through kinds of rate control modes. Compression in that process always leads to data loss, and then affects video quality. So to very well control the tradeoff between quality and file size, you should choose the rate control mode carefully. CRF and 2-pass VBR are suggested to ensure good quality.
Rate Control Mode
Video quality
Video bit rate
Video file size
CBR
Variable
Constant
Accurately predictable
ABR
Basically stable
(better than CBR but not as good as VBR)
Variable
Predictable
VBR
Stable
Variable
Unpredictable
3. What rate control mode should you use to ensure best video quality?
The truth is there is no one-size-fit-all rate control mode. Different bit rate control modes only output video well and fast under certain conditions. And sometimes it is just an either-or situation. You have to choose one, good quality or quick encoding. Basically, living streaming are strictly limited in bit rate, so constant bitrate (CBR) and average bitrate (ABR) will be more appropriate. For streaming, choose rate control mode based on your primary need - size and quality.
Rate control mode
Quality
File size
Encoding speed
Specific cases
1-pass VBR
Good quality
Variable
Quick encoding
Encoding for watching on devices temporarily.
No need of archival
2-pass VBR, CRF
Highest possible quality
Lowest size
Slow encoding
Encoding for archiving classic films, precious home videos, GoPro/DJI videos
2-pass ABR
High quality
Certain size
Slow encoding
Encoding for video streaming online in low
bandwidth or burning to DVD
CBR
Variable
Strict file size limits
Quick encoding
Encoding surveillance video
Factors That Decide Video Quality - Bit Depth #6
1. What is bit depth?
Bit depth, or Color depth, refers to the number of bits used for each color component of a single pixel. To put it simply, bit depth decides how much information can be stored in a frame. Most digital video formats we use are 8 bits per color channel and most displays support only 8 bits for now.
2. How does bit depth affect video quality?
Bit depth actually decides the number of possible colors can be expressed in an image. The higher the bit depth of a frame is, the finer and smoother the image will be, and accordingly, the better the video quality. So apparently, 10-bit video is more vivid than 8-bit video, which also requires more bits for delivering and larger space for saving. Next are the color numbers of different bit depth:
| | | | | |
| --- | --- | --- | --- | --- |
| Bit Depth | 1 bit depth | 2 bit depth | 3 bit depth | 4 bit depth |
| Number of colors | 2 colors | 4 colors | 8 colors | 16 colors |
| Bit Depth | 5 bit depth | 6 bit depth | 8 bit depth | 10 bit depth |
| Number of colors | 32 colors | 64 colors | 256 colors | 1024 colors |