4K Video Codec Mystery: Every Detail You Want to Know Explained
Follow us to explore every mystery of 4K video codec.
Launch of 4K UHDTV expands limited concern on the next-generation resolution to the public. Meanwhile, wide application in digital camera, streaming video and a part of portable devices raises popularity of 4K. Even so, there are still many secrets that you may be curious about 4K. And in this article, we will discuss 4K codec, one of the most important factors influencing 4K video playback, including 4K video codec types, 4K codec download and a solid 4K video encoder and decoder that will be introduced for those who wants to create/compress 4K videos.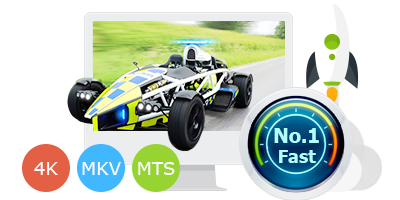 How to Encode/Decode 4K Videos?
WinX HD Video Converter Deluxe
The No.1 fast 4K video encoder/decoder (converter) helping users create 4K (HEVC) videos from other formats and compress 2160P 4K videos to 2K/1080P/720P/360P for a better playback effect on lower resolution screens.
4K Video Codecs
There are two main types of 4K video codec. One is HEVC and the other is VP9.
HEVC (H.265) Codec
Formally released in June, 2013 as a video compression standard, HEVC is developed to support higher resolutions (2160P 4K/4320P 8K) and offer a more efficient video coding compared to its predecessor H.264/MPEG-4 AVC. It means that H.265 only takes half bit rate to deliver the same video quality as H.264 due to twice data compression ratio.
>> Related: H.265 Encoder
VP9 Codec
Developed by Google as a successor to VP8, VP9 is the biggest rival of HEVC supporting 4K with the use of superblocks of 64x64 pixels. It also boasts the high compression efficiency than VP8 and even HEVC (as announced). VP9 is considered as one of the best video formats for online streaming and well supported by HTML5 video on mainstream browsers and YouTube. >> Related: VP9 VP10 Codec
Speaking of differences between the two 4K codecs, HEVC is a commercial standard requiring payment for a patent license, while VP9 is royalty free. On the other hand, reports and tests from geeks figure out that HEVC 4K video has better image quality than VP9 but VP9 is more appropriate for streaming. >> Related: 4K Video File Formats
4K Codec Download
Windows 10 users can fully access to 4K playback thanks to native support for HEVC, yet other Windows systems and Mac users still need to install third-party codec to watch 4K videos or movies on PC/Mac without hassle. In the following, let's get where to download 4K codec.
• Media Player Codec Pack (for Windows) - It collects almost all mainstream video compression and file types, including HEVC for Windows Media Player 12/11/10 on Windows (32 & 64 bit). This 4K codec pack also can be installed on any DirectShow compatible player. >> Related: MKV Codec for Windows Media Player
• K-Lite Codec Pack Full (for Windows) – It is another favorite video codec pack for Windows XP and later versions gathering a diverse of video/audio codecs (HEVC and VP9 included) for SD, HD and 4K contents playback.
• FFmpeg (for Windows/Mac) – With added native VP9 and an open source HEVC decoder from October 2013, this multi-platform project for handling multimedia data offers users an option to run 4K on PC and Mac.
• libvpx (for Windows/Mac) – It is an official free VP9 codec library released by Google under New BSD License. This 4K video codec is also compatible with multiple operation systems as FFmpeg, such as Windows, Mac OS X, Linux and other Unix-like operation systems.
Want an All-in-one 4K Encoder and Decoder?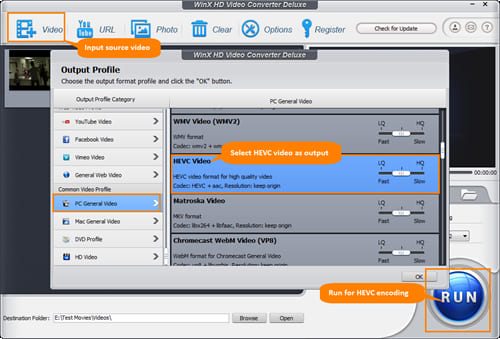 By means of 4K codec, everyone can garner a solution to play ultra HD resolution videos on PC/Mac. However, if you try to create or convert 4K contents, a versatile 4K video encoder/decoder is in need.
WinX HD Video Converter Deluxe is such a prefect program that can totally satisfy you. This 4K converter software is capable of making HEVC encoded videos from other video files and compressing 4K (HEVC) videos to 2K MP4, H.264, AVI, WMV, MOV, MPEG, FLV, 3GP with resolution of 1080P, 720P, 360P etc, with high image/audio quality for better viewing on devices, online uploading or editing.
Owing to Multi-core CPU usage and new equipped hardware encoder Intel and Nivda, WinX HD Video Converter Deluxe can manage 4K videos reaching an excellent and super fast speed.
>> WinX HD Video Converter Deluxe User Guide
Still have some trouble about this WinX 4K encoder/decoder, please feel free to Email Us >>