All Things You Need to Know about 4K 8K 10K Upscaling/Upscaler
4K upscaling vs. native 4K, which looks better? How to upscale DVD/1080p to 4K/8K/10K? Is 4K upscaler really needed?
Update: According to the latest news, well, mainly about the next-gen HDMI 2.1, 10K resolution viewing now is possible through HDMI 2.1 on some commercial AV usages. Guess someday there will also be the need of 10K upscaling, but here and now we will keep on the 4K upscaling/upscaler theme.
True, 4K resolution leads to a much more pristine view of movie videos than 1080p especially on widescreen UHD TVs when content sources rising steeply in the meantime. 4K movies can be downloaded online, 4K TVs can be found on nearly all online shops and physical stores, and even 4K Blu-ray of blockbusters is available now. Despite it coming on like gangbusters, 1080p still plays the leading role, for sometimes the prevalence takes far longer than does the creation. So the problem would be, for example, that you purchased a 4K TV but only have 1080p videos to play on. Should you upscale 1080p to 4K? Does 4K upscaling really work? Will it be possible or necessary to upscale 1080p to 4K or 4K to 8K/10K in the future? 4K TV with upscaler settings vs. 4K upscaling software, which is better? Here we get you all the answers.
To avoid blur on images and increase of noise, use 4K Upscaling Converter instead of 4K TV/players with auto upscaling settings!
WinX HD Video Converter Deluxe
This is a professional yet simple-to-use 4K video upscaler converter, which adopts unique upscaling algorithm and allows you to upconvert 1080p to 4K, DVD to 4K, 4K to 8K with nearly no loss of quality at all for playback on 4K TV in higher resolution. There are versions for both Windows 10 (and previous) and macOS Mac (High Sierra and before).
Questions About 4K Upscaling/4K Upscaler
To make you more clear about video upscaling things in any resolution, we'll start with the basic definition and then the 4K upscaling effects and tools. Main questions about 4K upscaling are as follows.

Q: What is 4K upscaling?
A: Upscaling means that the resolution of a video is increased by a scheme for better quality and playback on higher resolution devices. 4K upscaling, for example, can be upscaling from 1080p to 4K, DVD (480p) to 4K, 4K to 8K, etc. If you change from 4K to 1080p, that would be a 4K downscaling. 4K comes with four times more pixels than 1080p and 24 times than DVD (480p). Take a look at the detailed statistics about different resolutions and you will know why it is called "up" and "down".
DVD: 720x480, total 345,600 pixels
HD 1080p: 1920x1080, total 2,073,600 pixels
UHD 4K : 3840x2160, total 8,294,400 pixels
UHD 8K: 7680 × 4320, total 33,177,600 pixels
Learn 8K formats: AVI vs VVC, HEVC vs VVC

Q: Does 4K upscaling really work? Is 1080p upscaled to 4K really better?
"I've been tempted to buy my Dad a new 4K flat screen around 70 inches. Does the upscaling really work well on 4K televisions? I remember a lot of the HD sets bragging about upscaling 7 or 8 years ago when they were starting to hit the market, but they really didn't make DVDs look any better from the 480p they were encoded at."
A: Generally, the results of 4K upscaling can be summarized in two lines as follows, if we watch a same source video on a same-size screen at a same distance. But note that still they are not 100% correct because of the different upscaling algorithms methods adopted by different TV sets, converter software, players, etc, which will be explained in the answers for Q3.
* 720p downscaled from 1080p < 1080p ≤ 1080p downscaled from 4K < Blu-ray 1080p
* Blu-ray 1080p ≤ 4K upscaled from 1080p < native 4K ≤ 4K downscaled from 8K/10K
As you can see, unlike the past, 4K upscaling is not all about bragging and marketing gimmick. It really works. 1080p can be upscaled to 4K and does look sharper. But that's it. There is improvement but miracles won't happen. 4K upscaling can't equal to True 4K. The picture quality after being upscaled to 4K is, at best, crystal clear than standard 1080p, and at worst, comes with weird grainy texture, looking even worse than before. This is decided by the 4K upscaling tools you use.

Q: How to upscale from DVD/1080p to 4K?
A: Firstly you should know that there are two kinds of 4K upscaling: upscale to 4K automatically through 4K TV, DVD player, smartphones, etc and upscale to 4K manually with professional 4K upscaler software. Here comes the inevitable question: which should you use? There is no doubt that auto 4K upscaling on 4K TV or player is much easier, but the flaw will be much more obvious too. It will be more likely to lead to blur on images and increase of noises, which can be avoided when using 4K upscaler converter like WinX HD Video Converter Deluxe.
Best 1080p to 4K/8K Upscaling Converter
WinX HD Video Converter Deluxe/for Mac
Enables you to download and upconvert any 1080p movie videos to 4K (H.264/H.265) for smooth playback.
WinX HD Video Converter Deluxe can save (convert, natch) videos from the likes of YouTube, and output presets for every portable device from Android to Windows Phone. - Rick (CNET Editor)
Steps to Upscale 1080p to 4K with No Quality Loss
Here we will show you how to upscale video resolution from 1080p to 4K with WinX 4K upscaler converter on Windows 10 PC. To get started, please download and install the software firstly on your computer. After the installation, open it and do as the following steps suggest.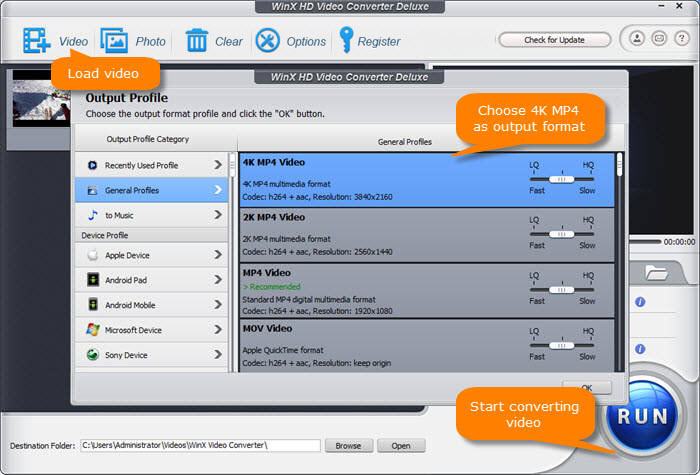 Step 1. Load 1080p video
Click "+ Video" button to load your source 1080p videos. Also you can just drag and drop the video to get it loaded. Batch conversion is allowed as well.
Step 2. Change resolution to 4K
There are two ways for your 4K upscaling:
1. When the window of Output Profile pops up automatically, choose "4K MP4 Video" under "General Profiles"
2. Or choose any format you prefer, click OK to get back to the main interface, and then click the gear icon to get into the Video parameter center. Find "Video Resolution" and choose 3840x2160 from the dropdown list.
Step 3. RUN the 4K upscaling
Set a destination folder and then press button "RUN" to upconvert 1080p HD to 4K.
More Detailed Tutorial on YouTube: How to Upscale 1080p to 4K with High Quality